We're here to help you find the City of Waco trash pickup schedule for 2023 including bulk pickup, recycling, holidays, and maps.
The City of Waco is in Texas with Dallas and Fort Worth to the north, Temple to the south, Lufkin to the east, and Bryan to the southeast.
If there's a change to your normal trash collection schedule then there's a good chance your street sweeping schedule has changed too so make sure to check for updates.
Waco Trash Collection Calendar 2023
For normal trash and garbage collection schedules, visit The City of Waco Garbage Collection website to find the collection day for your trash.
You can also see the city-observed holidays.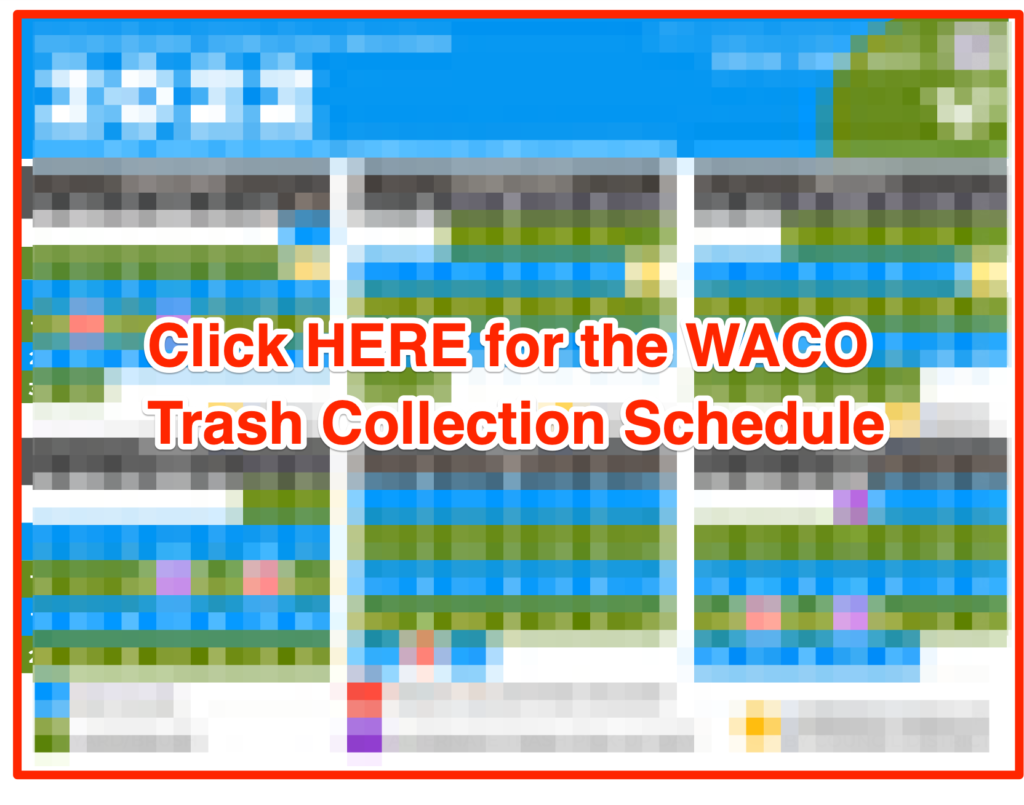 Waco Trash Collection Map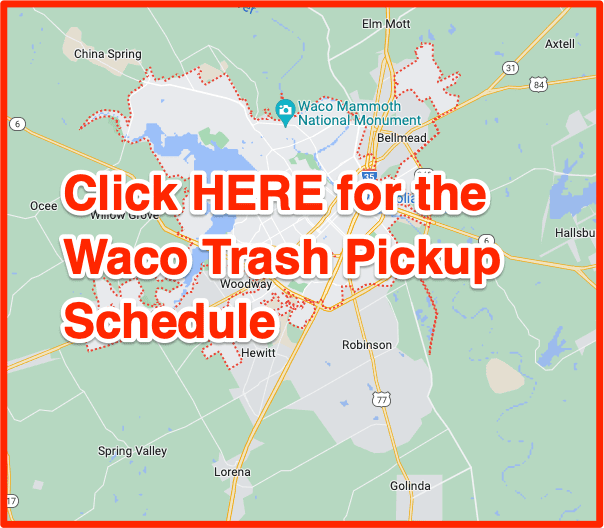 Bulk Waste Pickup Calendar 2023
If you are a resident of Waco, TX you are allowed 1 bulky waste pickup per month.
To request a pickup call (254) 299-2612 or fill out a request form at: https://waco.coffeecup.com/forms/Bulky%20Waste%20Collection/
Bulky waste service is limited to a pile that's 6ft x 6ft x 6ft. If you have more junk than that there will be additional charges.
Bulk pickup includes furniture and mattresses.
The following items will NOT be collected during bulky pickup:
items that contain refrigerant such as refrigerators, freezers, or Air Conditioning units.
demolition waste
bricks
lumber
drywall
tiles
shingles
decking and fencing
tires
Recycling Collection Calendar 2023
The city of Waco recycling happens in during "blue weeks" on the calendar above. Every other week curbside recycling is included with your solid waste fee.
Trash Pick Up Holidays
The following holidays will impact your trash pickup schedule:
Martin Luther King Jr. Day
Good Friday
Memorial Day
Juneteenth
Independence Day
Labor Day
Veterans Day
Thanksgiving Day
Christmas Eve (observed) December 23rd, 2023
Christmas Day
Please check online for a possible change to your collection schedule based on the holidays listed above.
Frequently Asked Questions
What day is trash pickup?
To find your trash pickup day visit the city website and enter your address.
What time is trash pickup?
Your carts must be placed at the curb by 7 am and collected after 4 pm.
When is bulk pickup in Waco?
Bulk pickup happens at your request. Complete this online form or call (254) 299-2612
Did we miss anything?
Hope you were able to find everything you need for the Waco trash pickup schedule. We strive to provide the most up to date information so please let us know if you need anything else.