Every household that owns electronics will need to know how to dispose of batteries.
Since batteries can NOT be thrown the trash, you need to know the proper way to dispose of them or recycle them.
It's it's even more important to handle them properly when they get old, swollen, corroded, or even start leaking so that they don't become a danger to you or the environment.
How you can dispose of them (or recycle them) will depend on their size and condition.
I've found the most convenient way to dispose of old batteries is to keep them in a coffee can in the garage until I'm ready to take them to the recycling center.
It's even labeled "take to recycling center" so that nobody accidentally throws it in the trash.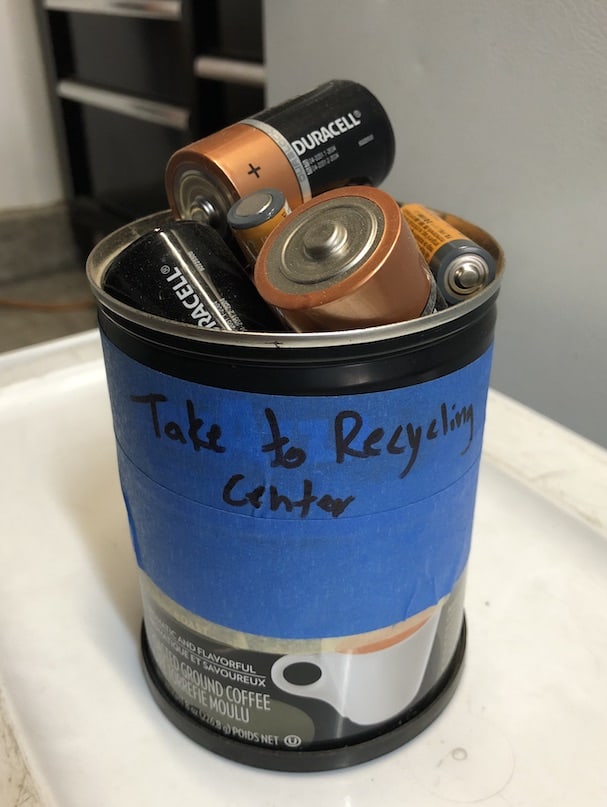 How to Dispose of Household Lithium Batteries
The most common type of household batteries are single-use lithium ion batteries. Less common types include alkaline, Lithium Polymer (LiPo), Zinc, Silver Oxide, and Carbon Zinc.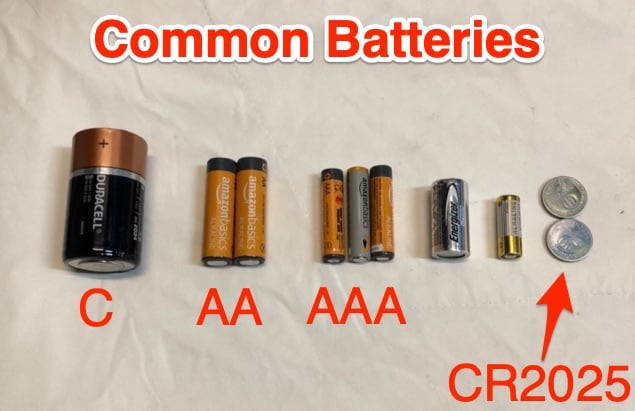 This includes popular sizes of batteries:
A (Single A)
AA (Double A)
AAA (Triple A)
AAAA (Quad A)
9v (9 volt)
6v (6 volt)
3v
As well as smaller "button" batteries (they're called button batteries because their about the size of a clothes button). They're popular is small items like hearing aids, watches, and car key fobs.
3V (3 volt)
1.5V (1.5 Volt)
CR2032
CR2025
CR2450
LR44
AG13
357
2023
SR44
18650
Rechargeable vs. Single Use Batteries
Rechargeable household batteries and single-use household batteries are treated differently and require different recycling requirements.
Fortunately, if a disposal or recycling center accepts rechargeable batteries, there's a good chance they'll accept single-use batteries too. (Or at least know somewhere close you can take them)
If you're bringing both types, keep them separate because they'll likely be placed in separate cycling containers.
The following items contain a battery an must be disposed of at an authorize location.
Cell phones
Computers
Digital Cameras
DVD players
Game Consoles
GPS systems
MP3 Players
iPods
iPads
iPhones
Tables
Radios
Digital photo frames
Smoke alarms
Watches
laptops
Where to take batteries for disposal (12 Popular Locations)
According to CalRecycle, All batteries in California must be taken to a Household Hazardous Waste disposal facility, a universal waste handler, or an authorized recycling facility.
The facilities below are known to accept batteries.
Staples
Best Buy
Local Hazardous Material Recycling Event
Recycling Center
O'Reilly Auto Parts
AutoZone
Pep Boy
Walmart
Sears's Auto Center
Advance Auto Parts
Each location listed above may have different requirements so we recommend you call ahead before driving to the store.
Disposing of leaking, swollen, or corroded batteries
If you have batteries that are leaking, swollen, or corroded, you need to use extra caution when handling them.
Battery acid can be toxic and corrosive. It can burn your skin you don't want your skin to come in direct contact.
Use rubber gloves and safety goggles anytime you're handling batteries that may be leaking.
How to Dispose of Car Batteries
Not all disposal facilities will accept car or marine batteries. Be sure to call ahead before you haul a heavy battery all the way to their location.
Since car and marine batteries can be 40 lbs or more, be sure to use good form when lifting it or use a hand truck to move it around.
The following locations may accept car batteries in your area:
How to dispose of e-bike batteries
eBikes got super popular during the pandemic. When one of the batteries goes bad you may need to replace it.
The best place to dispose of an ebike battery is at the bike shop where you purchased the bike.
They're going to be the most accomodating and may recycling it for you free of charge. (To keep you as happy customer)
If you didn't purchase your ebike from a local store, they may still accept your old battery but may charge you a small fee to recycle it.