Nearly everybody at some point in their life will need to know how to get rid of a mattress.
Whether it's because you bought a new one or you're moving and can't take the mattress with you, we're here to help make getting rid of it easy.
The thing you have to remember here is the saying that "one man's trash is another man's treasure."
I'm going to show you 8 ways to get rid of or dispose of your mattress and box spring.
#1 Use Craigslist to Get Rid Of Your Mattress
Craigslist has a "free" section (You can see it by going to Craigslist.org, then "for sale", then "free".)
To post your mattress on there visit the site and go to "create a posting"
Add a description of your mattress like if it's a single, double, queen or king. Also add the condition it's in. Is it new or used?
You'd be amazed at how many people want used mattresses and are willing to come pick them up from your house or apartment. Of course you could always offer to drop the mattress off if you have a vehicle large enough.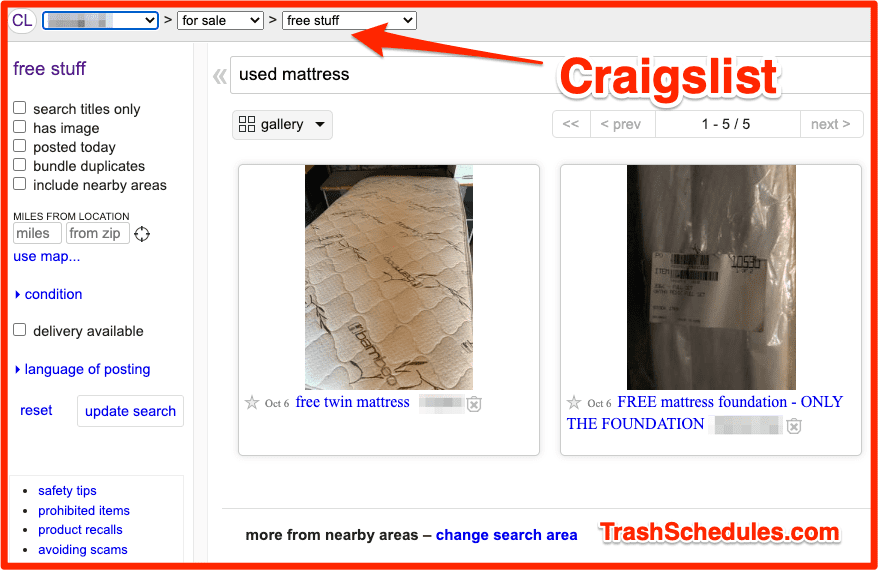 #2 Use Facebook Marketplace
Facebook marketplace also allows you to list items for free. You can list your mattress for free (or low cost) and connect with interested parties though the app.
FB marketplace is massive so you can get lots of people viewing your listing.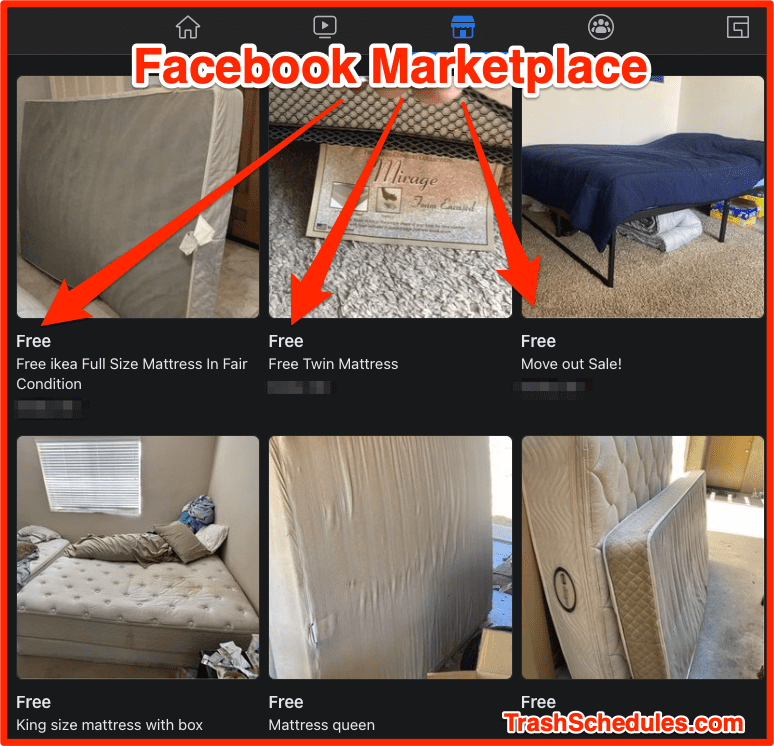 #3 Use Facebook "Free Stuff" Groups
There are thousands of groups on Facebook dedicated to helping people swap free stuff.
If you have mattress you want to get rid of, post it in one of your local groups and you'll probably find somebody who wants it.
Giving it away to somebody who needs it will make you feel better about helping them than just disposing of the mattress.
#4 Use your City's Bulk Trash Pickup
Most cities provide bulk trash pickup and accept mattresses during collection. (Unlike disposing of batteries which requires you take them to an authorized recycler).
The downside to using "bulk pickup" is that it's usually only done on certain days of the month so you may need to hold onto your mattress for several weeks before they come pick it up.
If you don't need to get rid of it fast, they may be a good option for you.
Also some cities charge a small fee for bulk pickup. If you're ok with paying a small disposal fee then this would work for you.
You can use the search function on this page to search for your city and find the bulk trash pickup schedule.
#5 Give it to Goodwill (or other charities)
The Goodwill and other charities often offer to pick your donated items.
You're able to donate your mattress to a good cause and get rid of it at the same time. A win, win scenario.
#6 Use a Junk Hauler to Dispose of Your Mattress
Junk Haulers are private companies that dispose of large items for a fee. They're available in most cities. You have to pay a small fee to use them however they usually offer same day pickup.
This is probably the fastest way to get rid of your mattress.
#7 Get Rid of Your Mattress At The Dump
If you have a local dump, you can take the mattress there.
There's usually a small fee to dispose of your large items however some offer to do it for free.
This also requires you have a vehicle large enough to
#8 Go Shawshank Redemption on it!
In the movie The Shawshank Redemption, the way the main character, Andy, plans to escape from prison is by chiseling a hole through his cell wall. But instead of leaving all the bits of chiseled wall in his cell, he carries out a small amount in his pockets every time he gets to go outside into the yard.
You can do the same thing with your mattress.
If you're in a bind and need to get rid of your mattress and none of these other strategies have worked, you can cut up your mattress into smaller pieces.
Once it's in smaller pieces you can dispose if it in the trash.
I wouldn't recommend this but it's doable.