It happens! We all get busy and forget to put out our trash bins out and before you know it you've missed trash day.
Here's a few things you can do to get rid of your trash if you forgot to put your bins out, missed trash day and your carts are full.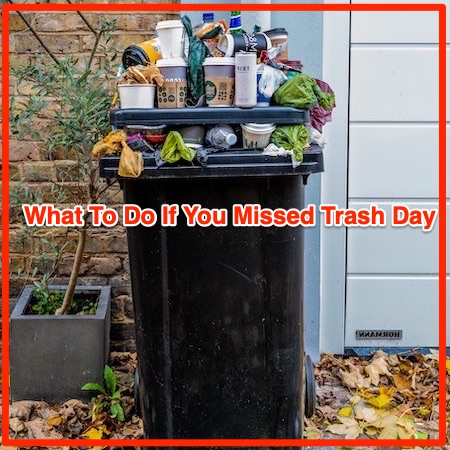 Move your bins across the street (maybe)
Depending on the route the trash truck takes, one side of the street may be picked up before the other.
If you notice that the trash cans on your side of the street have been emptied but ACROSS the street the bins are still full, you may be able to move your cans over there and have them emptied.
In my neighborhood the trash trucks route picks up our side of the street first and then picks up the other side of the street a few hours later.
On days that I forgot to put the trash out first thing in the morning, I'll wheel my carts in front of my neighbors house across the street to be picked up later in the day.
Call the Trash Company or Sanitation Department
Many trash companies or sanitation departments (or whoever manages the trash pickup in your city) have a phone number to call if your trash wasn't picked up.
If your trash wasn't picked up because you forgot to put your bins out be honest about that. Don't say that the driver missed your bins because that negatively affects his performance.
But be polite and ask if there's anything they can do to come pick up your garbage.
If you're polite they may send a truck back to collect your garbage.
For example, Sacramento County has number you can call to request a truck return to your house. The first service is free but additional services is charged a small fee.
Take it to the dump or transfer station yourself
This requires a bit of work on your part but may be necessary if you have a ton of trash.
You can take the trash to your local dump, landfill or transfer station to dispose of it yourself.
They'll likely charge you a small fee for doing so but might be your last resort to get rid of the garbage.
Call your local junk hauler
This is likely the most expensive option but may get you out in a pinch.
Call your local junk hauler and tell them what you need to dispose of.
Not all of them accept trash or garbage but some of them do.
While they're at your house you can also give them your bulky items like furniture and mattresses to get rid of.
Use the community bins
If you live in a community that has public bins you can take your trash there.
Of if you live in a private community with a club house there's likely large rolloff dumpsters there that you can put your trash in.
Just make sure you're not breaking any rules of the community for doing this!
Wait until next week
Sometimes the best solution is to do nothing. If your bins aren't too full you can just wait to put your trash out next week.
Hopefully this helps you figure out what to do if you miss trash day.
Frequently Asked Questions
How do I report a missed trash pickup?
Missed pickups happen. Start by calling 311, your public works department, or the trash company directly.
Many times they'll send somebody back the same day or the next day to pick up the missed trash.
But be honest if YOU forgot to put the trash out. It reflects poorly on the garbage truck drivers if you say that they missed your bins when it was actually your fault they were skipped.
How do I get rid of trash if I missed trash day?
You have a few options (see above). Your options include:
Waiting it out until next week
Calling the trash company and asking if they'll send somebody back to your house
If you have too much to fit in your bin, you can ask a neighbor if they have extra space in their bins.
Take it to the dump or transfer station yourself. There's usually a fee associated with this option.
Call a local junk hauler. They may take your trash but there's usually a fee associated with this option too.