We're here to help you find the Woodlands trash pickup schedule for 2023 including bulk pickup, recycling, holidays, and maps.
The City of The Woodlands is in Texas with Conroe to the north, College Station to the northwest, Houston to the south, Austin to the west.
If there's a change to your normal trash collection schedule then there's a good chance your street sweeping schedule has changed too so make sure to check for updates.
Woodlands Trash Collection Calendar 2023
For normal trash collections schedules, visit The Woodlands Solid Waste & Recycle Service Areas Map App
Trash Pick Up Holidays
Here you can see the city-observed holidays.
The only holidays that will affect residential trash and recycling collection are as follows:
New Year's Day
Thanksgiving Day
Christmas Day
There will be no trash or recycling service on holidays noted above. Waste Management will resume pick-up on the day following the holiday. Trash and recycling pick-up for the observed holiday and all subsequent days of the week will be delayed by one day. 
For instance, if the holiday falls on Monday, then Monday service will occur on Tuesday and Tuesday service will occur on Wednesday, etc. Households with Friday service will receive pick-up on Saturday. If the holiday falls on Wednesday, then Monday and Tuesday service will be normal, Wednesday will have service on Thursday, Thursday will have service on Friday, and Friday service will occur on Saturday. 
Woodlands Trash Collection Map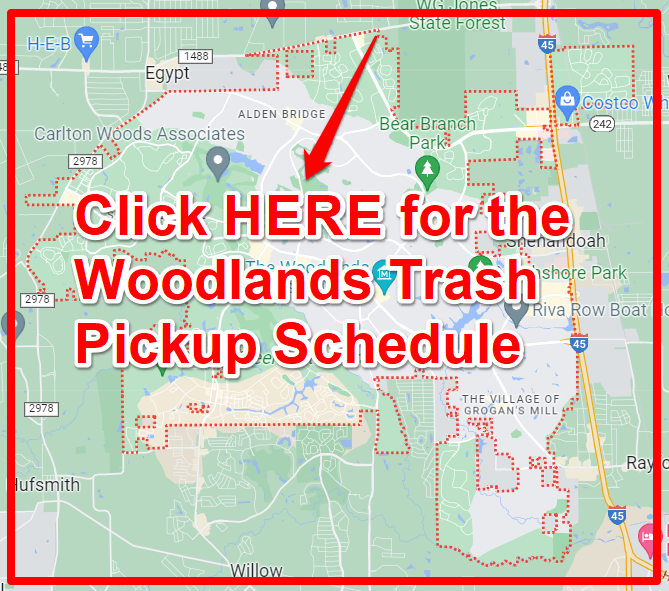 Bulk Waste Pickup Calendar 2023
To find your bulk item pickup schedule visit: https://www.thewoodlandstownship-tx.gov/183/Bulky-Oversized-Trash
Acceptable Items for Bulk Pickup
Basketball goals

Due to size, broken down in several pieces: goal, main tube and base
Pole must be cut to 4 ft sections

Block Styrofoam (polystyrene) that cannot fit in the trash cart

Styrofoam pieces too large to fit in your cart can be scheduled for bulky trash or recycled at the Montgomery County Precinct 3 Recycling Facility or the Township's annual 3R Recycling Drive-thru event in November. Styrofoam packaging cannot be included with bulky cardboard pickup.

Carpet (4-foot bundles, limit 2)
Fence boards

Up to 10 fence boards are accepted at a time. Must be bundled and tied.

Furniture
Ladders (6 ft and under only)
Long items (poles, playground equipment, etc.) must be cut to 4′ sections
Mattresses & box springs

These items can also be recycled locally at Houston Furniture Bank. Drop off and pickup options are available.

Mirrors or large pieces of glass

Put the glass on a blue tarp. Then fold it up and close well with duct tape. Break the glass until it is small enough to pick up. Once broken, tape the tarp into a smaller bundle.

Refrigerators, freezers & AC units

Must be Certified Freon Free with tag. Contact a local appliance or AC repair company to schedule removal.
Other disposal options:

The Montgomery Precinct 3 will take items with freon via drop off for a fee.
Some large waste pickup companies will pick up items with freon for a fee.

Toilets

Place in cardboard box and duct tape shut
Unacceptable Items for Bulk Pickup
Brush or yard trimmings

Brush and yard trimmings must be prepared for weekly set out in compliance with curbside guidelines. Yard trimmings can also be taken to The Woodlands Recycling Center or a local composting facility such as Nature's Way Resources or New Earth.

Construction & home improvement debris

Concrete, bricks, roofing, doors, windows, sheetrock, drywall, insulation
Residential construction debris or large amounts of waste from big projects can be taken to local landfills or picked up in your driveway through Waste Management's Bagster program. Both of these options require a fee.

Electronics – TVs, computers, etc.

Electronics cannot be landfilled, seek a recycling option via www.thewoodlandstownship-tx.gov/recyclemore.

Extra bags of household trash

Extra bags of household trash require a pink tag available for $1.75 each at Kroger Customer Service counters in The Woodlands and The Woodlands Township Town Hall. These bags DO NOT need to be scheduled for pick-up. Bags must be no larger than 55 gallons, no heavier than 40lbs.Place bags beside trash cart, not on top of cart lid. Trash cart must be at the curb beside the bags for the driver to load into the truck.

Small items that can fit in the cart

Multiple small items will not be serviced as bulky trash. Items smaller than your curbside cart must be bagged with a pink tag and placed beside the cart.

Vehicles or parts
Have bulky items the city won't pick up? You need a junk removal service.
If you have large items that the city won't take from you, you may need to hire a junk removal service.
Junk removal services are not be as picky about the items they're collecting so if the city won't take the item, this may be your best bet. There's usually a fee involved with junk removal but most companies can tell you ahead of time approximately what it's going to cost.
There are a number of junk removal services in Woodlands and I'm sure many of them will be able to help you out.
Recycling Collection Calendar 2023
Here's the link to the recycling collection calendar: The Woodlands Solid Waste & Recycle Service Areas Map App
Frequently Asked Questions
When is bulk pickup in Woodlands?
To find your bulky item pickup in your area visit: https://www.thewoodlandstownship-tx.gov/183/Bulky-Oversized-Trash
What day is trash pickup?
To find trash pickup on your street visit: The Woodlands Solid Waste & Recycle Service Areas Map App
What time does trash collection start?
Trash collection starts at 7 a.m. Make sure to have your bins on the curb by then.
How can I contact the Waste Management Department?
Phone: 1-800-800-5804
Email: [email protected]
Monday through Friday 8 a.m. to 5 p.m
Did we miss anything?
Hope you were able to find everything you need for the Woodlands trash pickup schedule. We strive to provide the most up to date information so please let us know if you need anything else.