We're here to help you find the Houston trash pickup schedule for 2023 including bulk pickup, holidays, recycling, and maps.
The City of Houston is in Texas with San Antonio to the west, The Woodlands to the north, and New Orleans to the east, Pearland to the south.
If there's a change to your normal trash collection schedule then there's a good chance your street sweeping schedule has changed too so make sure to check for updates.
Houston Trash Collection Map
Click on the map then enter in your address to find the exact schedule for when your trash will be picked up. You can also change the layers of the map to view the recycling pickup schedule too.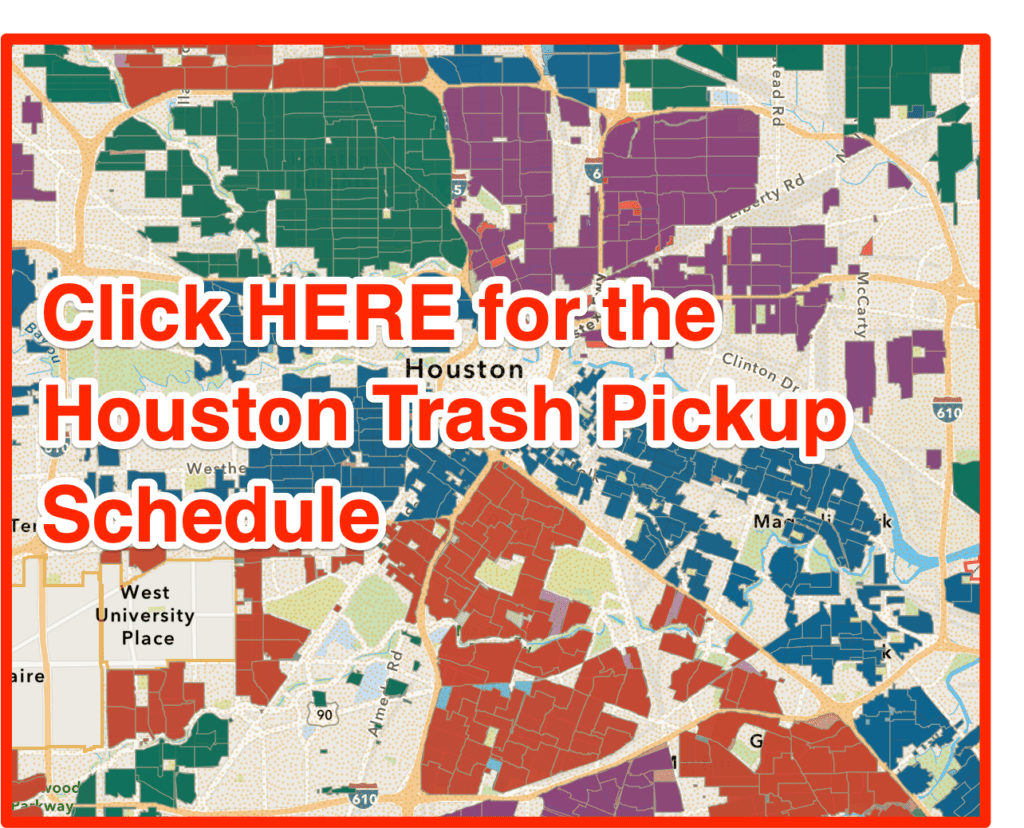 Bulk Waste or "Junk Waste" Collection 2023
Junk waste is defined as items such as furniture, appliances and other bulky material.
Junk waste collection takes place during the months of February, April, June, August, October, and December.
If you need to dispose of your tree or junk waste before the scheduled monthly pickup, you can take the bulk waste to a neighborhood depository and recycling center.
To find one near you visit: https://www.houstontx.gov/solidwaste/depositories.html
Recycling Collection Calendar 2023
Click the calendar below to see the full recycling collection calendar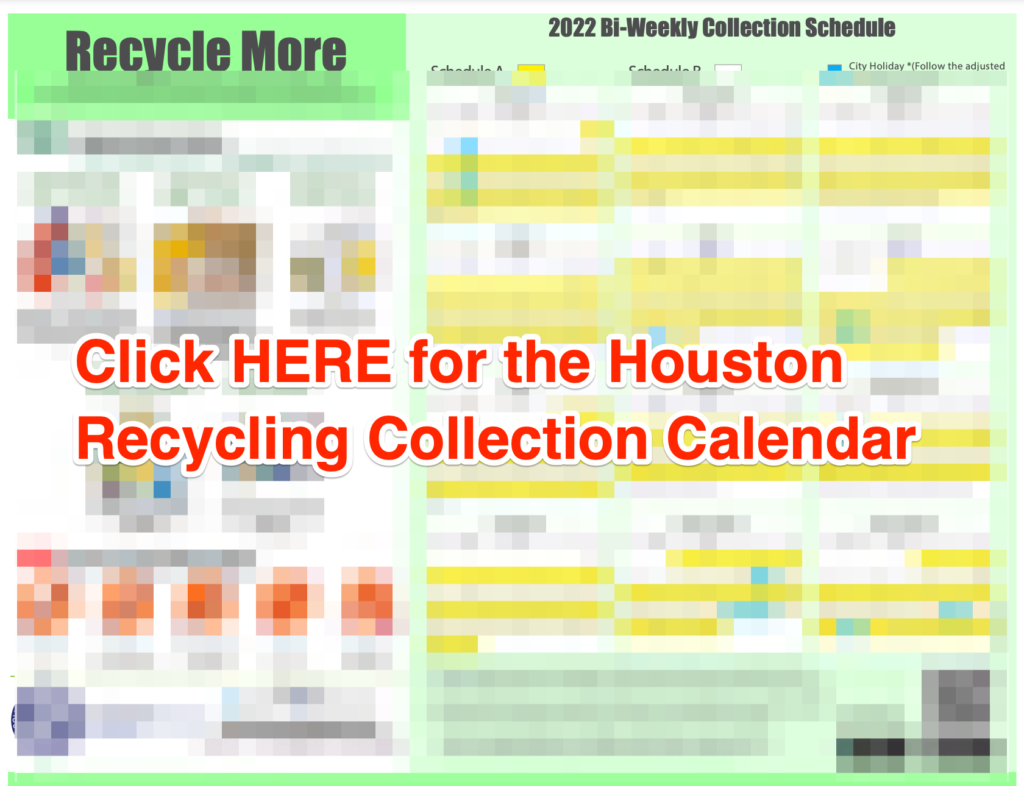 Trash Collection Calendar 2023
For normal City of Houston trash collections schedules, visit https://www.houstontx.gov/solidwaste/holiday.html to find the collection day for your trash. You can also see the city-observed holidays.
Collections schedule on or after these holidays will slide forward one day during the same collection week.
Trash Pick Up Holidays
New Year's Day – Monday, January 2
Martin Luther King, Jr. Day – Monday, January 16
Memorial Day – Monday, May 29
Juneteenth Day – Monday June 19
Independence Day – Tuesday, July 4
Labor Day – Monday, September 4
Veterans Day – Friday, November 10
Thanksgiving Day – Thursday, November 23
Day After Thanksgiving – Friday, November 24
Christmas Eve – Friday, December 22
Christmas – Monday, December 25
Junk Removal Companies
If you have heavy or bulky items that the city won't accept, you may need to call a junk removal company. Here's a few to call…
Houston Waste Services Contact info
Solid Waste Management Department
611 Walker, 12th Floor
Houston, TX 77002
E-Mail: [email protected]
Houston Twitter Updates
Follow @HoustonTrash for updates to the trash and recycling schedules
Do you have extra Junk/Tree Waste and can't wait until your next collection day? Did you know you can visit any of the six Neighborhood Depository & Recycling Centers before/after your scheduled collection day? 🤯

You can find more detailed information: https://t.co/lI1pYCvLuP pic.twitter.com/vfgqnHNnBJ

— COH Solid Waste Mgmt (@HoustonTrash) December 28, 2022
Frequently Asked Questions
When is heavy trash day in Houston?
Heavy trash, also known as "Junk Waste" is collected during the months of February, April, June, August, October and December.
To find the heavy trash pickup day for your house, enter your address into this map: https://mycity.maps.arcgis.com/apps/webappviewer/index.html?id=9773b75ab5fc4eb6a5adca5946a549df
What time is trash pickup?
Trash pickup begins at 7 a.m. You can put your bins at the curb as early as 6pm the night before collection day.
Did we miss anything?
Hope you were able to find everything you need for the Houston trash pickup schedule. We strive to provide the most up to date information so please let us know if you need anything else.