Find the City of Austin Trash Schedule for 2023 including holidays, recycling, and bulk pickup.
There may be changes to your normal collection schedule due to holidays, weather, or roadwork.
If there's a change to your trash collection schedule, there may also be a change to the Austin street sweeping schedule so verify that too.
Austin is in the state of Texas and is between San Antonio and Waco with Round Rock and Cedar Park bordering it to the north.
Austin TX Trash Pickup Schedule 2023
Make sure to confirm your collection schedule directly with the city.
The best way to find your specific schedule is to visit https://www.austintexas.gov/myschedule and type in your address.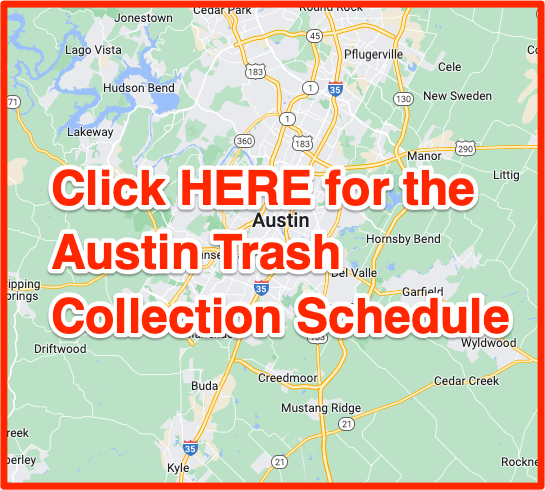 Holiday Trash Schedule
If your collection day falls on:
Thanksgiving Day
Christmas Day
New Year's Day
– or if it falls after the holiday in the same week – it slides to one day later. If the holiday falls on a Saturday or a Sunday, your collection day will not slide.
Bulk Trash Collection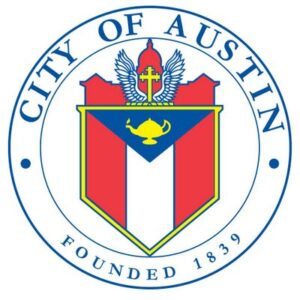 Bulk trash or "heavy" trash that doesn't fit in your normal bins are collected separate than your normal trash that fits in the bins.
According to the City of Austin…
"Large brush and bulk collections for residential curbside customers will resume
Curbside customers who missed a collection during the suspension will be the first to receive bulk and large brush pick up. Customers will receive a notification postcard via mail a couple of weeks before their next collection. Download the Austin Recycles app for Apple or Android devices to review the updated collection schedules."
Acceptable Bulk Pickup Items
Doors
Carpet
Furniture
Appliances (remove doors)
Passenger car tires (remove rims; limit eight tires per household)
Lawn mowers (remove gas/oil)
Railroad ties (cut in half)
Pallets
Rolled fencing
Nail-free lumber
Unacceptable bulk items crews cannot collect:
Brush
Household trash
Cardboard boxes
Mirrors
Automotive chassis and bodies,
Motorcycles
Trailers,
Boats
Tires that are still mounted on rims
Sheet glass and other construction and remodeling debris
Additionally, bulk items must be placed on the curb by 5:30am on the first day of the schedule collection week.
Bulk items must be separated into 3 different piles: metal items, passenger car tires, and non-metal items.
Place these items, as well as normal trash, at least 5 feet apart.
Brush Collection Service
Austin residents get brush curbside collection 2 times per year.
To find your collection date visit: https://www.austintexas.gov/page/my-collection-schedule
Brush Collection Guidelines
Limit brush to between 5 and 15 feet long
Place large brush at the curb by 5:30am on the day of collection week.
Do not block the sidewalk
Get the brush pile at least 5 feet away from any stationary objects.

Recycling Schedule
The Austin recycling schedule is typically the same day as trash and compost.
You can find your recycling day by entering your address at this link: https://www.austintexas.gov/myschedule
Or download the Recycling App (below) to get the schedule on your phone.
Austin Trash Collection & Recycling App
Download the app at the Apple or Android app store:
Apple: https://apps.apple.com/app/id1503567794
Android: https://play.google.com/store/apps/details?id=gov.austintexas.recollect.waste
Christmas Tree Recycling
Beginning December 26, you can recycle your non-artificial holiday trees by setting them at the curb by 5:30 a.m. as part of your regularly scheduled compost collection. 
Trees must be free of all decorations, lights, stands and plastic bags and trees over six feet should be cut in half.
In addition, trees can be dropped off at Zilker Park and will be turned into mulch that is available for free on a first-come, first-served basis beginning January 12 at 9 a.m. (date and time subject to change due to weather).
Austin Junk Removal Companies
If you have junk or large items that aren't accepted during bulk pickup, you may need to call a junk removal company. Here's a few for you to pick from…
Austin Twitter Updates
Follow @austintexasgov for updates to the trash and recycling schedules
The City of Austin waived extra trash fees until further notice. Protect the health and safety of collections staff by placing all trash in tied bags to keep it contained. Use a BPI-certified compostable bag or paper bag for compost. Do not bag recycling. pic.twitter.com/dxAxcYJGK2

— City of Austin (@austintexasgov) March 25, 2020
Frequently Asked Questions
When is my recycling day?
Your recycling day is most likely on the same day as your garbage collection. You can verify your exact day by visiting the City of Austin collection schedule website.
When is bulk trash pickup in Austin?
You'll need to visit https://www.austintexas.gov/myschedule and enter your address to find your bulk pickup date.
Did we miss anything?
We do our best to keep this site up-to-date but if we missed something please let us know in the comments.
Or if you have any questions about your trash or garbage schedule please post them in the comments.
Thanks!