Recycling scrap ammo is a great way to make some extra cash, help the firearms industry to help keep costs down, and help the environment.
According to the National Shooting Sports Foundation, the U.S. firearms industry generates an estimated 2 billion rounds of spent brass cartridge cases annually.
Recycling brass shells can be your way of making a little bit of money and also doing something good for the environment at the same time.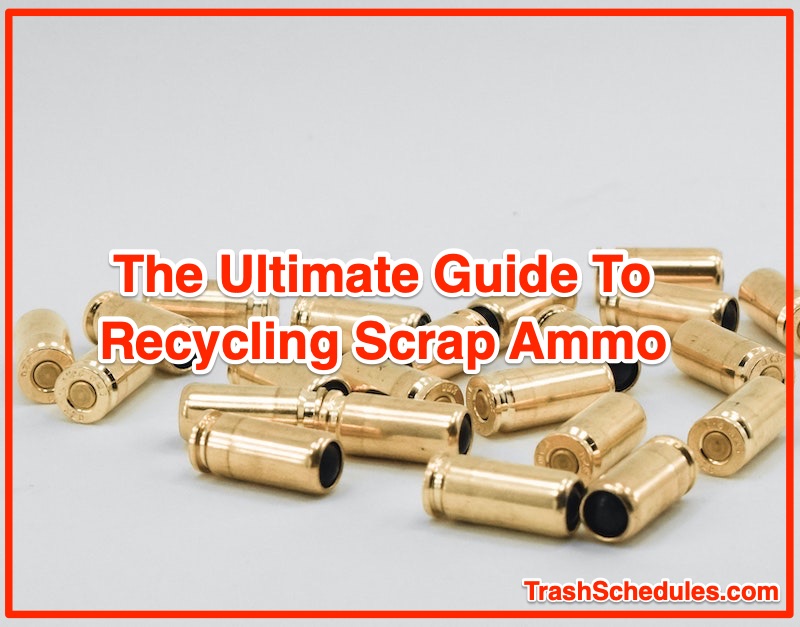 Safety Precautions when Recycling Scrap Ammo
Before you even think about touching ammunition it's important to think of the safety concerns.
Everything in this article is referring to recycling SPENT ammo, the leftover casing once the bullet has been discharged.
DO NOT MIX LIVE AMMUNITION WITH SPENT AMMUNITION.
It can be a serious safety hazard for you and anybody else handling the ammo if there's live rounds mixed in.
Now that you've taken those precautions, here's how to prep for ammo for recycle.
How to Prep Ammo Before Recycling
Before heading to the recycling facility (or anywhere else that accepts ammo) the main thing you need to do is to sort the ammo by metals.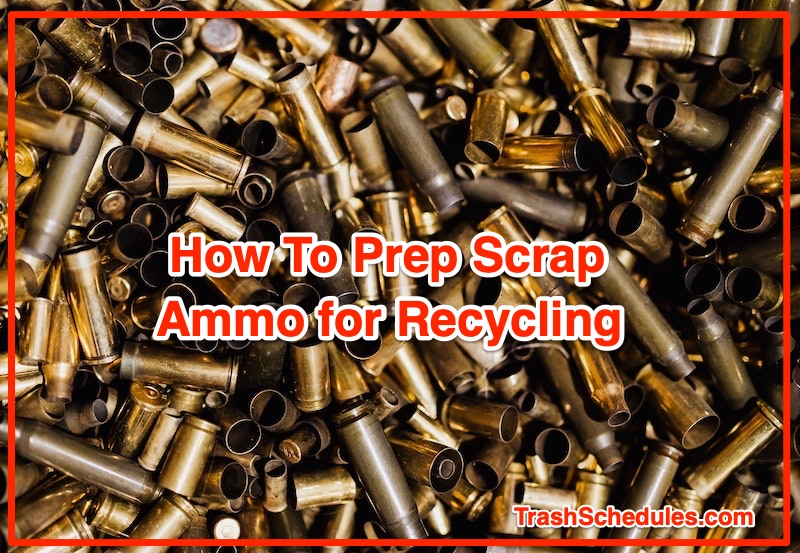 Each type of ammo casing should have it's own box:
Brass shell casings
Steel shell casings
Aluminum
Nickel Plated
Shotgun shells
This is important but facilities may not accept boxes with mixed metals. Sorting these ahead of time will save you time and frustration once you get there.
Ways To Recycle Scrap Ammo
Take it to a recycling facility
Do a Google search to find your local scrap metal recycling center. Search for "recycle scrap ammo near me" or "ammunition disposal near me" and you'll likely find a facility in your area.
I suggest calling ahead to confirm that accept ammo for recycling. Their disposal services will likely include ammunition.
Once you get there the recycling facility will typically have large plastic bins or containers for you to put your casings in to be weighed.
Based on the weight of the casings will determine how much money you'll earn from recycling them.
Some facilities pay more than others per pound but unless you have a lot of ammo, the difference in what you earn will likely be negligible.
If you regularly recycle scrap metals for cash you may want to try out a few different recycling facilities since they offer different prices per pound.
Other Facilities that May Accept Ammo
Before taking your ammo to any of these locations, PLEASE CALL AHEAD. Confirm that they'll accept it from you.
Gun Range
Local gun ranges are used to dealing with large amounts of spent ammo. They're unlikely to give you any money for your spent ammo but they may recycling for you for free.
If you're a frequent customer you might get special treatment?
Police Station
Your local police station may accept spent or live ammo.
For example the Fairfax County Police Department asks that you call the non-emergency police dispatch number to see if they'll send an office to your home to retrieve it.
If they tell you to bring the ammo to the station do NOT bring your firearm to the station.
Leave the ammo in your vehicle and ask front desk for instructions.
Hazardous Waste Collection Events
Recycling companies often host special hazardous waste collection events where you can drop off all sorts of household waste like batteries, computers, and other electronics.
They may also accept ammo at these events. Not all of them do accept ammo so please call ahead to confirm.
Ammunition Disposal Service
I've heard people mention ammunition disposal services that will come to your house to get your ammo. I wasn't able to find any in operation while writing this article.
Your best bet is to call your local police station or sheriffs department since some of them will send a officer to your house to collected the unwanted ammo.
Sign up for a Brass Credit Program
Ammunition companies often offer a brass credit program.
That means you can mail in your spent ammo casings and earn a credit towards other items sold on their website, like buying more ammo or merchandise.
Credit programs require your ammo casings to be in better condition than a recycling facility and may only accept brass casings.
If the casings are rusted or corroded they'll likely reject your shipment and not give you a credit.
There's also usually a minimum quantity to be eligible. Fenix Ammo requires a 10lb minimum to be eligible for the credit.
Cash for Brass Programs
Here's a list of some brass shells recycling companies that will pay you to send them your brass shells:
When you're ready to sign up for a brass credit program I suggest you call or message each of the companies listed to see which company will give you the best price for your shells.
Find a Reputable ISRI Recycler
The Institute of Scrap Recycling Industries (ISRI) is an organization that works to promote the safe, economical and environmentally responsible recycling.
You can find a reputable ISRI brass shells recycler in your area by using their member directory.
They may be able to help you recycle your ammo or point you to another recycler or processing facility that can help you out.
Reload It and Reuse It
If you're the industrious type, it's possible to reload your own ammo.
I won't go into all the details in this article but many marksmen recycle their ammo by cleaning the casings and reloading them.
This is more time intensive but will save you some money by doing it yourself.
Reputable ISRI Recycler Locations
Final Reminder About Recycling Scrap Ammo
Follow safety precautions at all times.
Live ammunition is extremely dangerous if handled inappropriately.
If you have any additional ways you know of to recycle scrap ammo please let us know in the comments!
Happy recycling!
Frequently Asked Questions
How much can I make from recycling scrap ammo?
The price per mount of scrap metal changes daily. A the time of writing this, you could earn $0.50 to $2.50 per pound of brass shell casings.
So if you want to have a general idea of how much your brass is worth you can put it on a scale to see how many pounds you have.
Is recycling ammo good for the environment?
According to the ISRI, recycling one ton of steel conserves 2,500 pounds of iron ore, 1,400 pounds of coal and 120 pounds of limestone.
Can I recycle ammo if it's rusted?
It depends on how rusted the metal is. If it's minor, most facilities will still accept it. If it's completely rusted then they may reject the batch and tell you to dispose of it.
Brass buyback program are much more strict and don't allow any rust to earn credit.
Can you recycle brass shell casings?
YES! From taking it to a recycling facility, police station, hazardous waste disposal event, brass credit programs, or reloading them yourself, there's lots of ways to recycle your brass.
How much is brass worth?
The price of brass changes daily. As of this writing, brass was worth $2-$2.50 per pound. Brass credit programs may only give you $1.40 per pound and will vary from state to state.
What's the best company to recycle scrap ammo for shooting ranges?
Most likely you'll get the highest price from somebody local.
Even if you can get a higher price per pound from a facility out of state, by the time you pay transportation costs and potentially a higher tax rate on the ammo, you may make less money than using somebody local.
Also for shooting ranges with lots of volume, you may be able to negotiate a better deal than the average Joe who only has a few pounds of shells to recycle.
It's worth calling around a few places to find the best price.
Where do I take my scrap brass shells to be recycled safely?
You have a few options. Refer to the section above:
https://trashschedules.com/recycling-scrap-ammo/#Ways_To_Recycle_Scrap_Ammo
How much are brass shell casings worth?
It depends on their condition. If they're corroded they might not be worth anything. If they're in decent condition you can get $0.50 to $2.50 per pound.
Who recycles scrap brass shells near me?
To find a location near you search for a recycling center, gun range, police station, or hazardous waste recycling event. Call ahead before taking your shells there to make sure they'll be accepted.
Where can I find a reputable ISRI brass shells recycler?
The easiest place to check is on the ISRI member directory.
You can also check out the websites of your local recyclers and see if they have the "ISRI Member" logo on their site.
It looks like this…