We're here to help you find the City of Plano trash pickup schedule for 2023 including bulk pickup, holidays, and recycling.
Plano is a city in Texas, just north of Richardson and south of Frisco, McKinney and Allen, and west of Wylie. You can find all the trash pick up information you need below.
If there's a change to your normal trash collection schedule then there's a good chance your street sweeping schedule has changed too so make sure to check for updates.
Plano Trash Collection Map
Click on the map below to find your trash collection map. Enter your address to find the schedule for your location.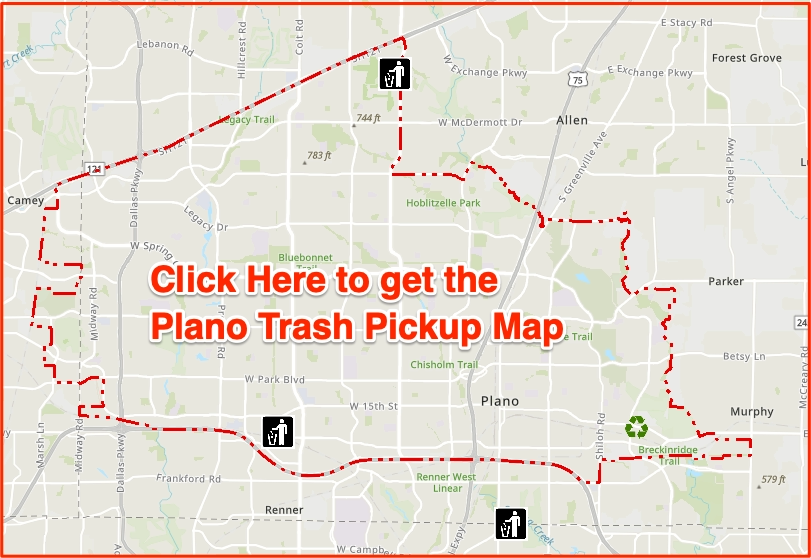 Plano Bulk Waste Collection Calendar 2023
In Plano bulk trash (waste) is collected on a different schedule that normal trash. Bulk trash gets collected 1 time per month.
Depending on where you live in the city will determine which week of the month your bulk waste gets picked up.
Use the interactive map at planoenvironmentalwaste.com for find the collection day for your bulk waste.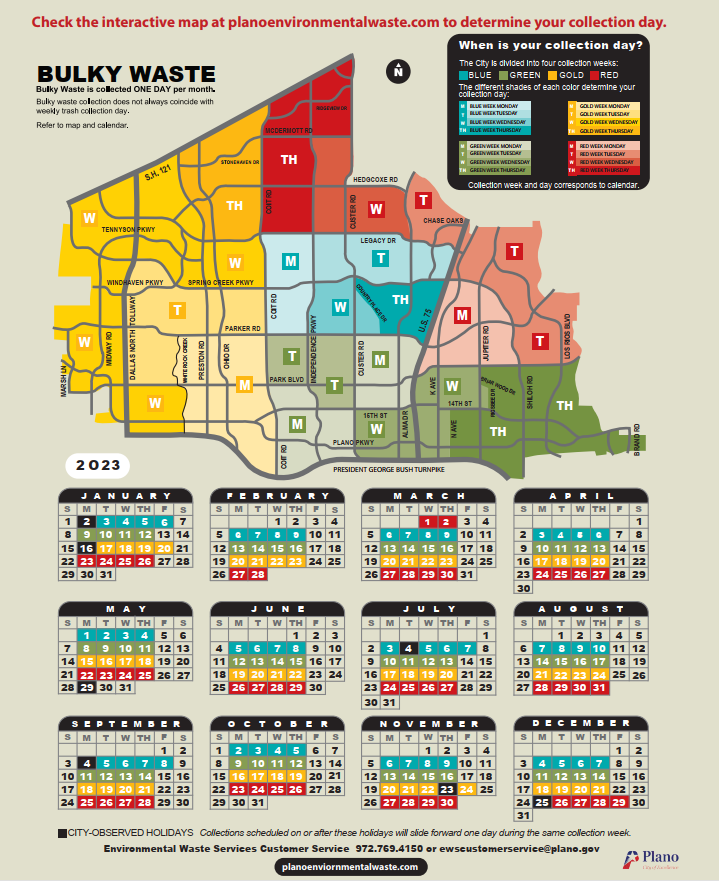 Batteries are not usually accepted during bulk pickup. You'll need to dispose of your batteries by other means than bulk pickup.
Recycling Collection Calendar 2023
The Plano recycling calendar is different that the bulk collection schedule. Use the map below to determine when your recycling will be collected.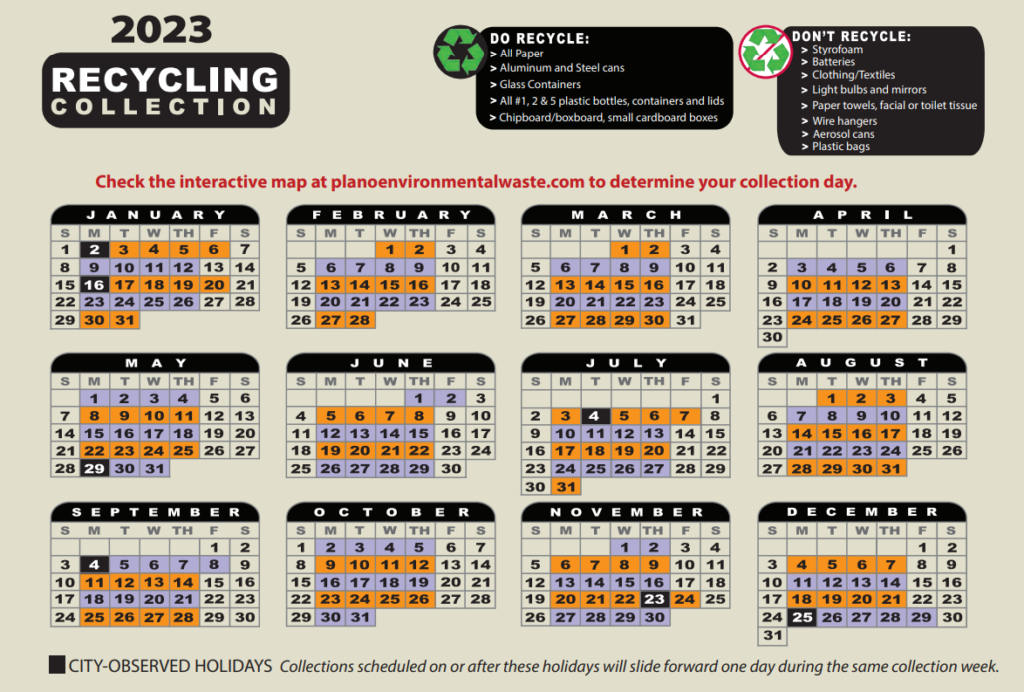 Trash Collection Calendar 2023
For normal trash collections schedules, visit planoenvironmental.com to find the collection day for your trash. You can also see the city-observed holidays.
Collections schedule on or after these holidays will slide forward one day during the same collection week.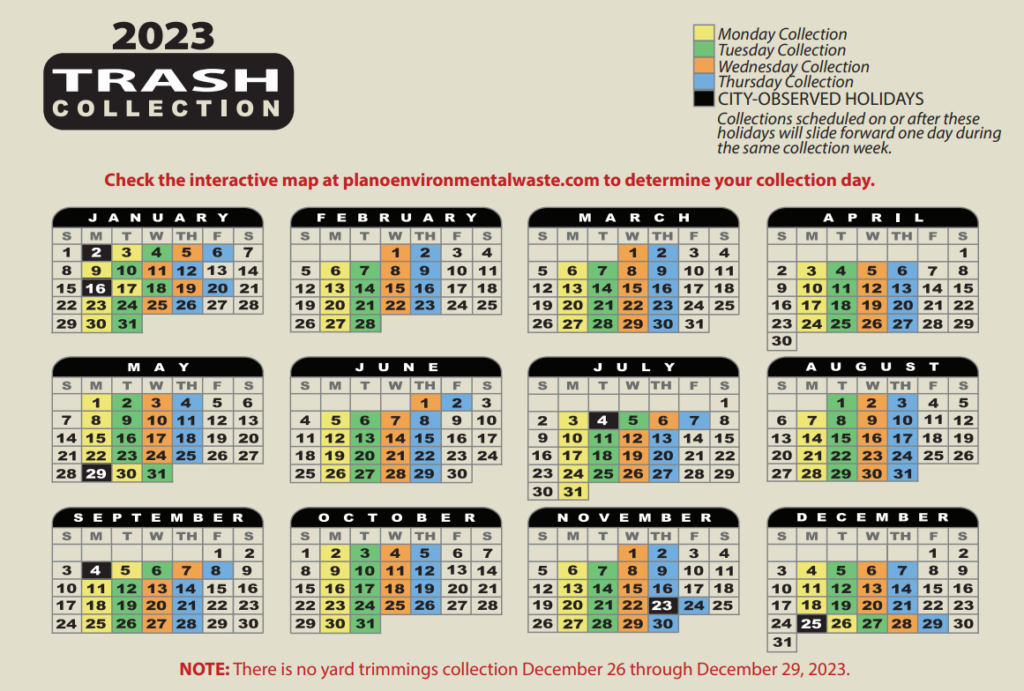 Trash Pick Up Holidays
You can visit the City of Plano website and sign up for reminders: https://www.plano.gov/863/Collection-Reminder
"Sign up for your personal trash and recycling collection reminder.
Enter your house number and click search. Scroll through the drop-down list of addresses to find your address.
Please read our privacy policy for your peace of mind and click the box for our peace of mind.
When you receive the authorization code:

Enter it and select the alert type you wish to receive (text, email or both).
Choose an alert time: 4, 5, 6 or 7 pm.
Close the program window.
Confirmation of your registration completion should arrive shortly with a link to allow you to change the time or to delete the reminder.

Your trash and recycling alerts will remind you to place your cart or items out the night before your collection day. Best of all, the alerts adjust for holiday schedules."
Junk Removal Companies
[businessdirectory-region region="plano"]
Plano Waste Services Contact info
Phone: 972-769-4150
Plano Twitter Updates
Follow @cityofplanotx for updates to the trash and recycling schedules
Winter Weather Update – 6:30 a.m. 2/4/22

Due to driving conditions & low hanging trees in alleys & streets, Thursday's postponed trash & recycling services are postponed again today. Texas Pure Products remains closed. (1/3) pic.twitter.com/YfJB25bxUh

— City of Plano (@cityofplanotx) February 4, 2023
Did we miss anything?
Hope you were able to find everything you need for the Plano trash schedule. We strive to provide the most up to date information so please let us know if you need anything else.