We're here to help you find the Richardson trash pickup schedule for 2023 including bulk pickup, recycling, holidays, and maps.
The City of Richardson is in Texas with Plano to the north, Dallas to the south, Fort Worth to the southwest, Carrollton to the west, and Garland to the east.
If there's a change to your normal trash collection schedule then there's a good chance your street sweeping schedule has changed too so make sure to check for updates.
Richardson Trash Collection Calendar 2023
For normal trash collection schedules, visit the city's trash collection website.
Trash Pick Up Holidays
The holiday schedule for 2023 is listed here. There are no make-up days for residential trash, commercial solid waste, or Brush and Bulky Item collections (BABIC).
Please note: Residential trash collection operates on a different schedule from Recycling and BABIC collections. If you are unsure of your collection days, click on the link above for more information.
Richardson Trash Collection Map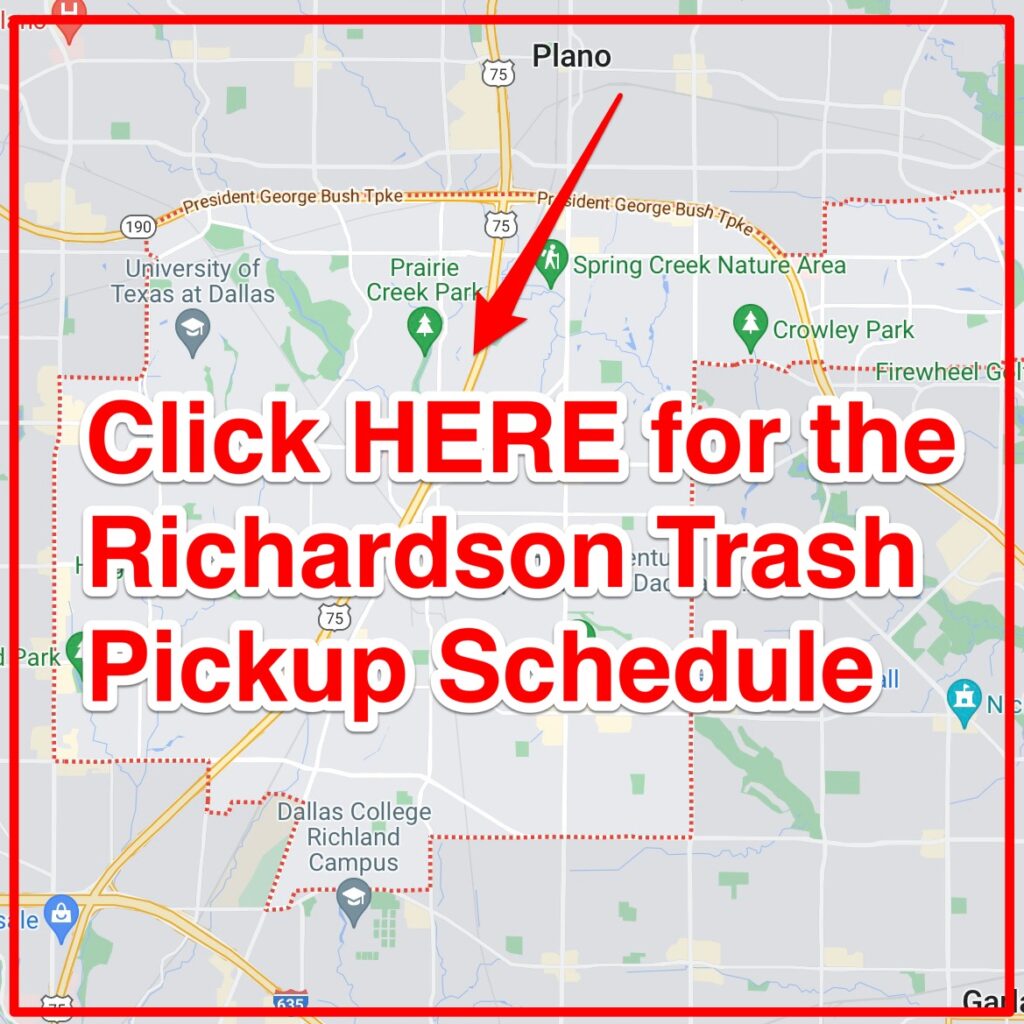 Bulk Waste Pickup Calendar 2023
To find your bulk item pickup schedule and information about the Brush and Bulky Item Collection (Babic), click here.
Acceptable Items for Bulk Pickup
Brush, Tree Trunks, Grass, Cacti or Vegetative Debris
Large Interior Pieces (Carpet less than 8 feet long, Furniture, Doors, Toilet, Bathtub)
Large Appliances (Washer, Dryer, Oven, Stove, Water Heater, Refrigerator, Freezer)
Large Electronics (Television, Computer Monitors)
Mattress and Box Springs
Lawn Mowers, Blowers, Trimmers and Edgers (Drain all Fluids)
Wood Fences (Without concrete or metal hardware including nails)
Scrap Metal (Bicycles, Swing sets less than 8 feet long, etc.)
ALL plastic bags under 50 lbs. should be placed with the twice per week refuse collection.
Any items under 50 lbs. should be placed in the twice per week refuse collection including small appliances.
Unacceptable Items for Bulk Pickup
Roofing Materials and Shingles
Tile and Laminate Flooring
Hazardous Waste (Paint, Oil, Pesticides, Solvents, Liquids)
Buildings, Building Attachments, or Sheds
Concrete, Asphalt, Bricks Rocks, Gravel, Dirt, Sand, Sod or Railroad ties
Ceramic Tile
Remodeling/Construction Debris (Open-top containers are set for this type of waste by a permitted hauler)
Glass, Mirrors, Windows, or Window Frames – including storm doors and shower doors
Compressed Gas or Air Cylinders
Vehicle Parts including Tires
Have bulky items the city won't pick up? You need a junk removal service.
If you have large items that the city won't take from you, you may need to hire a junk removal service.
Junk removal services are not be as picky about the items they're collecting so if the city won't take the item, this may be your best bet. There's usually a fee involved with junk removal but most companies can tell you ahead of time approximately what it's going to cost.
There are a number of junk removal services in Richardson and I'm sure many of them will be able to help you out.
Recycling Collection Calendar 2023
Here's the link to the recycling collection schedule.
Frequently Asked Questions
When is bulk pickup in Richardson?
To find your bulky item pickup in your area, click here.
What day is trash pickup?
To find trash pickup on your street visit the city's trash pickup schedule.
What time does trash collection start?
Trash collection starts at 7 a.m. Make sure to have your bins on the curb by then.
How can I contact the Richardson Public Works Department?
1260 Columbia Drive
Main Number: 972-744-4111
Answered 24/7
Did we miss anything?
Hope you were able to find everything you need for the Richardson trash pickup schedule. We strive to provide the most up to date information so please let us know if you need anything else.