We're here to help you find the Frisco trash pickup schedule for 2023 including bulk pickup, recycling, holidays, and maps.
The City of Frisco is in Texas with McKinney to the northeast, Little Elm to the northwest, Carrollton to the south, Plano to the southeast, and The Colony to the southwest.
If there's a change to your normal trash collection schedule then there's a good chance your street sweeping schedule has changed too so make sure to check for updates.
Frisco Trash Collection Calendar 2023
For normal trash collections schedules, visit: https://geo.friscotexas.gov/friscoportal/apps/webappviewer/index.html?id=574af5a73f85488baa0011f065287ca8
Trash Pick Up Holidays
Here you can see the city-observed holidays.
No trash or recycling services are provided on the following days:
New Year's Day
Memorial Day
Independence Day
Labor Day
Thanksgiving Day
Christmas Day
If your service day should fall on or after one of the above-noted holidays within the same week, then your trash/recycling pick-up will be provided on the next day. When a holiday falls on a Saturday or Sunday, there will be no delays in service.
Frisco Trash Collection Map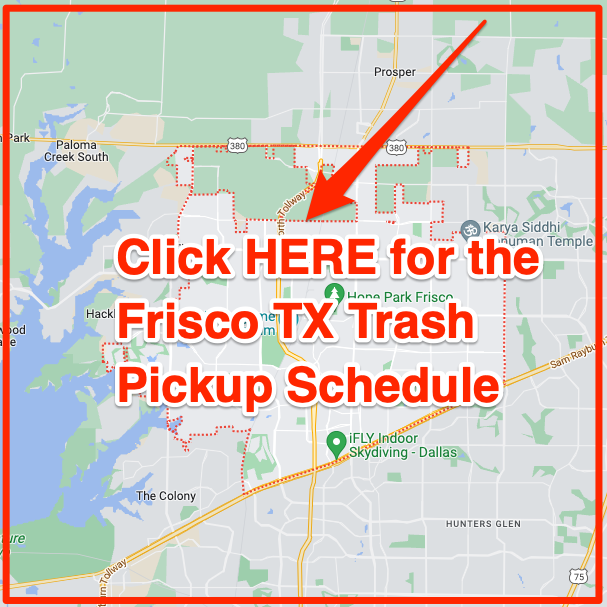 Bulk Waste Pickup Calendar 2023
View the map to find out when you can throw away unwanted, large items. The map colors distinguish pick-up zones.
There is a limit on the number of items (5) per pickup. Weight, size, and material restrictions also apply. To schedule a pickup, call Environmental Services at 972-292-5900 before 12 p.m. on the day prior to your pickup date.
Please call in with a COMPLETE LIST of your items for pickup (up to five are allowed). We are not able to add items to your list at the last minute. The request can not be changed once we send it over to Waste Connections. *Note: these services are for Frisco residents only, no contractor or commercial waste is accepted.*
Acceptable Items for Bulk Pickup
Carpet, maximum 16 square feet
Furniture
Kitchen cabinets and counter tops (maximum 50 pounds and 4-foot sections)
Wood poles under 4 feet
Unacceptable Items for Bulk Pickup
Automobile products and parts
Tires
Garden fertilizers and pesticides
Household chemicals
Pool chemicals
Tree limbs, stumps, and root balls
Tile (contact Waste Connections directly for quote on removal at 469-452-8000)
Televisions, any size
Fencing (only one 6′ section per month, no concrete)
Frisco Junk Removal Services
If you have large items that the city won't take from you, you may need to hire a junk removal service.
Junk removal services are not be as picky about the items they're collecting so if the city won't take the item, this may be your best bet. There's usually a fee involved with junk removal but most companies can tell you ahead of time approximately what it's going to cost.
There are a number of junk removal services in Frisco and I'm sure many of them will be able to help you out.
Recycling Collection Calendar 2023
Here's the link to the recycling collection calendar: https://geo.friscotexas.gov/friscoportal/apps/webappviewer/index.html?id=574af5a73f85488baa0011f065287ca8
Frequently Asked Questions
When is bulk pickup in Frisco?
To find your bulky item pickup in your area, view this map.
What day is trash pickup?
To find trash pickup on your street visit: https://geo.friscotexas.gov/friscoportal/apps/webappviewer/index.html?id=574af5a73f85488baa0011f065287ca8
What time does trash collection start?
Trash collection starts at 7 a.m. Make sure to have your bins on the curb by then.
How can I contact the Frisco Environmental Services?
Jeremy Starritt
Environmental Services Manager

Email Environmental Services
6616 Walnut Street
Frisco, TX 75033
Phone: 972-292-5900
Fax: 972-292-5917
Did we miss anything?
Hope you were able to find everything you need for the Frisco trash pickup schedule. We strive to provide the most up to date information so please let us know if you need anything else.