We're here to help you find the Nashville trash pickup schedule for 2023 including bulk pickup, recycling, holidays, and maps.
The City of Nashville is in Tennessee and is south of Hendersonville, northwest of Smyrna, north of Franklin, west of Cookeville, and southeast of Clarksville.
If there's a change to your normal trash collection schedule then there's a good chance your street sweeping schedule has changed too so make sure to check for updates.
Nashville Trash Collection Calendar 2023
For normal trash collection schedules, visit the city website and enter your home address.
You can also see the city-observed holidays.
Trash Pick Up Holidays
If your trash collection day falls on a holiday, all collection days after the holiday in that week will be delayed by one day. For example, if the holiday is on a Monday, collection for Monday customers will be on Tuesday, Tuesday customers on Wednesday, Wednesday customers on Thursday, etc. If the holiday falls on a weekend (and Metro Government is observing the holiday on a Monday or Friday) trash and recycling collection will NOT be delayed but will take place on the regular collection schedule.
Nashville Trash Collection Map
Click the map below to be taken to the trash collection schedule. Just enter your address.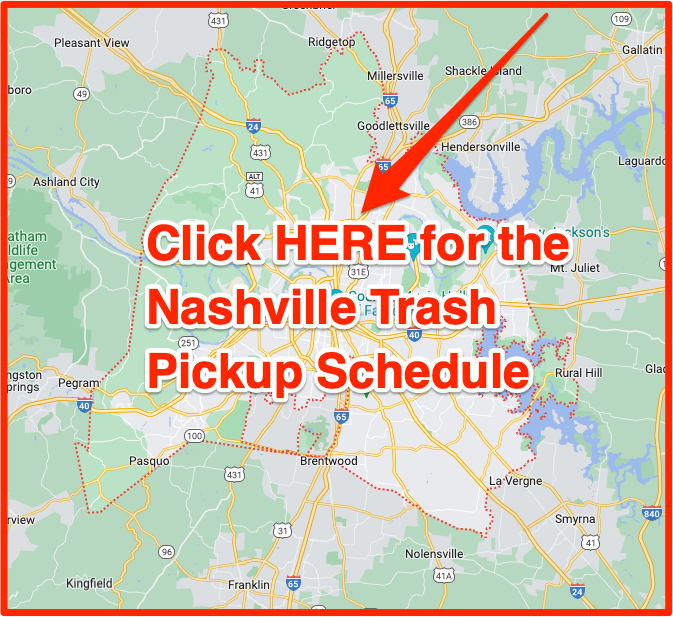 Bulk Waste Pickup Calendar 2023
Bulk pickup in Nashville is provided by the Sheriff's department on as needed basis. Contact the Sheriff's office at 615-880-3897 to schedule.
Items that are authorized for removal include:
Old furniture
Sofas/couches
Lawn furniture
Lawn mowers (emptied of gas/oil)
Bicycles
Baby furniture
Carpets/carpet pads
Rugs
Computers/monitors
Copy machines
Televisions
Kids toys
Exercise equipment
Toilets
Refrigerators
Freezers
Water heaters
Microwave ovens
Air conditioners
Ranges
Washers/dryers
Lumber
Mailbox or fencing post with concrete footing
Automobile parts (including: fenders, hoods, metal bumpers, motor frames, transmissions, starters, alternators, radiators, rear ends, drive shafts and brake rotors.
Fencing
Pallets
Shipping crates
Construction debris
Basketball goal/swing sets and storage sheds (must be disassembled prior to placement curbside)
Hot tub must be in two pieces for pick up
Items that we are not authorized to remove include:
Motor oil
Tires
Household/hazardous chemicals/materials
Glass or mirrored items
Sheet rock/drywall
Roofing
Propane/gas tanks
Nothing in bags
Sand, dirt, rocks or concrete
Paint cans (even if they are emptied)
Compressed air or gas tanks
Ammunition or explosives
Trash cans, shopping carts or other businesses products
Boats/automobiles/ motorcycles/jet skis
Brush or tree limbs (are picked up by Public Works quarterly)
Have bulky items the city won't pick up? You need a junk removal service.
If you have large items that the city won't take from you, you may need to hire a junk removal service.
Junk removal services are not be as picky about the items they're collecting so if the city won't take the item, this may be your best bet. There's usually a fee involved with junk removal but most companies can tell you ahead of time approximately what it's going to cost.
There are a number of junk removal services in Nashville and I'm sure many of them will be able to help you out.
Recycling Collection Calendar 2023
Here's the link to the Nashville recycling schedule: https://www.nashville.gov/departments/water/waste-and-recycling/recycling
Collection Guidelines for Recycling Pickup
Recycling is collected once a month
Carts must be placed on the curb or alley by 7 a.m. with the lid opening toward the street.
Items not in the cart will not be picked up
Don't place your cart within 3 ft of a stationary object.
If your recycling isn't picked up due to weather, it will be picked up the following Saturday.
Nashville Brush Collection
Brush pickup is provided to residents 4 times per year.
You can find your pickup schedule by visiting: https://www.nashville.gov/departments/transportation/right-way-maintenance/brush-and-yard-waste-collection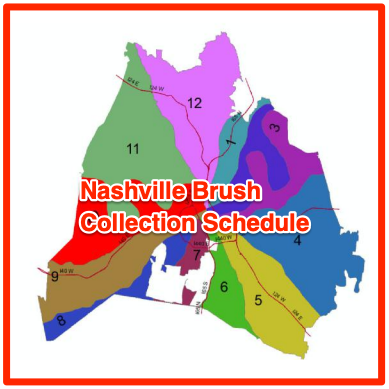 All yard waste including brush, leaves and grass clippings CANNOT be placed in trash cans or dumpsters.
Frequently Asked Questions
When is bulk pickup in Nashville?
You need to contact the Sheriff's department at 615-880-3897 to schedule a bulk pickup.
What day is trash pickup?
For normal trash collection schedules, visit the city website and enter your home address.
When is the Nashville recycling schedule?
To find your recycling schedule visit: https://www.nashville.gov/departments/water/waste-and-recycling/recycling
What time does trash collection start?
Trash collection begins at 7 AM and ends at 5 PM
How can I contact Nashville Waste Services?
Metro Waste Services
1600 2nd Ave N
Landfill and Processing Facility Applications
Nashville, TN 37208
Phone: 615-862-5000
Contact us online
Did we miss anything?
Hope you were able to find everything you need for the Nashville trash pickup schedule. We strive to provide the most up to date information so please let us know if you need anything else.