We're here to help you find the Avondale trash pickup schedule for 2023 including bulk pickup, recycling, holidays, and maps.
The City of Avondale is in Arizona and is west of Goodyear and Phoenix and south of Glendale, Peoria, and Surprise.
If there's a change to your normal trash collection schedule then there's a good chance your street sweeping schedule has changed too so make sure to check for updates.
Avondale Trash Collection Calendar 2023
For normal trash collections schedules, visit the city website and find your street on the map.
Trash Pick Up Holidays
There will be NO trash, recycling or bulk/green waste service on the dates listed below.

Presidents' Day – Monday, February 20
Memorial Day – Monday, May 29
Independence Day – Monday, July 4
Labor Day – Monday, September 4
Veterans Day – Thursday, November 10
Thanksgiving – Thursday, November 23

NO CHANGE TO SERVICE DURING THESE HOLIDAY WEEKS:
Christmas Day – Sunday, December 25
New Year's Day – Sunday, January 1, 2023
SERVICE SCHEDULE DURING HOLIDAY WEEKS: The remainder of the week following any holiday when no service is provided, trash and recycling service will move to the day AFTER your normally scheduled pickup day.
Avondale Trash Collection Map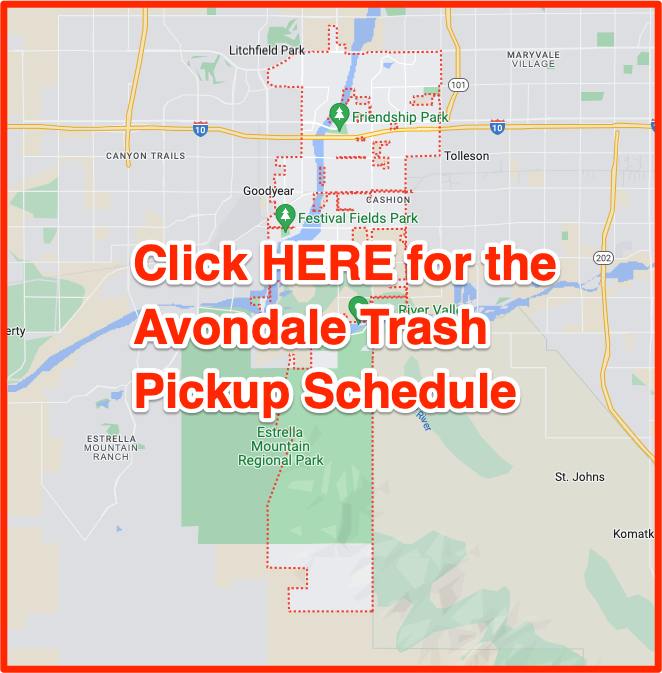 Bulk Waste Pickup Calendar 2023
To find your bulk item pickup day you need to find which zone you're located in.
Bulk trash is picked up once per month and the exact day depends on which zone you're in.
Acceptable Items for Bulk Pickup
Green waste – no need to separate green waste from bulk trash.
Appliances
Furniture
Cactus & palm fronds
Cut wood/tree trimmings under 4-ft long
Boxed grass and leaves
Items NOT Acceptable for Bulk Pickup
Tires
Hot ashes or cinders
Hazardous materials
Construction debris including home remodeling materials
Dirt and sod
Have bulky items the city won't pick up? You need a junk removal service.
If you have large items that the city won't take from you, you may need to hire a junk removal service.
Junk removal services are not be as picky about the items they're collecting so if the city won't take the item, this may be your best bet. There's usually a fee involved with junk removal but most companies can tell you ahead of time approximately what it's going to cost.
There are a number of junk removal services in Avondale and I'm sure many of them will be able to help you out.
Recycling Collection Calendar 2023
Here's the link to the recycling collection calendar: https://www.avondaleaz.gov/government/departments/public-works/solid-waste-bulk-and-green-waste-recycling/service-schedule
Frequently Asked Questions
When is bulk pickup in Avondale?
Bulk pickup happens 1 times per month. Visit this city page to find your bulk pickup zone.
What day is trash pickup?
To find your pickup day visit this city page and find your location on the map.
What time does trash collection start?
Garbage collection starts at 5 AM. Set your containers out by 5 AM on collection day.
How can I contact the Avondale Public Works Department?
Solid Waste Supervisor
399 E Lower Buckeye Road
Avondale, AZ  85323
Phone: 623-333-4400
Did we miss anything?
Hope you were able to find everything you need for the Avondale trash pickup schedule. We strive to provide the most up to date information so please let us know if you need anything else.