We're here to help you find the Peoria trash pickup schedule for 2023 including bulk pickup, recycling, holidays, and maps.
The City of Peoria is in Arizona with Surprise to the northwest, Glendale and Scottsdale to the southeast, Goodyear and Avondale to the southwest.
If there's a change to your normal trash collection schedule then there's a good chance your street sweeping schedule has changed too so make sure to check for updates.
Peoria Trash Collection Calendar 2023
For normal trash collection schedules, visit Solid Waste Residential Collection.
Trash Pick Up Holidays
Collection days often change on and around a holiday. Details of changes are published on the city's holiday collections page.
Peoria Trash Collection Map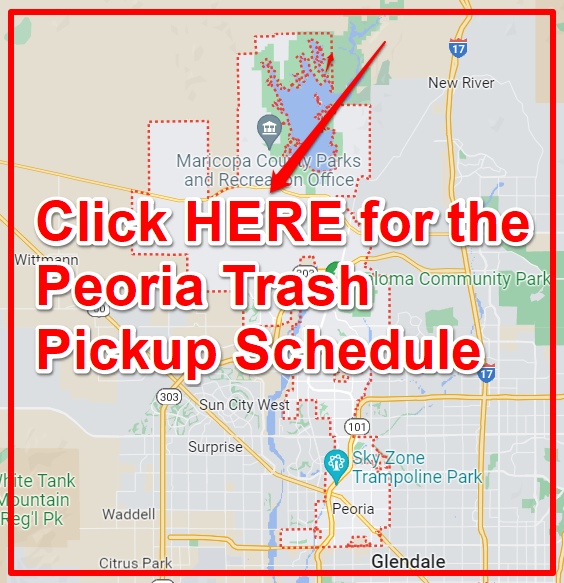 Bulk Waste Pickup Calendar 2023
Peoria's bulk trash service is available twice a year "by appointment" for Peoria residents with active solid waste accounts. Request a pickup online using this link.
Acceptable Items for Bulk Pickup
Appliances: Stoves, refrigerators, washers, water heaters, microwaves and dryers, televisions (Refrigerators and freezers must have the attached doors, hinges, lids, glass shelves and latches removed (Arizona Revised Statutes (ARS 36-1651) )
Furniture: Sofas, chairs, tables, bookcases, desks, patio furniture, exercise equipment, mattresses
Yard Waste: Tree limbs must be no more than 3 feet in length, cacti (boxed), loose grass, leaves, weeds, twigs and hedge clippings must be bagged or boxed and securely tied.
Wood: Wood fencing, wood panels (No larger than 3 feet square)
Unacceptable Items for Bulk Pickup
Hazardous Waste: Oil, oil-based paint, paint thinner, pool chemicals, antifreeze, batteries, infectious or medical waste.
Medical Waste: Prescription drugs, sharps, biological waste
Materials: Rock, bricks, dirt, blocks, gravel, concrete, shingles, dry wall, tile, wet or dry mortar, sod
Auto Parts: No tires any shape or size, metal or car parts
Glass: Windows, shower doors, patio doors, mirrors, glass table tops or fluorescent tubes
Have bulky items the city won't pick up? You need a junk removal service.
If you have large items that the city won't take from you, you may need to hire a junk removal service.
Junk removal services are not be as picky about the items they're collecting so if the city won't take the item, this may be your best bet. There's usually a fee involved with junk removal but most companies can tell you ahead of time approximately what it's going to cost.
There are a number of junk removal services in Peoria and I'm sure many of them will be able to help you out.
Recycling Collection Calendar 2023
Here's the link to the recycling collection schedule.
Frequently Asked Questions
When is bulk pickup in Peoria?
Bulk trash collection is available to City of Peoria residents with active solid waste services. This is a "By Appointment" service. Residents can schedule up to a maximum of two (2) bulk collections per calendar year. There is no additional fee for this service.
Click here to request an appointment.
What day is trash pickup?
To find trash pickup on your street visit: Solid Waste Residential Collection
What time does trash collection start?
Trash collection starts at 6 a.m. Make sure to have your bins on the curb by then.
How can I contact the Peoria Solid Waste Division?
City of Peoria Solid Waste Division
[email protected]
Monday – Friday: 8:00 a.m. to 5:00 p.m.
Phone: (623) 773-7431
Customer Service Department
[email protected]
Phone: (623) 773-7160
Monday – Thursday: 7:00 a.m. – 12:00 p.m. and 1:00 p.m. to 6:00 p.m. (effective June 1, 2019)
Solid Waste Commercial Front Load and Roll Off Services can be reached directly at (623) 773-7895 during business hours of 8:00 a.m. to 5:00 p.m., Monday through Friday.
Did we miss anything?
Hope you were able to find everything you need for the Peoria trash pickup schedule. We strive to provide the most up to date information so please let us know if you need anything else.