Find the City of Phoenix trash schedule for 2023 including holidays, recycling, and bulk pickup.
There may be changes to your normal collection schedule due to holidays, weather, or roadwork.
Phoenix is located in Arizona with Glendale to the northwest, Scottsdale to the northeast, Chandler and Tucson to the south.
If there's a change to your trash or bulk collection schedule, there may also be a change to the street sweeping schedule so verify that too.
Phoenix Trash Pickup Schedule 2023
The fastest way to find the collection schedule for your house is to use the interactive map provided by the city.
You can find it here.
Holiday Trash Schedule
Trash collection still happens during the following holidays:
Juneteenth
Martin Luther King Jr. Day
Presidents' Day
Cesar Chavez Day
Memorial Day
Independence Day
Labor Day
Veterans Day
The following holidays have a change in schedule:
New Year's Day, Observed Monday, Jan. 2, 2023

​Public Works staff will be working to collect trash and recycling as regularly scheduled on Monday, January 2. There is no change in collection day.​
The city disposal facilities and Customer Contact Center will be closed Monday, January 2 in observance of the holiday. The Customer Contact Center will reopen Tuesday, January 3 at 7:00 AM. ​
Bulk Trash Pickup Phoenix, AZ Schedule
If you're looking for the Phoenix bulk trash schedule you're in the right place.
Bulk trash collection happens 4 times per year.
Items such as furniture, appliances, toilets, and large amount of vegetation are often considered bulk trash.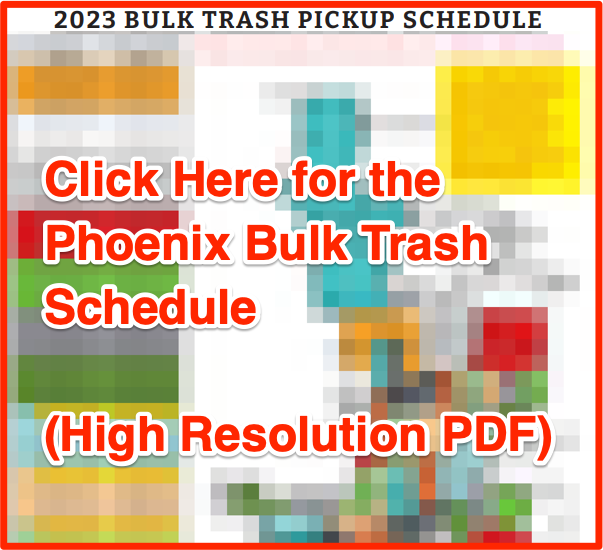 According to the city, the 2023 policy states…
Bulk trash consists of materials that are too large and must not be placed in the garbage or recycling container.
Acceptable Bulk Items for Pickup
furniture
large appliances
toilets
large amounts of vegetation are often considered bulk trash.
Bulk trash is currently collected from city-serviced residences four times each year.
Please be aware that the weeks of bulk trash placement and collection can invite possible illegal dumping. It is important to stay vigilant and report any kind of suspicious activity to the police or the Public Works Department.
Find your schedule, enter your address here… https://mapapps.phoenix.gov/imap/imap.html
Bulk Trash Items that are NOT ACCEPTED:
The city will not collect the following bulk items:
​More than 20 cubic yards per residence which is similar to the size of a SUV
Loose debris and litter, and any ordinary household trash
​Loose grass, leaves, weeds, twigs and hedge clippings
Household hazardous waste (HHW), such as antifreeze, pool chemicals, oil, batteries and paint
Community piles – avoid combining piles from multiple households. Bulk trash crews will only collect debris from one property at a time.​
Materials placed in the Bagster bags
Materials such as bricks, concrete, dirt, rocks, asphalt and roofing shingles/tiles
Construction or demolition materials in excess of 25 pounds or over four feet long
Metal or car parts in excess of 20 pounds or over four feet long
​Tires, any shape or size
​Glass such as windows, shower doors, patio doors, mirrors, fluorescent tubes, etc.
Tree trunks or stumps longer than 4 feet and bigger than 12 inches in diameter
Appliances that use refrigerants such as freezers, refrigerators and air conditioners.
Bulk Trash Placement Guidelines
You are allowed to put your bulk items out on the curb nine (9) days prior to the scheduled collection week. This is what "placement begins on" means.
Place your bulk trash on the curb by 6am on the "collection begins weeks of" week.
No not place piles on water meters or next to fix objects or parked cars.
Phoenix Trash Pickup Map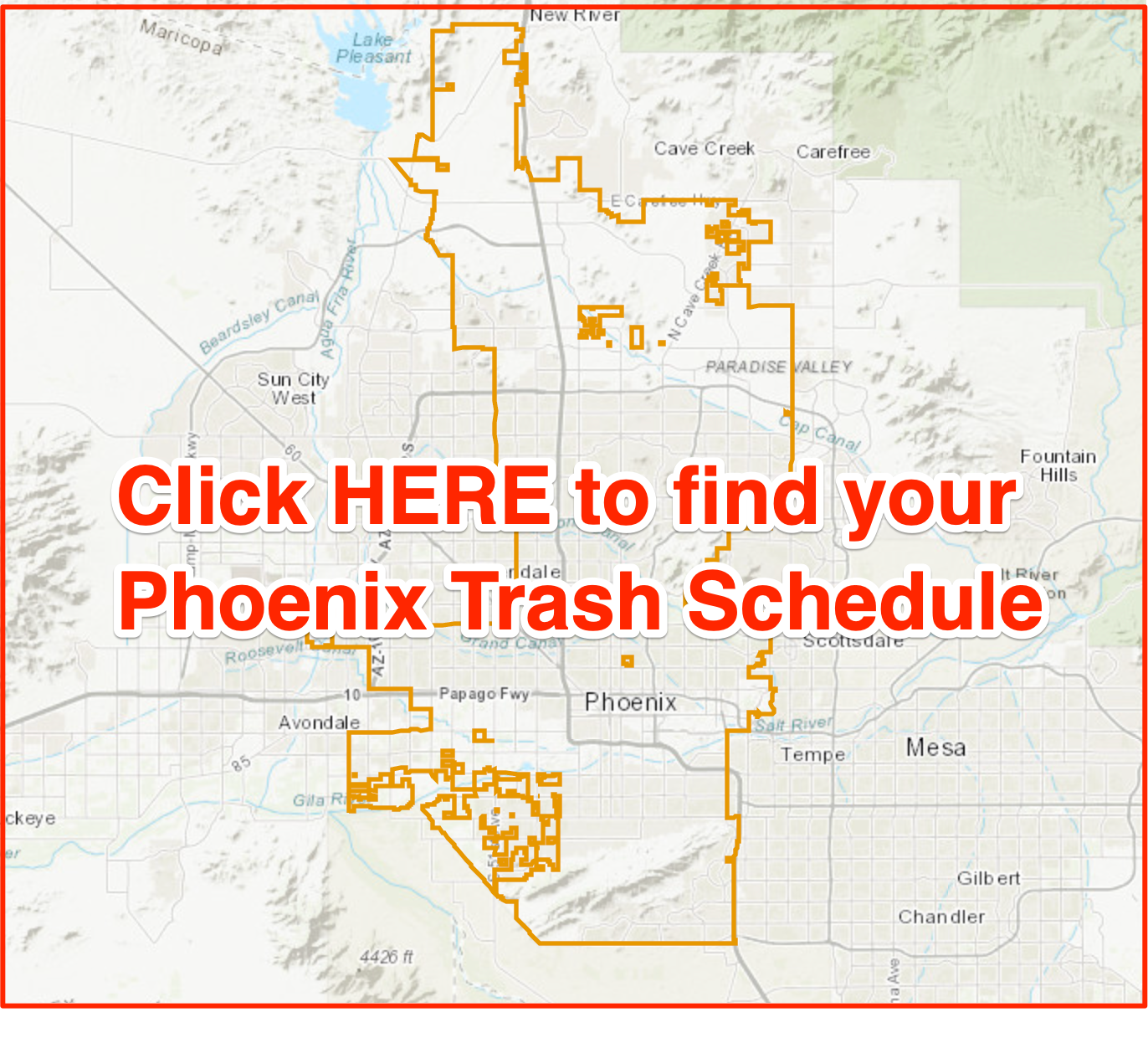 Twitter Updates from Phoenix Public Works
Follow @TalkingTrashPHX for updates on trash and recycling schedules.
Frequently Asked Questions
When is bulk trash pickup in my area 2023-2023?
The best place to find your bulk pickup schedule is to download this map from the City of Phoenix Bulk Trash website.
How can I contact the Phoenix Public Works Department
Email them at [email protected]​​ or call 602-262-6251.
Did we miss anything?
We do our best to keep this site up-to-date but if we missed something please let us know in the comments.
Or if you have any questions about your Phoenix trash schedule please post them in the comments.
Thanks!