We're here to help you find the Scottsdale trash pickup schedule for 2023 including bulk pickup, recycling, holidays, and maps.
The City of Scottsdale is in Arizona and is in the north east area of Phoenix and east of Glendale, and south of Flagstaff, and north of Mesa and Tempe.
If there's a change to your normal trash collection schedule then there's a good chance your street sweeping schedule has changed too so make sure to check for updates.
Scottsdale Trash Collection Calendar 2023
For normal trash collections schedules, visit the city website and enter your address.
You can also see the city-observed holidays.
Trash Collection Map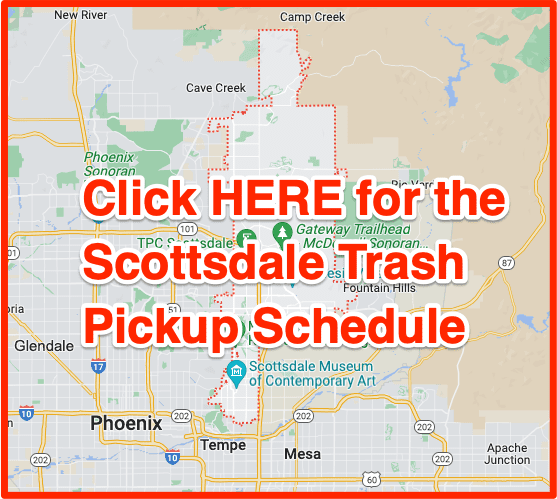 Scottsdale Bulk Trash Pickup Schedule 2023
Use the interactive map at [LINK] for find the collection day for your bulk waste.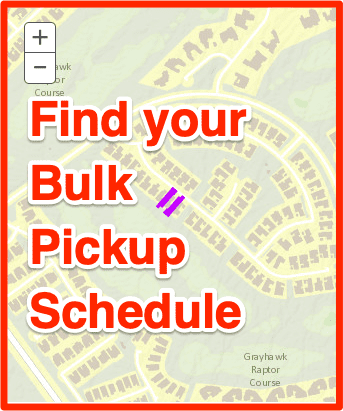 Recycling Collection Calendar 2023
To find you the recycling collection calendar in Scottsdale visit the city website and enter your address.
Here's a list of acceptable recyclable materials provided by the city:
MATERIAL
RECYCLE
DO NOT RECYCLE
Aluminum
Beverage Cans and Clean Aluminum Foil
No Folding Chair Frames
Aseptic Boxes
Milk, Juice and Ice Cream Containers
No Foil Juice Bags
Cardboard Chipboard
Corrugated Cardboard Boxes, Dry Food Boxes such as cereal, cake mix and cracker containers (please remove liner), shoe boxes, pizza boxes, empty paper towel and toilet tissue tubes
No Packing Material, Bar Soap or Detergent Boxes, Wax / Plastic Liners
Glass
Glass Food and Beverage Containers (clear, green or amber)
No Light Bulbs, Window Glass, Mirror Glass, Ceramics or Pottery
Magazines
All Magazines and Telephone Books
No Hardbound Books
Metal Cans
Food and beverage cans only.
No Other Metals, paint cans or toxic materials
Newspaper
Newspaper and All Inserts
No Bags or Rubber Bands
Paper
Computer and Writing Paper, Junk Mail, Brown Paper Grocery Bags, File Folders. (Shredded paper can be contained in a transparent plastic bag to prevent spillage).
No Facial or Toilet Tissue, Paper Towels, Paper Plates, Napkins, Diapers, Pet Food Bags
Plastics
All plastic cups and containers #1-7, plastic bottles, jugs, jars, yogurt containers, cottage cheese containers, margarine and whipped topping tubs, plastic "Clamshell" food containers and disposable plastic cups, including plastic bottle caps
No Plastic Bags *, Motor Oil or Pool Chemical Containers or Styrofoam
* Clear plastic bags can be used to contain shredded paper.
Trash Pick Up Holidays
Below is a chart of holidays (provided by the city) that may impact your trash schedule.
| Holiday | Schedule |
| --- | --- |
| Collection service is NOT AFFECTED on the following holidays | Martin Luther King – Monday, January 16, 2023Presidents' Day – Monday, February 20, 2023Memorial Day – Monday, May 29, 2023Juneteenth – Sunday, June 19, 2023Independence Day – Monday, July 4, 2023Labor Day – Monday, September 4, 2023Veteran's Day – Friday, November 10, 2023 |
| Thanksgiving Day – Thursday, Nov. 24th, 2023 | No Collection on Thanksgiving DayThursday Collection moves to FridayFriday Collection moves to SaturdayCity Offices will be closed on Thursday, Nov. 24th & Friday, Nov. 25th |
| Christmas Day – Sunday, Dec. 25th, 2023 | No collection scheduled |
When is bulk pickup in Scottsdale?
Bulk trash pickup is provided by the city on specific dates. Click here to look up your bulk pickup days.
What day is trash pickup?
You can find your trash pickup day by visiting the city website and entering your address
What time does trash collection start?
Residents must have their trash at the curb by 5 a.m.
How can I contact the Scottsdale Solid Waste Department?
9191 E. San Salvador Dr.
Scottsdale, AZ 85258
P: 480-312-5600
F: 480-312-8115
Did we miss anything?
Hope you were able to find everything you need for the Scottsdale trash pickup schedule. We strive to provide the most up to date information so please let us know if you need anything else.