Find your Milwaukee garbage schedule for 2023 including holidays, recycling, and bulk pickup.
Milwaukee is in the state of Wisconsin with Racine and Kenosha to the south, West Allis, Waukesha, and Madison to the west, and Appleton and Green Bay to the north.
If there's a change to your Milwaukee garbage pickup schedule, there may also be a change to the street sweeping schedule so verify that too.
Milwaukee Garbage Pickup Instructions
Carts and bins must be at the collection point (alley line or curb line) by 7 AM on designated pickup dates.
Carts must have a clear path to them and must be free from ice and snow accumulation.
Carts must be 3 feet away from other objects
Carts and bins must be returned to the storage area by 10 PM (Sec. 79-5.5 and/or 79-32)

Failure to return carts to storage area may result in a violation and fine
Scheduled winter pickups for garbage and some recycling routes may be postponed due to winter weather. In this situation, leave the cart(s) at the collection point until emptied. No fines or violations will be cited in these cases.

Garbage must be bagged. Recyclables must be loose.
Holiday Trash Schedule
The following holidays may impact your pickup schedule:
New Year's Day
Memorial Day
Independence Day
Labor Day
Columbus Day
Veterans Day
Thanksgiving Day
Christmas Day
Milwaukee Bulk Item Pickup Schedule
For bulky item disposal you have a few options
Regular Pickup: 1 cubic yard of bulky items (about the size of a recliner or two garbage carts) may be put at your regular collection point for pickup on your regular day. You do not need to fill out an online request or call the City.
Special Pickup: There is a fee for collecting more than 1 cubic yard. Place your items at the collection point and then request a special pickup online or call 414-286-CITY (2489).
$50 – 1- 4 cubic yards
$150 – 4 – 6 cubic yards
Drop Off: City of Milwaukee residents and property owners may drop off bulky waste items at a Drop Off Center. This is also where you can dispose of electronics, appliances, and tires for recycling.
Donation: If your bulky items could be reused, consider donating them instead. There are a variety of local organizations that can even collect items from your home.
Items banned from from garbage pickup
The following items can NOT be placed in your garbage cart:
Curbside recyclables
Leaves
Grass Clippings
Branches and Brush
Appliances
Electronics
Hazardous Waste
Automotive items, such as tires
Milwaukee Garbage Pickup Map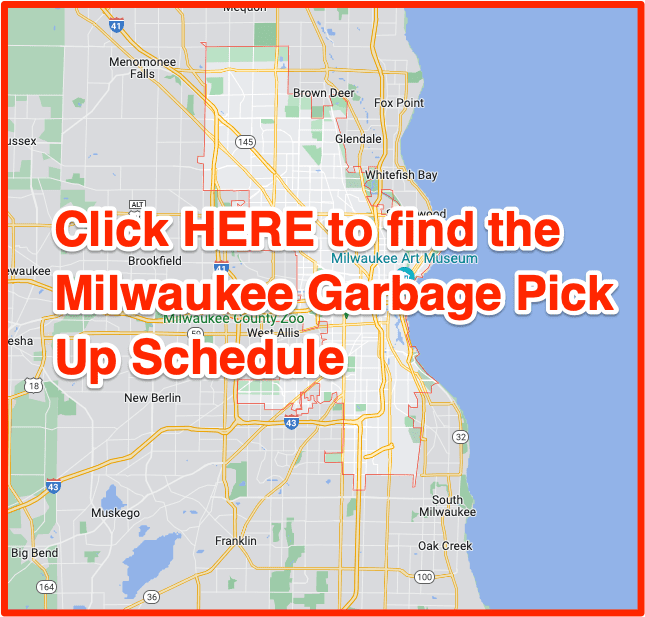 Trash Truck Driver Jobs in Milwaukee
[coming soon]
City of Milwaukee Twitter Updates
Follow @MkeRecycles for updates to the trash and recycling schedules
In 2021 @MilwaukeeDPW recycled over 19,377,000 pounds of paper collected from 1-4 unit household recycling carts. That's a lot of paper!

Remember, if it's bigger than a postcard, recycle it! If junk mail doesn't have sensitive info, throw it in whole. No tearing necessary. pic.twitter.com/bqlp1JDhId

— Milwaukee Recycles (@MkeRecycles) May 24, 2023
Frequently Asked Questions
When is trash day in Milwaukee? or When does the garbage truck come?
That depends on your address. Enter your address on the city website to see exactly when trash day is for you so you have your trash out for the garbage truck.
What time does the garbage truck come?
Garbage pickup starts at 7am. Pickup is usually finished by 5pm.
Did we miss anything?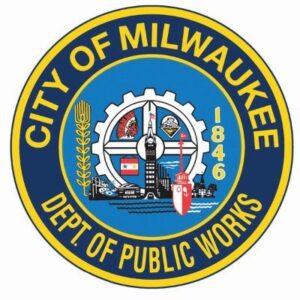 We do our best to keep this site up-to-date but if we missed something please let us know in the comments.
Or if you have any questions about your Milwaukee trash pickup schedule please post them in the comments.
Thanks!