We're here to help you find the Kenosha trash pickup schedule for 2023 including bulk pickup, recycling, holidays, and maps.
The City of Kenosha is in Wisconsin with Racine to the north, Waukegan to the south, Beloit to the west, and Mount Pleasant to the northwest.
If there's a change to your normal trash collection schedule then there's a good chance your street sweeping schedule has changed too so make sure to check for updates.
Kenosha Trash Collection Calendar 2023
For normal trash collection schedules, visit the city's trash collection schedule and type your property address in the search box located in the upper right corner of the web application.
Trash Pick Up Holidays
Memorial Day
July 4
Labor Day
Thanksgiving Day
Christmas Day
Kenosha Trash Collection Map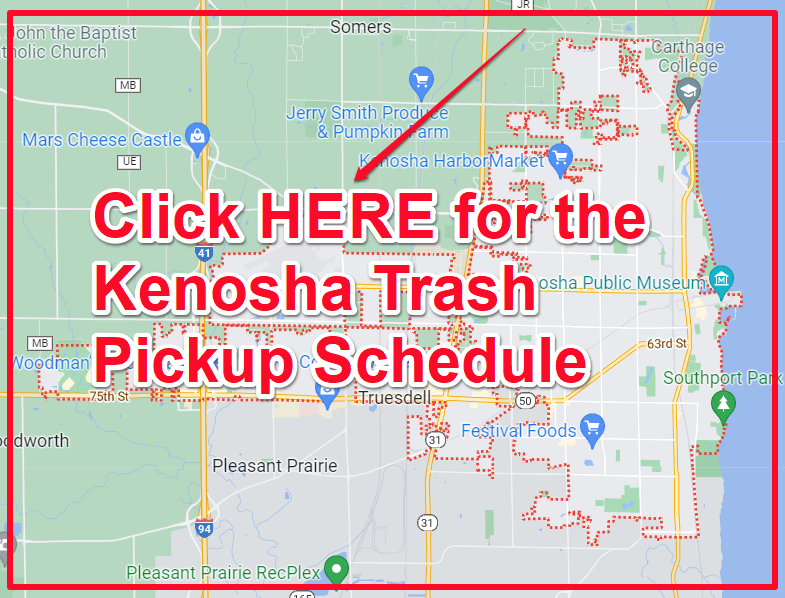 Bulk Waste Pickup Calendar 2023
Residential curbside bulk waste collection is available by scheduled pick-up at a limit of 5 cubic yards. Residents are allotted four free bulk pick-ups annually. Additional pick-ups can be requested for a $50 fee, which must be paid before collection is scheduled. The City accepts bulk materials from City residents and residential property owners only; no commercial disposal is allowed.
Collection is scheduled for the same day as your regular garbage collection day. To schedule a pick-up, please call the Public Works Department at 262-653-4050 at least one business day prior to your regular garbage day.
For a safe and successful pick-up:
Maximum 5 cubic yards or 30 bags per pick-up or area that does not exceed 15′ long by 3′ wide by 3′ high.
Limit 40 pounds per bag, can or bundle.
Building and demolition material is limited to 10 bags, cans or bundles at 40 pounds each.
Place items at the curb no later than 6:00 a.m. on the day of your scheduled collection.
Bulk items should not be placed at the curb prior to 6:30 p.m. the evening before your collection day.
Keep bulk items in a separate pile from your regular garbage, away from trees, parked cars, fire hydrants, utility poles, automated carts, and other obstructions.
During winter months, bulk items must be free of ice and snow and set in a cleared area at the curb (i.e. driveway approach).
Items must fit in a truck opening of 4'x4′ and two people must be able to lift the items waist high.
No loose materials are accepted; all material must be contained in a bag, garbage can, or bundled.
Carpet, padding, and rugs must be rolled in 3-foot sections and tied or taped. (No heavier than 40 pounds per bundle)
Windows can be no larger than 4'x4′. Please tape an ―"X" with heavy-duty tape across the glass on both sides to prevent breakage.
Paneling, plywood, drywall, and plasterboard must be in 4'x4' or smaller sections.
Lumber, PVC, or metal piping must be in 3-foot lengths. Please pull out or bend over all nails.
Yard waste and recycling will not be collected under a bulk pickup.
Bulk waste must be clear of recyclables; otherwise, bags may be tagged and not collected until recyclables are removed.
Do not put items in cardboard boxes as boxes are recyclable.
Any items not collected must be taken off the curb no later than 8:00 a.m. the day following the collection.
City residents may also drop off bulk waste at the Waste Division. For more information on bulk waste drop-off, click here.
Unacceptable Items for Bulk Pickup
Hazardous or liquid waste (i.e. paint), tanks of any type (i.e. propane, oxygen, gas, etc.)
Unless cut in half, pianos, organs, cast iron bathtubs, or glass patio doors
Camper tops
Truck caps or boats
Concrete, stone, brick, asphalt or masonry
Sand, dirt, or clay
Any item that doesn't meet the guidelines listed above
Have bulky items the city won't pick up? You need a junk removal service.
If you have large items that the city won't take from you, you may need to hire a junk removal service.
Junk removal services are not be as picky about the items they're collecting so if the city won't take the item, this may be your best bet. There's usually a fee involved with junk removal but most companies can tell you ahead of time approximately what it's going to cost.
There are a number of junk removal services in Kenosha and I'm sure many of them will be able to help you out.
Recycling Collection Calendar 2023
Recycling is mandatory statewide and the City receives grant money by meeting specific recycling guidelines. We need your help in order to continue receiving these funds—please recycle correctly! Curbside recycling collection occurs every other week for City residents on the same day of the week as regular garbage pick-up. The City is divided into two recycling routes: A and B. See the Recycling Calendar or our web app for more information on your route.
Frequently Asked Questions
When is bulk pickup in Kenosha?
Collection is scheduled for the same day as your regular garbage collection day. To schedule a pick-up, please call the Public Works Department at 262-653-4050 at least one business day prior to your regular garbage day.
What day is trash pickup?
To find trash pickup on your street visit the city's trash schedule.
What time does trash collection start?
Trash collection starts at 6 a.m. Make sure to have your bins on the curb by then.
How can I contact the Kenosha Public Works Department?
Office:
625 52nd Street Room 305,
Kenosha, WI 53140
Office Hours:
8:00 am – 4:30 pm
Phone: 262-653-4050
Fax: 262-653-4056
Email: [email protected]
Did we miss anything?
Hope you were able to find everything you need for the Kenosha trash pickup schedule. We strive to provide the most up to date information so please let us know if you need anything else.