We're here to help you find the West Allis garbage pickup schedule for 2023 including bulk pickup, recycling, holidays, and maps.
The City of West Allis is in Wisconsin with Wauwatosa to the north, Brookfield to the northwest, Waukesha to the west, Milwaukee to the east, and Greenfield to the south.
If there's a change to your normal trash collection schedule then there's a good chance your street sweeping schedule has changed too so make sure to check for updates.
West Allis Trash Collection Calendar 2023
For normal trash collection schedules, visit the city's Property Search tool to find your pickup day.
Type in your address and search for it first, and then select "Property Info" from the drop-down menu to see your garbage and recycling collection day.
Trash Pick Up Holidays
Here you can see the city-observed holidays.
Holiday weeks are boxed.
• Be prepared for early or delayed collection
• Winter storms may alter the schedule
• No brush collection during boxed weeks
West Allis Trash Collection Map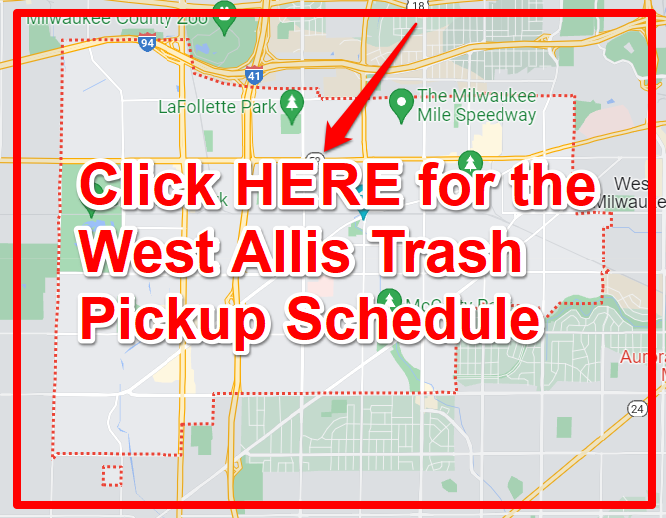 Bulk Waste Pickup Calendar 2023
One large bulky furniture item weighing less than 150 pounds will be taken on the regular garbage collection day from residential properties.
Amounts of up to 1 cubic yard of household debris will also be taken with the regular garbage collection when placed in a container and located at the alley edge or curbside.
Quantities of household debris in excess of 1 cubic yard will require arrangements for a special pickup and additional fees. Large, heavy pieces of furniture requiring additional staff and mechanical collection will be subject to a minimum charge of $50.00 to offset staff and equipment charges.
The City of West Allis will not collect appliances, including refrigerators, washers/dryers, dishwashers, or ranges. We do not accept dehumidifiers, AC units, water coolers, or anything with freon at this time.  For items with freon, please contact Refrigerant Recovery Inc. or Allied Resource Recovery (West Allis Salvage.) 
Acceptable Items for Bulk Pickup
Unacceptable Items for Bulk Pickup
Grass clippings
Large appliances, i.e. water heaters
Gas
Propane tanks
Explosive or flammable products
Wet paint or oil based paint
Fluorescent light bulbs
Prescription drugs can be taken to West Allis Police Department 24/7, 11301 W. Lincoln Ave.
Materials from contractors, contractor vehicles, commercial properties and businesses
Have bulky items the city won't pick up? You need a junk removal service.
If you have large items that the city won't take from you, you may need to hire a junk removal service.
Junk removal services are not be as picky about the items they're collecting so if the city won't take the item, this may be your best bet. There's usually a fee involved with junk removal but most companies can tell you ahead of time approximately what it's going to cost.
There are a number of junk removal services in West Allis and I'm sure many of them will be able to help you out.
Recycling Collection Calendar 2023
The City provides every other week recycling collection service for one to four-family residences. Recyclables should be placed at the curb or alley edge by 7 a.m. on the same day as your trash collection.
Frequently Asked Questions
When is bulk pickup in West Allis?
One large bulky furniture item weighing less than 150 pounds will be taken on the regular garbage collection day from residential properties.
What day is trash pickup?
To find trash pickup on your street, look up your address in the city's Property Search tool.
What time does trash collection start?
Trash collection starts at 7 a.m. Make sure to have your bins on the curb by then.
How can I contact the West Allis Sanitation and Street Division?
Phone:
414-302-8800
Online form:
Fill out the Let Us Help form at https://www.westalliswi.gov/letushelp
Did we miss anything?
Hope you were able to find everything you need for the West Allis trash pickup schedule. We strive to provide the most up to date information so please let us know if you need anything else.