We're here to help you find the Lafayette trash pickup schedule for 2023 including bulk pickup, recycling, holidays, and maps.
The City of Lafayette is in Louisiana with Alexandria to the north, Shreveport to the northwest, New Iberia to the south, Jefferson Parish to the southeast, Baton Rouge to the east, and Beaumont to the west.
If there's a change to your normal trash collection schedule then there's a good chance your street sweeping schedule has changed too so make sure to check for updates.
Lafayette Trash Collection Calendar 2023
For normal trash collection schedules, click here to identify your weekly collection day.
Trash Pick Up Holidays
Here you can see the city-observed holidays.
New Year's Day
Martin Luther King Jr. Day
Mardi Gras
Good Friday
Memorial Day
Juneteenth
Independence Day
Labor Day
Halloween
Thanksgiving
Christmas Eve
Christmas Day
Please check you collection calendar for any collection day changes as it vary by service location.
Lafayette Trash Collection Map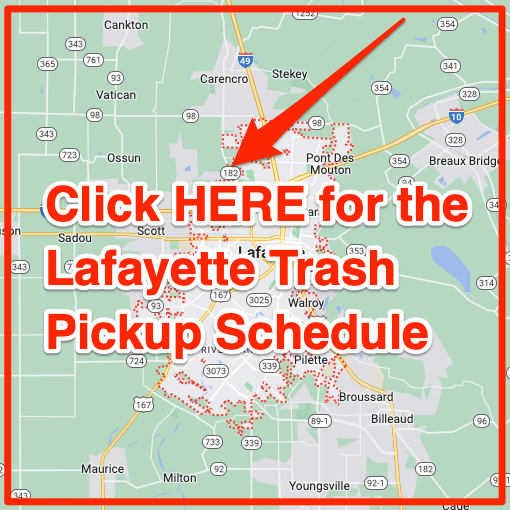 Bulk Waste Pickup Calendar 2023
To find your bulk item pickup schedule visit: https://www.lafayettela.gov/public-works/curbside-services/bulky-waste
Residents have one designated week of the month that bulky items will be picked up at their address. Visit the Curbside Collection Schedule page to find your week. Place bulky items out the Sunday night before your designated week, and large items will be picked up sometime during the week.
bulky waste will all be collected on the same day, once per week
Acceptable Items for Bulk Pickup
"Power Wheels" ride-on toy cars (remove battery)
Air conditioners (window units only)
Carpeting and area rugs (one-piece construction, rolled and taped)
Portable/moveable basketball goal and base
Carrying cage for large animals
Large appliances/small appliances (microwaves, floor fans, vacuum cleaners)
Large ice chest/cooler or storage container (both empty)
Large plastic children's toys
Lawn furniture and patio umbrellas
Liner for movable swimming pool (must be cut, rolled, taped or tied, and each piece weigh less than 50 pounds)
Manual garbage cans (must be empty and labeled "discard this can")
Residential furniture (including sofas, loveseats, recliners, chairs, dining tables, desks, mattresses, box springs)
Television sets
Trampoline mat (rolled and taped)
Large empty boxes used for appliances, TVs, etc.
Fitness equipment (tread mills, exercise bikes)
Wading pool (roll and taped), frame for movable swimming pool (rolled, taped, and/or tied, and weighs less than 50 pounds)
Unacceptable Items for Bulk Pickup
No bagged items (this is considered regular garbage)
Constructions debris from residential construction or remodeling
Any item that is predominately metal (large appliances are picked up)
Barbeque pits
Bicycles
Ceiling fans
Toilets
Tires
Hazardous waste
Fencing (wooden, plastic or metal)
Lawn mowers and swing sets that are predominately metal
Have bulky items the city won't pick up? You need a junk removal service.
If you have large items that the city won't take from you, you may need to hire a junk removal service.
Junk removal services are not be as picky about the items they're collecting so if the city won't take the item, this may be your best bet. There's usually a fee involved with junk removal but most companies can tell you ahead of time approximately what it's going to cost.
There are a number of junk removal services in Lafayette and I'm sure many of them will be able to help you out.
Recycling Collection Calendar 2023
Here's the link to the recycling collection schedule.
https://www.lafayettela.gov/public-works/curbside-services/recycling
Frequently Asked Questions
When is bulk pickup in Lafayette?
To find your bulky item pickup in your area visit: https://www.lafayettela.gov/public-works/curbside-services/bulky-waste
What day is trash pickup?
To find trash pickup on your street visit the city's trash collection schedule.
What time does trash collection start?
Trash collection starts at 4:00 a.m. Make sure to have your bins on the curb by then.
How can I contact the Lafayette Public Works Department?
Environmental Quality Division
Phone: 337-291-8518 , 337-291-8529
1515 East University Avenue
Lafayette LA 70501
Service Requests – call Lafayette 311
Did we miss anything?
Hope you were able to find everything you need for the Lafayette trash pickup schedule. We strive to provide the most up to date information so please let us know if you need anything else.