We're here to help you find the Shreveport trash pickup schedule for 2023 including bulk pickup, recycling, holidays, and maps.
The City of Shreveport is in Louisiana with Texarkana to the north, Monroe to the east, Longview to the west, Bossier City and Alexandria to the southeast, and Nacogdoches to the southwest.
If there's a change to your normal trash collection schedule then there's a good chance your street sweeping schedule has changed too so make sure to check for updates.
Shreveport Trash Collection Calendar 2023
For normal trash collection schedules, visit the city's trash collection map.
Trash Pick Up Holidays
The City of Shreveport observes the following holidays:
New Year's Day
Martin Luther King Jr. Day
Good Friday
Memorial Day
Juneteenth
Independence Day
Labor Day
Veteran's Day
Thanksgiving Day
Day After Thanksgiving Day
Christmas Day
Any changes in service due to holidays observed by the City of Shreveport will be posted on the Public Works Calendar and you may receive automatic notification of these changes by subscribing to our Public Works Calendar.  Follow the link above to subscribe or you can call our office at 318-673-6300 for more information. 
Shreveport Trash Collection Map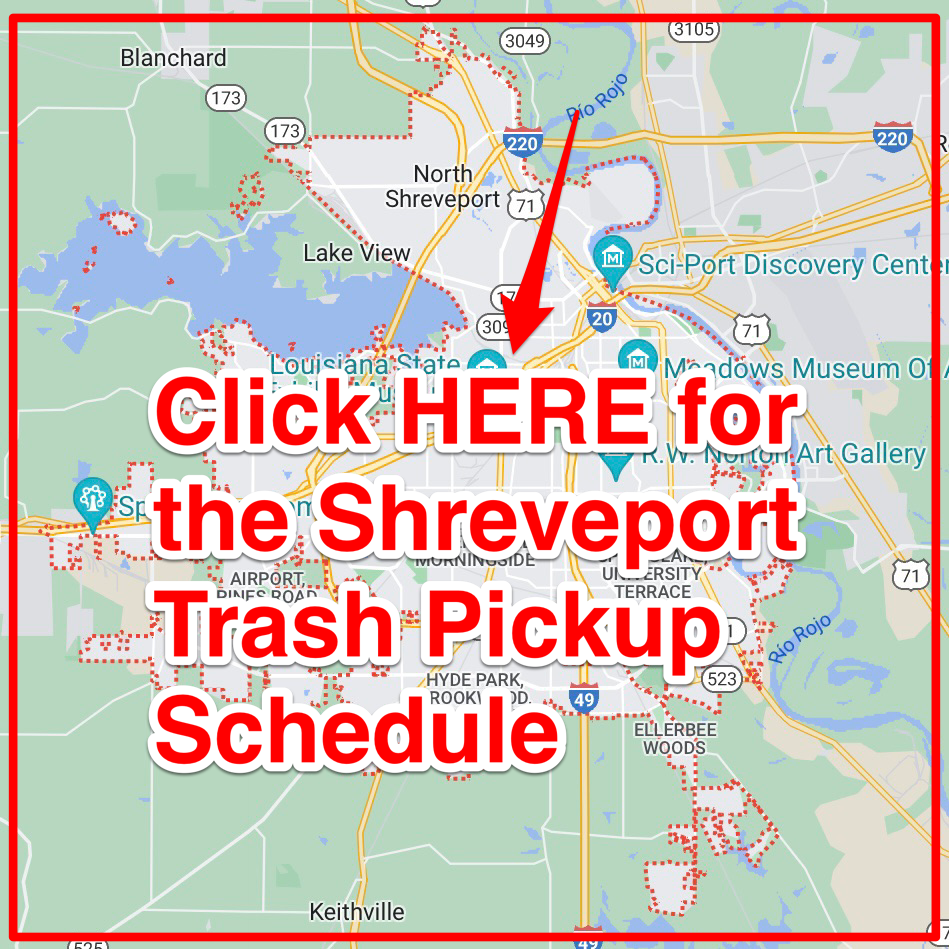 Bulk Waste Pickup Calendar 2023
Items for bulk collection will be picked up on a future collection day and each resident will be responsible for making a request by calling our Public Works Department at 318-673-6300 or use the SeeClickFix app to report them.
Guidelines for Bulky Item Collection
We do not pick up after contractors, if items are generated by a contractor they are responsible for the disposal of those items.
1 pile per request and the pile must not be larger than (L) 15ft x (W) 6ft x (H) 6ft.
Bulky items must be 5ft away from garbage carts, mailboxes, fences, telephone poles, parked cars or away from low hanging tree limbs or power lines.
We do not pick up bulk items from vacant lots or commercial properties.
Furniture, appliances, and tires may be placed curbside at the time you make your request.
Tires – only 4 tires per request.
Limbs / Brush may be placed curbside at the time you make your request.
Limbs / Brush must not be larger than 8 inches diameter or 6ft in length.
Unacceptable Items for Bulk Pickup
No Building materials, i.e., carpet, flooring, tile, countertops, cabinets, fencing, concrete, rocks, stones, etc.
No Gasoline-powered tools, auto parts.
No Pianos, organs, swing or gym sets, trampolines, swimming pools and covers.
No Stumps / roots.
Have bulky items the city won't pick up? You need a junk removal service.
If you have large items that the city won't take from you, you may need to hire a junk removal service.
Junk removal services are not be as picky about the items they're collecting so if the city won't take the item, this may be your best bet. There's usually a fee involved with junk removal but most companies can tell you ahead of time approximately what it's going to cost.
There are a number of junk removal services in Shreveport and I'm sure many of them will be able to help you out.
Recycling Collection Calendar 2023
**This program has been temporarily suspended**
Visit here for more information.
Frequently Asked Questions
When is bulk pickup in Shreveport?
To find your bulky item pickup in your area visit: shreveportla.gov/Bulky-Item-Pickup
What day is trash pickup?
To find trash pickup on your street click on this map.
What time does trash collection start?
Trash collection starts at 7 a.m. Make sure to have your bins on the curb by then.
How can I contact the Shreveport Public Works Department?
Physical Address
1731 Kings Highway
Shreveport, LA 71103
Phone: 318-673-6300
Did we miss anything?
Hope you were able to find everything you need for the Shreveport trash pickup schedule. We strive to provide the most up to date information so please let us know if you need anything else.