We're here to help you find the Killeen trash pickup schedule for 2023 including bulk pickup, recycling, holidays, and maps.
The City of Killeen is in Texas with Waco to the northeast, Georgetown and Austin to the south, Harker Heights to the southeast, Temple to the east, and Copperas Cove to the west.
If there's a change to your normal trash collection schedule then there's a good chance your street sweeping schedule has changed too so make sure to check for updates.
Killeen Trash Collection Calendar 2023
For normal trash collection schedules, visit the city's trash collection schedule.
Trash Pick Up Holidays
Please check here for a possible change to your collection schedule based on the city-observed holidays.
Killeen Trash Collection Map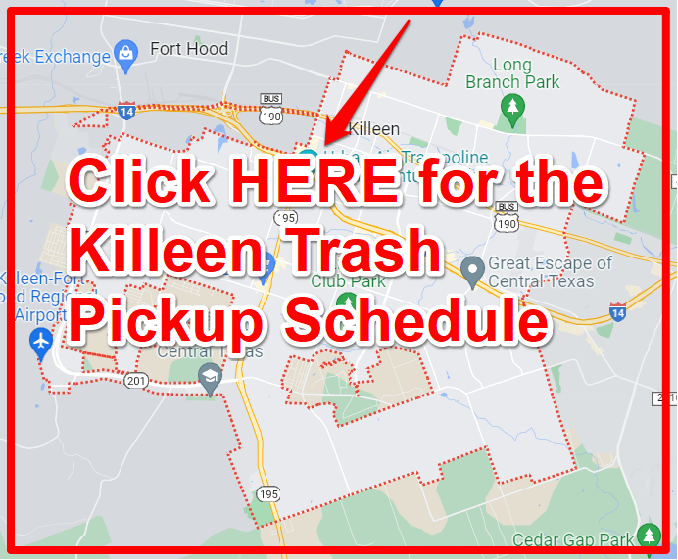 Bulk Waste Pickup Calendar 2023
All waste materials, except prohibited items, placed at the curbside on the scheduled weekly garbage day shall be picked up by the city. The utility account for the residential address that generated the waste will be billed (charged) for the service. Placing waste materials at the curbside by the resident grants permission for the pickup.
Fees:
 Bulk collection on scheduled collection day – $21 (includes up to 3 cubic yards) $7.50 per cubic yard afterward
Premium service fee (requested on a day other than regularly scheduled collection day) – $23 (each cubic yard is $7.50)
Acceptable Items for Bulk Pickup
Furniture items such as couches, chairs, mattresses, bed frames and tables.
Appliances such as hot water heaters, stoves, washing machines and dryers. Special provisions apply to appliances containing refrigerants. Call the Solid Waste Division at 254-501-7785 for instructions.
Other bulky waste, such as barbecue grills, toys, ironing boards and lawn furniture.
Excess garbage in plastic bags and boxes. Bags and boxes must be sturdy enough to hold the contents when lifted and weigh no more than 50 pounds. The materials in the bags or boxes shall be acceptable materials for collection and shall be properly contained.
Unacceptable Items for Bulk Pickup
Boats
Camper shells
Dirt
Hazardous waste material
Lead acid batteries
Liquid waste of any kind
Machinery containing oil or gas, such as engines and lawn mowers
Rock
Tires
Construction and demolition debris
Killeen Junk Removal Services
If you have large items that the city won't take from you, you may need to hire a junk removal service.
Junk removal services are not be as picky about the items they're collecting so if the city won't take the item, this may be your best bet. There's usually a fee involved with junk removal but most companies can tell you ahead of time approximately what it's going to cost.
There are a number of junk removal services in Killeen and I'm sure many of them will be able to help you out.
Recycling Collection Calendar 2023
The city does not provide curbside collection for this service. You may take your recyclables to the following locations below.
The City of Killeen accepts recyclables FREE. Accepted materials include all types of paper, cardboard, #1 and #2 plastics, glass bottles and jars, steel, tin, and aluminum cans.
Recycle at these locations:
Killeen Recycling Center, 111 E. Avenue F
Killeen Recycling Trailer, 6520 Clear Creek Road (Monday – Friday)
Killeen Recycling Trailer, 3201 S. WS Young Drive
Killeen Recycling Trailer, 2906 E. Rancier Avenue (Monday – Friday)
Killeen Transfer Station, 12200 SH 195
Note: All trailers will be located at the Killeen Rodeo Grounds, 3301 S. WS Young Dr., on weekends and holidays.
Click here for more information about recycling.
Frequently Asked Questions
When is bulk pickup in Killeen?
Bulk services on resident's regularly scheduled trash collection day; fees on monthly bill.
Bulk items placed at the curb and requested on a day other than a regularly scheduled collection day will incur a "Premium Service Fee".
What day is trash pickup?
To find trash pickup on your street visit the city's map of trash collection schedule.
What time does trash collection start?
Trash collection starts at 7 a.m Make sure to have your bins on the curb by then.
How can I contact the Killeen Solid Waste Department?
Physical Address
2003 Little Nolan Road
Killeen, TX 76542
Phone: 254-501-7785
Email: [email protected]
Office Hours
Monday – Friday
8 am-5 pm
Did we miss anything?
Hope you were able to find everything you need for the Killeen trash pickup schedule. We strive to provide the most up to date information so please let us know if you need anything else.