We're here to help you find the Flower Mound trash pickup schedule for 2023 including bulk pickup, recycling, holidays, and maps.
The City of Flower Mound is in Texas with Denton to the north, Grapevine to the south, Plano to the east, and Fort Worth to the southwest.
If there's a change to your normal trash collection schedule then there's a good chance your street sweeping schedule has changed too so make sure to check for updates.
Flower Mound Trash Collection Calendar 2023
Republic Services provides trash collection and recycling services to Flower Mound residents and businesses.
For normal trash collection schedules, view the trash map to determine your designated collection day.
Trash Pick Up Holidays
Here you can see the city-observed holidays.
New Year's Day
Martin Luther King Jr. Day
Good Friday
Memorial Day
Independence Day
Labor Day
Thanksgiving
Christmas Day
New Year 2024
If a holiday recognized by the Town of Flower Mound occurs during the work week, trash, recycling, and bulk collection schedules will be delayed one day, with collections being completed on Saturday (with the exception of Martin Luther King Jr.'s Birthday, Good Friday, July 5, or Christmas Eve)
Flower Mound Trash Collection Map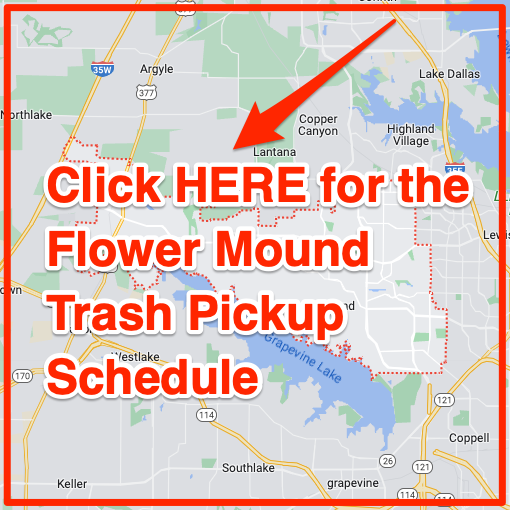 Bulk Waste Pickup Calendar 2023
As an enhanced service, customers receive weekly, curbside bulk trash and brush collection on standard collection days. Bulk items must be no larger than 3'x 3'x 12′. 
Bulk items that exceed the size allotment can be collected by calling Republic Customer Service at 817-317-2000 to schedule an extra pick-up. The charge for a special pick-up is $45 per hour with a one-hour minimum. Payment is made directly to Republic Services.
Acceptable Items for Bulk Pickup
Yard waste
Appliances
Furniture
Water heaters
Toilets
Appliances such as refrigerators, freezers, and air conditioners that contain Freon, PCB, or other liquid or gaseous compounds must have that product removed by a certified technician who places a special tag on the item prior to collection
Unacceptable Items for Bulk Pickup
Hazardous waste
Electronic waste
Car parts
Tires
Non-compactible items such as bricks and concrete will not be collected with regular bulk trash. Please contact Republic directly for information on how these items should be disposed of.
Have bulky items the city won't pick up? You need a junk removal service.
If you have large items that the city won't take from you, you may need to hire a junk removal service.
Junk removal services are not be as picky about the items they're collecting so if the city won't take the item, this may be your best bet. There's usually a fee involved with junk removal but most companies can tell you ahead of time approximately what it's going to cost.
There are a number of junk removal services in Flower Mound and I'm sure many of them will be able to help you out.
Recycling Collection Calendar 2023
Here's the link to the recycling collection schedule.
Click here for more information regarding recycling.
Frequently Asked Questions
When is bulk pickup in Flower Mound?
To find your bulky item pickup in your area visit the city's bulk collection webpage.
What day is trash pickup?
To find trash pickup on your street, view the city's trash map.
What time does trash collection start?
Trash collection starts at 7:00 a.m. Make sure to have your bins on the curb by then.
How can I contact the Flower Mound Customer Service?
Customer Relations Division
Phone: 972.539.7378
Email: [email protected]
Republic Customer Service
817-317-2000
Address:
2121 Cross Timbers Rd.
Flower Mound, TX 75028
Did we miss anything?
Hope you were able to find everything you need for the Flower Mound trash pickup schedule. We strive to provide the most up to date information so please let us know if you need anything else.