We're here to help you find the Anthem trash pickup schedule for 2023 including bulk pickup, recycling, holidays, and maps.
The City of Anthem is in Arizona with Peoria, Glendale, Phoenix, Scottsdale, and Tempe to the south.
If there's a change to your normal trash collection schedule then there's a good chance your street sweeping schedule has changed too so make sure to check for updates.
Anthem Trash Collection Calendar 2023
For normal trash collections schedules, visit https://www.republicservices.com/schedule
Trash Pick Up Holidays
Here you can see the city-observed holidays.
New Year's Day, Sunday, January 1, 2023

Recycling and waste services will not be affected.

Memorial Day, Monday, May 29, 2023 and Labor Day, Monday, Sept 4, 2023

For the Labor Day and Memorial Day holiday weeks – ALL services each day will have a one day delay

Thanksgiving Day, Thursday, November 23, 2023

For the Thanksgiving holiday week – services scheduled for Thursday and Friday will be serviced the following day.

Christmas Day, Monday, December 25, 2023 and New Year's Day, Monday, January 1, 2024

Services scheduled Wednesday–Thursday will be serviced the following day.
Trash and Recycle services will NOT be affected by the holiday these weeks and will be serviced on their normal service day.
Anthem Trash Collection Map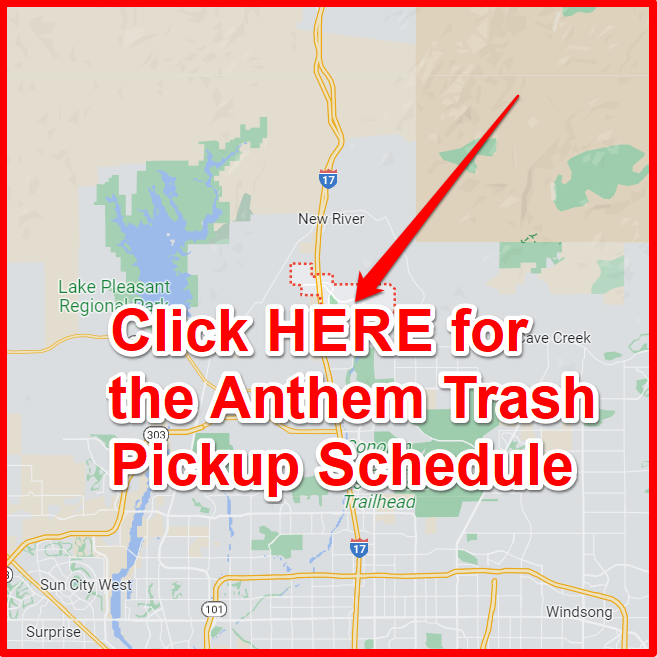 Bulk Waste Pickup Calendar 2023
To find your bulk item pickup schedule visit: https://www.republicservices.com/schedule
Acceptable Items for Bulk Pickup
Items too large to fit in the waste cart
Some appliances (Freon must be removed)
Air Conditioner
Barbecue Grill
Box Fans
Ceiling Fans
Dehumidifier
Dishwasher
Dryer
Freezer
Humidifier
Microwave
Refrigerator
Stove
Vacuum Cleaners
Washer
Water Heaters
Water Softners
Book Case
Couch
Desk
Dresser
Entertainment Center
Household Furniture
Kitchen Table
Sofa
Swing Sets
Unacceptable Items for Bulk Pickup
Household hazardous waste (paint, chemicals, oil)
Loose grass, leaves, weeds, twigs and hedge clippings that are not bagged or tied
Bricks, concrete, dirt and rocks, tile, asphalt, roofing or similar materials
Construction material in excess of 25 pounds generated by a resident and longer than 4 feet in length; any construction materials generated by a contractor
Metal, rebar and fence posts
Tires, rims or automobile parts
Glass such as windows, shower doors, patio doors, mirrors, etc.

Glass can be accepted as long as it is taped to ensure it doesn't break. This becomes a safety concern for the Anthem community and the Republic Services employees.

Appliances containing refrigerants cannot be taken
Have bulky items the city won't pick up? You need a junk removal service.
If you have large items that the city won't take from you, you may need to hire a junk removal service.
Junk removal services are not be as picky about the items they're collecting so if the city won't take the item, this may be your best bet. There's usually a fee involved with junk removal but most companies can tell you ahead of time approximately what it's going to cost.
There are a number of junk removal services in Anthem and I'm sure many of them will be able to help you out.
Recycling Collection Calendar 2023
Here's the link to the recycling collection calendar: https://www.republicservices.com/schedule
Frequently Asked Questions
When is bulk pickup in Anthem?
To find your bulky item pickup in your area visit: https://www.republicservices.com/schedule
What day is trash pickup?
To find trash pickup on your street visit: https://www.republicservices.com/schedule
What time does trash collection start?
Trash collection starts at 6 a.m. Make sure to have your bins on the curb by then.
Please place the carts in the street with the wheels touching the curb. The carts
should not be placed on the sidewalk and you should allow 4 feet between your recycling and waste carts.
How can I contact Anthem Trash and Recycling Services?
Republic Services | Anthem, AZ
602-237-2078
Monday – Friday – 7:30 AM to 5:00 PM
Did we miss anything?
Hope you were able to find everything you need for the Anthem trash pickup schedule. We strive to provide the most up to date information so please let us know if you need anything else.