We're here to help you find the Alameda trash pickup schedule for 2023 including bulk pickup, recycling, holidays, and maps.
The City of Alameda is in California with Oakland and Berkeley to the north, Belmont to the south, Hayward and Sunnyvale to the southeast, San Francisco to the west.
If there's a change to your normal trash collection schedule then there's a good chance your street sweeping schedule has changed too so make sure to check for updates.
Alameda Trash Collection Calendar 2023
For normal trash collections schedules, visit https://alamedacountyindustries.com/alameda/..residential/
Trash Pick Up Holidays
Here you can see the city-observed holidays.
Thanksgiving
Christmas
New Year's Day
Customers may experience a delay in service when one of the holidays listed above falls on a weekday. During the Thanksgiving, Christmas or New Year's Day holiday week, service preceding the holiday is unaffected. Customers whose regular service day falls on the holiday or after, however, will receive service a day late.
Alameda Trash Collection Map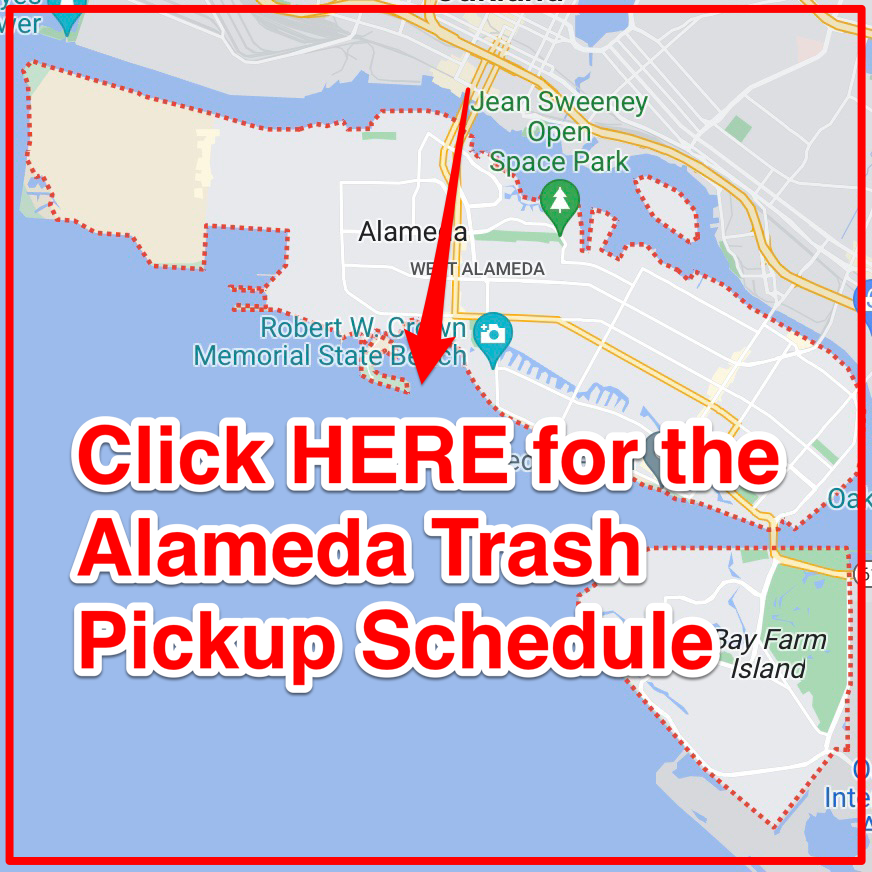 Bulk Waste Pickup Calendar 2023
To find your bulk item pickup schedule visit: https://alamedacountyindustries.com/alameda/cleanup/ for find the collection day for your bulk waste.
Acceptable Items for Bulk Pickup
All single family, multi-plex, and multi-family residential customers receive one (1) on call clean-up day per household /unit per year at no additional charge.
Up to three (3) large bulky items (up to 150 lbs. per item, remove or seal doors on appliances).
Trash that is contained (bagged, boxed, or bundled).
Recyclables such as: cardboard, scrap metal, paper, bottles, cans (bagged, boxed, or bundled). Best efforts will be made to recycle these items.
Reusable items such as: housewares, toys, sports equipment, non-upholstered furniture, clothing (clean and dry), accessories, framed pictures/art, craft/sewing items, books, magazines, CDs, VHS, and DVDs. Clean undamaged items only. (Please bag or box small/multiple/loose items).
Unacceptable Items for Bulk Pickup
Dirt, rocks, and construction or demolition debris – Debris box service is available for these items. Click here for more information about debris box services and rates. 
Abandoned automobiles, trees, or any single item (e.g. large auto parts, etc.) that exceeds 150 lbs. in weight.
Household hazardous waste (HHW) – radioactive materials, unwanted medications and sharps, poisonous or toxic materials are not accepted in any Alameda County Industries collection carts or bins. For a comprehensive list and information on disposal locations, please visit www.StopWaste.org/hhw or call the Alameda County Household Hazardous Waste team at 1-800-606-6606.
Have bulky items the city won't pick up? You need a junk removal service.
If you have large items that the city won't take from you, you may need to hire a junk removal service.
Junk removal services are not be as picky about the items they're collecting so if the city won't take the item, this may be your best bet. There's usually a fee involved with junk removal but most companies can tell you ahead of time approximately what it's going to cost.
There are a number of junk removal services in Alameda and I'm sure many of them will be able to help you out.
Recycling Collection Calendar 2023
Here's the link to the recycling collection calendar: https://alamedacountyindustries.com/alameda/residentialrecyclingguide/
Frequently Asked Questions
When is bulk pickup in Alameda?
To find your bulky item pickup in your area visit: https://alamedacountyindustries.com/alameda/cleanup/
What day is trash pickup?
To find trash pickup on your street visit: https://alamedacountyindustries.com/alameda/..residential/
What time does trash collection start?
Trash collection starts at 6 a.m. Make sure to have your bins on the curb by then.
How can I contact the Alameda Public Works Department?
2307 Blanding Avenue
Suite B
Alameda, CA 94501
Phone:510-483-1400
Fax:510-814-7314
Office hours: 
Monday – Friday 7am-6pm
Did we miss anything?
Hope you were able to find everything you need for the Alameda trash pickup schedule. We strive to provide the most up to date information so please let us know if you need anything else.