We're here to help you find the San Francisco trash pickup schedule for 2023 including bulk pickup, recycling, holidays, and maps.
The City of San Francisco is in California with Oakland and Alameda across the bay to the east, Fremont and San Jose to the southeast, and Daly City to the south.
If there's a change to your normal trash collection schedule then there's a good chance your street sweeping schedule has changed too so make sure to check for updates.
San Francisco Trash Collection Calendar 2023
The City of San Francisco partners with Recology to provide refuse and recycling collection services to its residents.
For normal trash collection schedules, visit Recology's Collection Schedule tool.
Trash Pick Up Holidays
Recology's drivers work every holiday except Christmas Day and New Year's Day.
Recology prints a special holiday schedule on this site and in their customer newsletter.
San Francisco Trash Collection Map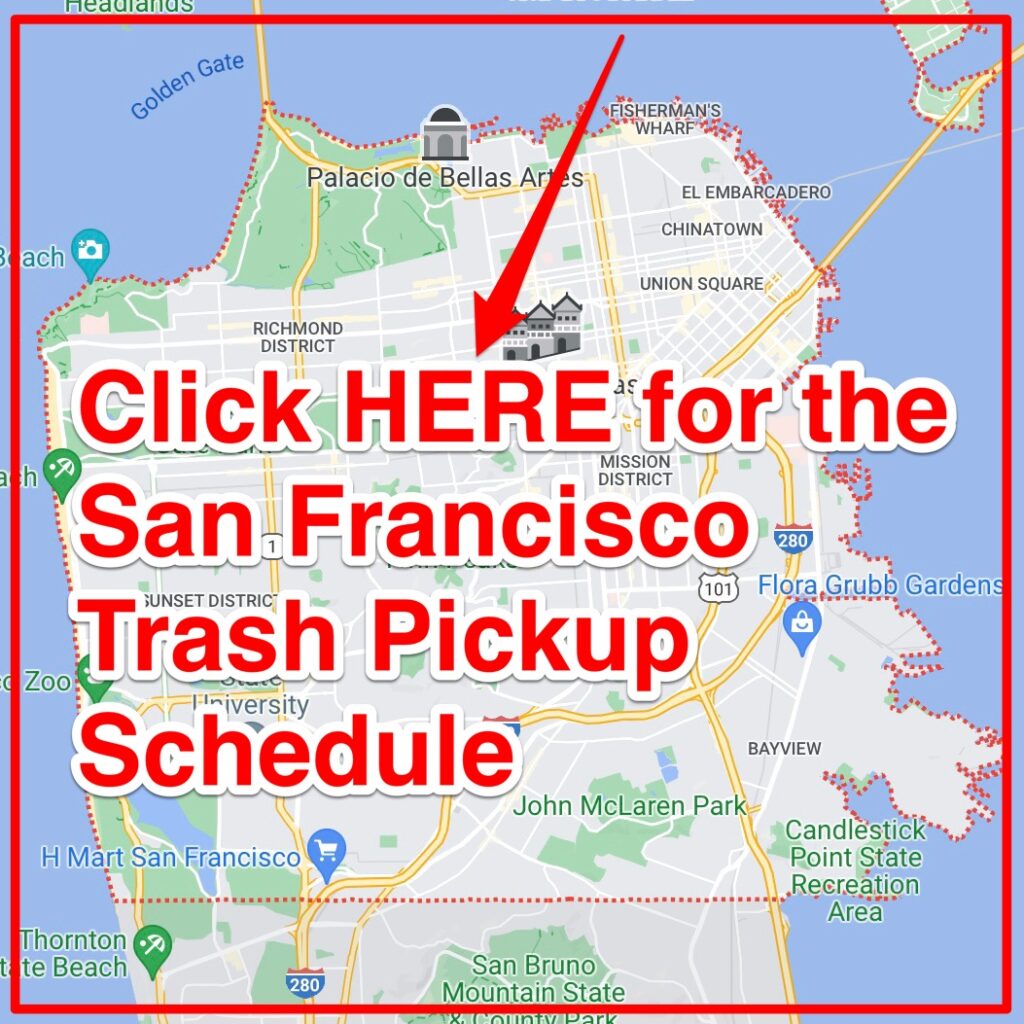 Bulk Waste Pickup Calendar 2023
Residential customers (buildings with 5 units or less) receive two curbside Bulky Item Recycling collections per year at no additional charge, and each unit in a multi-family building (6 units or more) is eligible to receive one no-charge curbside collection. Once you've scheduled your pickup, please place your items next to the curb in front of your residence (take care not to block the sidewalk), and attach a sign that reads RECOLOGY.
Acceptable Items for Bulk Pickup
Living Room Furniture
Bedroom Furniture
Dining Room Furniture
Kitchen appliances
Bathroom fixtures
Garage items
Appliances
Electronics
Tanks
Unacceptable Items for Bulk Pickup
Household Garbage
Bottles, Cans, Cardboard or Paper Recyclables
Yard/Green Waste
Concrete, Plaster, Dirt or Construction Debris
Oversized Items – Pianos, Tree Trunks, Tires, Cast Iron Tubs, and anything over 100 pounds
Hazardous Waste – Such As Paints, Pesticides, Chemicals & Cleaning Agents
Commercial Appliances
Have bulky items the city won't pick up? You need a junk removal service.
If you have large items that the city won't take from you, you may need to hire a junk removal service.
Junk removal services are not be as picky about the items they're collecting so if the city won't take the item, this may be your best bet. There's usually a fee involved with junk removal but most companies can tell you ahead of time approximately what it's going to cost.
There are a number of junk removal services in San Francisco and I'm sure many of them will be able to help you out.
Recycling Collection Calendar 2023
Here's the link to the recycling collection calendar.
Frequently Asked Questions
When is bulk pickup in San Francisco?
Residential customers will receive two Bulky Item Recycling collections per calendar year, while Multi-Family owners/operators receive one collection/year. Tenants within an apartment building receive one collection/year and can contact Recology directly to schedule collection. Unused collections do not accumulate.
What day is trash pickup?
To find trash pickup on your street visit Recology's collection schedule online.
What time does trash collection start?
Trash collection starts at 6 a.m. Make sure to have your bins on the curb by then.
How can I contact the San Francisco Trash and Recycling Services?
Please contact Recology offices for concerns about trash and recycling services.
Did we miss anything?
Hope you were able to find everything you need for the San Francisco trash pickup schedule. We strive to provide the most up to date information so please let us know if you need anything else.