We're here to help you find the Vaughan trash pickup schedule for 2023 including bulk pickup, recycling, holidays, and maps.
The City of Vaughan is in Ontario, Canada with Newmarket to the north, Etobicoke to the south, Markham to the east, North York to the southeast, Caledon to the west, and Peel to the southwest.
If there's a change to your normal trash collection schedule then there's a good chance your street sweeping schedule has changed too so make sure to check for updates.
Vaughan Trash Collection Calendar 2023
For normal trash collection schedules, visit the City of Vaughan Waste Collection Schedule
Trash Pick Up Holidays
There may be changes to your collection days over the holidays. You may call Environmental Services at 905-832-2281 to verify if your area is impacted by the holidays.
Vaughan Trash Collection Map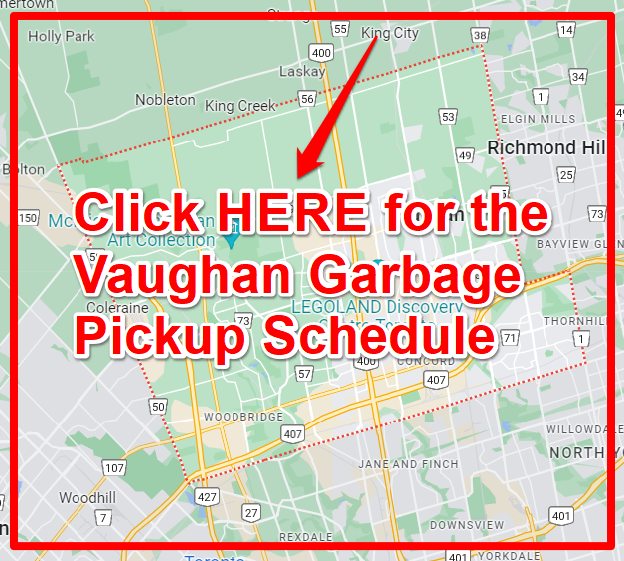 Bulk Waste Pickup Calendar 2023
To find your bulk item pickup schedule visit the City's Large/Bulky Items website.
Acceptable Items for Bulk Pickup
Furniture
Mattresses
Chairs
Tables
Bookshelves
Sofa beds
Toilets
Toilet tank must be separated from the bowl for all two-piece toilets.
Toilets should not be placed in a cardboard box, unless it has broken into smaller pieces.
Any broken edges must be completely covered in cardboard and taped securely to prevent injury to staff.
Irregular-shaped objects
Irregular-shaped objects that cannot fit into the proper waste container will be collected, provided the item does not exceed 1.5 metres (5 feet) in length and a maximum of 0.9 metres (1.5 feet) in any other dimension.
Ensure all sharp and hazardous objects are removed.
Ensure items are secured as a bundle not exceeding 20 kilograms (45 pounds).
Appliance and metal pick up
Refer to the appliance and metal pick up section for more information on this program.
Have bulky items the city won't pick up? You need a junk removal service.
If you have large items that the city won't take from you, you may need to hire a junk removal service.
Junk removal services are not be as picky about the items they're collecting so if the city won't take the item, this may be your best bet. There's usually a fee involved with junk removal but most companies can tell you ahead of time approximately what it's going to cost.
There are a number of junk removal services in Vaughan and I'm sure many of them will be able to help you out.
Recycling Collection Calendar 2023
Here's the link to the recycling collection calendar. (Blue box recycling is collected once a week on your scheduled collection day.) 
Frequently Asked Questions
When is bulk pickup in Vaughan?
To find your bulky item pickup in your area visit the City's Large/Bulky Items website.
What day is trash pickup?
To find trash pickup on your street visit: City of Vaughan Waste Collection Schedule
What time does trash collection start?
Trash collection starts at 7:00 a.m. Make sure to have your bins on the curb by then.
How can I contact Vaughan Environmental Services Department?
Joint Operations Centre
2800 Rutherford Rd.
Vaughan, ON  L4K 2N9
Phone: 905-832-2281
Fax Number: 905-303-2005
Email: [email protected]
Did we miss anything?
Hope you were able to find everything you need for the Vaughan trash pickup schedule. We strive to provide the most up to date information so please let us know if you need anything else.