We're here to help you find the Orillia garbage pickup schedule for 2023 including bulk pickup, recycling, holidays, and maps.
The City of Orillia is in Ontario, Canada, with Kawartha Lakes to the east, Vaughan and Toronto to the south, Barrie to the southwest, and North Bay to the north.
If there's a change to your normal garbage collection schedule then there's a good chance your street sweeping schedule has changed too so make sure to check for updates.
Orillia Garbage Collection Calendar 2023
For normal trash collection schedules, click here to determine your collection day.
Garbage Pick Up Holidays
Here you can see the city-observed holidays.
New Year's Day
Family Day
Good Friday
Easter Monday
Victoria Day
Canada Day
Civic Holiday
Labour Day
Thanksgiving Day
Christmas Day
Collection is delayed by one day after a statutory holiday as noted in the Collection Calendar.
Orillia Garbage Collection Map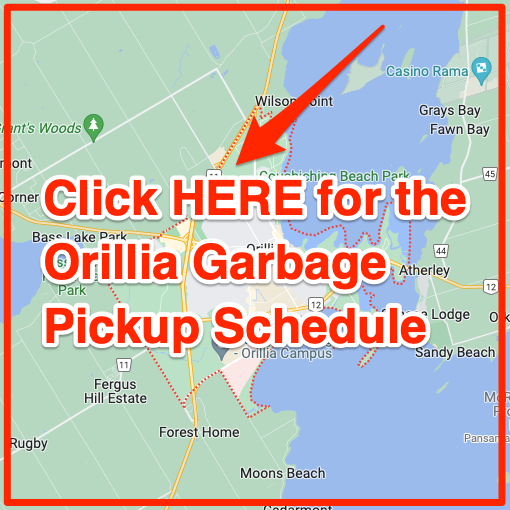 Bulk Waste Pickup Calendar 2023
The City of Orillia does not offer a bulky item collection service. There are several options for removing large items from your home including:
Local waste removal companies will come to your home and remove large bulky items you no longer want or need for a fee. Google "Rubbish Removal" for a listing of these companies.
Most stores that deliver appliances and mattresses will also remove the used item.
Place the item at the curb with a "Free" sign on it. Scrap metal items are also usually picked up.
The Treasure Hunt Program runs on the 3rd Weekend of the month from May to October to encourage the re-use or recycling of large household items. It's like a community garage sale!! Leave unwanted but still useful household items at the curb after 5:00 pm on the Friday of the event weekend and remember to remove all uncollected items by Sunday at 11:00 pm.
Post items for free on the Freecycle website and someone else can pick it up.
Have bulky items the city won't pick up? You need a junk removal service.
If you have large items that the city won't take from you, you may need to hire a junk removal service.
Junk removal services are not be as picky about the items they're collecting so if the city won't take the item, this may be your best bet. There's usually a fee involved with junk removal but most companies can tell you ahead of time approximately what it's going to cost.
There are a number of junk removal services in Orillia and I'm sure many of them will be able to help you out.
Recycling Collection Calendar 2023
Here's the link to the recycling collection information and calendar.
Frequently Asked Questions
When is bulk pickup in Orillia?
The City of Orillia does not offer a bulky item collection service. Here are several options for removing large items from your home.
What day is trash pickup?
To find trash pickup on your street visit: orillia.ca/collectionschedule.aspx
What time does trash collection start?
Trash collection starts at 7:00 a.m. Make sure to have your bins on the curb by then.
How can I contact the Orillia Public Works Department?
Solid Waste Management:
100 Kitchener Street,
Orillia, ON L3V 6Z9
Telephone: 705-325-3522
Fax: 705-326-1339
Email: Environment and Infrastructure Services Dept
Communication support: 705-326-1502
Did we miss anything?
Hope you were able to find everything you need for the Orillia garbage pickup schedule. We strive to provide the most up to date information so please let us know if you need anything else.