We're here to help you find the Kawartha Lakes garbage pickup schedule for 2023 including bulk pickup, recycling, holidays, and maps.
The City of Kawartha Lakes is in Ontario with Ottawa to the northeast, Oshawa to the south, Orillia to the west, North Bay to the north.
If there's a change to your normal garbage collection schedule then there's a good chance your street sweeping schedule has changed too so make sure to check for updates.
Kawartha Lakes Garbage Collection Calendar 2023
For normal garbage collections schedules, visit https://www.kawarthalakes.ca/en/living-here/residential-collection.aspx
Garbage Pick Up Holidays
Here you can see the city-observed holidays.
New Year's Day: Sunday, January 1st, 2023
Good Friday: Friday, April 7th, 2023
Easter Monday: Monday, April 10th, 2023
Victoria Day/National Patriot's Day: Monday, May 22nd, 2023
Quebec national Holiday: Saturday, June 24th, 2023 (Quebec only)
Canada Day: Saturday, July 1st, 2023
British Columbia Day: Monday, August 7th, 2023 (BC only)
Heritage Day – Alberta: Monday, August 7th, 2023 (Alberta only)
Labour Day: Monday, September 4th, 2023
Thanksgiving Day: Monday, October 9th, 2023
Remembrance Day: Saturday, November 11th, 2023
Christmas: Monday, December 25th, 2023
Boxing Day: Tuesday, December 26th, 2023
Collection moves forward one day.
Kawartha Lakes garbage Collection Map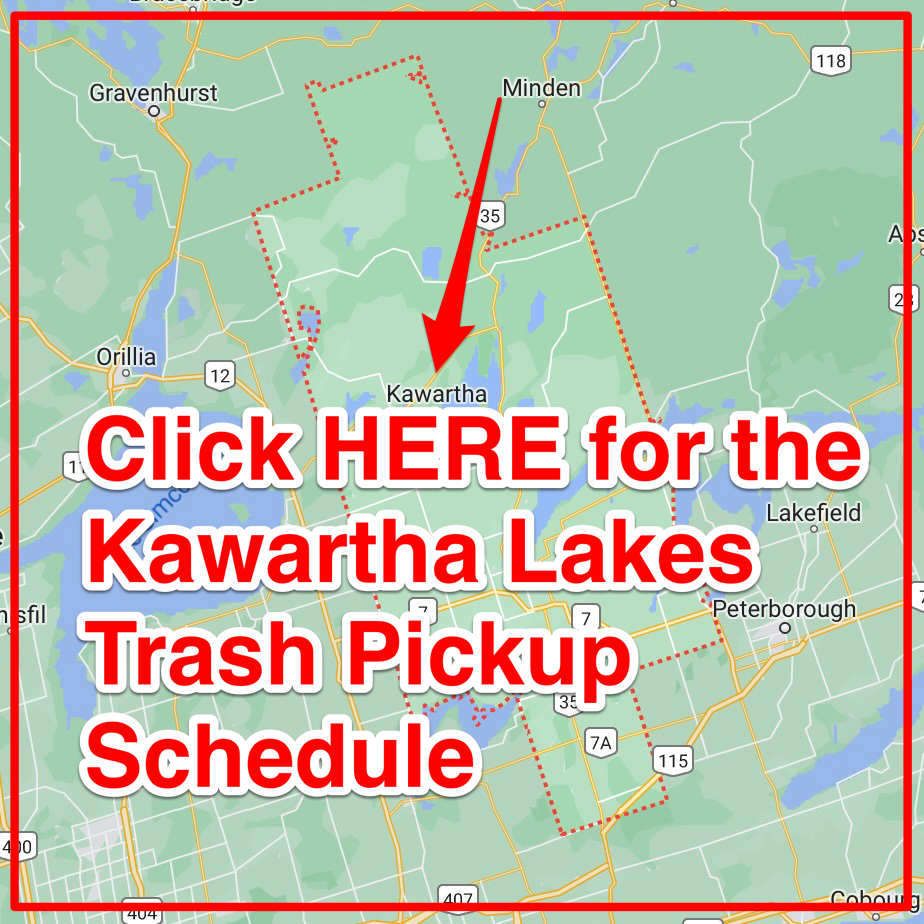 Bulk Waste Pickup Calendar 2023
To find your bulk item pickup schedule visit: https://www.kawarthalakes.ca/en/living-here/items-for-sale.aspx for find the collection day for your bulk waste.
Acceptable Items for Bulk Pickup
To have large items, mattresses and box springs and appliances containing Freon collected at the curb you must purchase the appropriate sticker. All items with a door must have the door removed to be collected.
Purchase a 'Large Item' sticker at a cost of $10.00 and attach to each item.
Large items and appliances include:
stoves
washers and dryers
furniture
microwaves
televisions
computers, monitors and stereos
In addition to the $10.00 Large Item sticker, appliances containing Freon must also be tagged with a pre-paid Freon Appliance sticker. Freon Appliance stickers cost $20.00 per item. The total cost to have a Freon item collected at the curb is $30.00.
Only appliances with Freon removed by a licensed technician and certified Freon Free do not require the $20.00 sticker.
Freon items include:
refrigerators
freezers
dehumidifiers
air conditioners
household water coolers
Please call Miller Waste Systems Inc. at 1-888-557-4711 to schedule your collection before setting your Freon items on the curb.
Mattress Stickers: $15.00 each
Box Spring Stickers: $15.00 each
Unacceptable Items for Bulk Pickup
No construction debris or hazardous waste will be collected. 
Have bulky items the city won't pick up? You need a junk removal service.
If you have large items that the city won't take from you, you may need to hire a junk removal service.
Junk removal services are not be as picky about the items they're collecting so if the city won't take the item, this may be your best bet. There's usually a fee involved with junk removal but most companies can tell you ahead of time approximately what it's going to cost.
There are a number of junk removal services in Kawartha Lakes and I'm sure many of them will be able to help you out.
Recycling Collection Calendar 2023
Here's the link to the recycling collection calendar:https://www.kawarthalakes.ca/en/news/resources/2023-KL-Waste-Calendar-accessible.pdf
Frequently Asked Questions
When is bulk pickup in Kawartha Lakes?
To find your bulky item pickup in your area visit: https://www.kawarthalakes.ca/en/living-here/items-for-sale.aspx
What day is garbage pickup?
To find garbage pickup on your street visit: https://www.kawarthalakes.ca/en/living-here/residential-collection.aspx
What time does garbage collection start?
garbage collection starts at 7 a.m. Make sure to have your bins on the curb by then.
How can I contact the Kawartha Lakes Public Works Department?
322 Kent St W. Lindsay, ON K9V 4T7
Telephone. 705-324-9411
E-Mail Waste Managment
Did we miss anything?
Hope you were able to find everything you need for the Kawartha Lakes garbage pickup schedule. We strive to provide the most up to date information so please let us know if you need anything else.