We're here to help you find the New Braunfels trash pickup schedule for 2023 including bulk pickup, recycling, holidays, and maps.
The City of New Braunfels is in Texas with San Marcos and Austin to the northeast, San Antonio to the southwest, Houston to the east.
If there's a change to your normal trash collection schedule then there's a good chance your street sweeping schedule has changed too so make sure to check for updates.
New Braunfels Trash Collection Calendar 2023
For normal trash collections schedules, visit https://www.nbtexas.org/944/Solid-Waste-Recycling
Trash Pick Up Holidays
Here you can see the city-observed holidays.
There is no commercial or residential collection on Thanksgiving Day, Christmas Day, or New Year's Day. Collection that falls on those holidays are made up the next service day, and all collection days after will shift by one day. 
PLEASE NOTE: 
Collection will follow normal schedules for all other holidays and observances.
The City Recycle Center is closed on all City holidays.
New Braunfels Trash Collection Map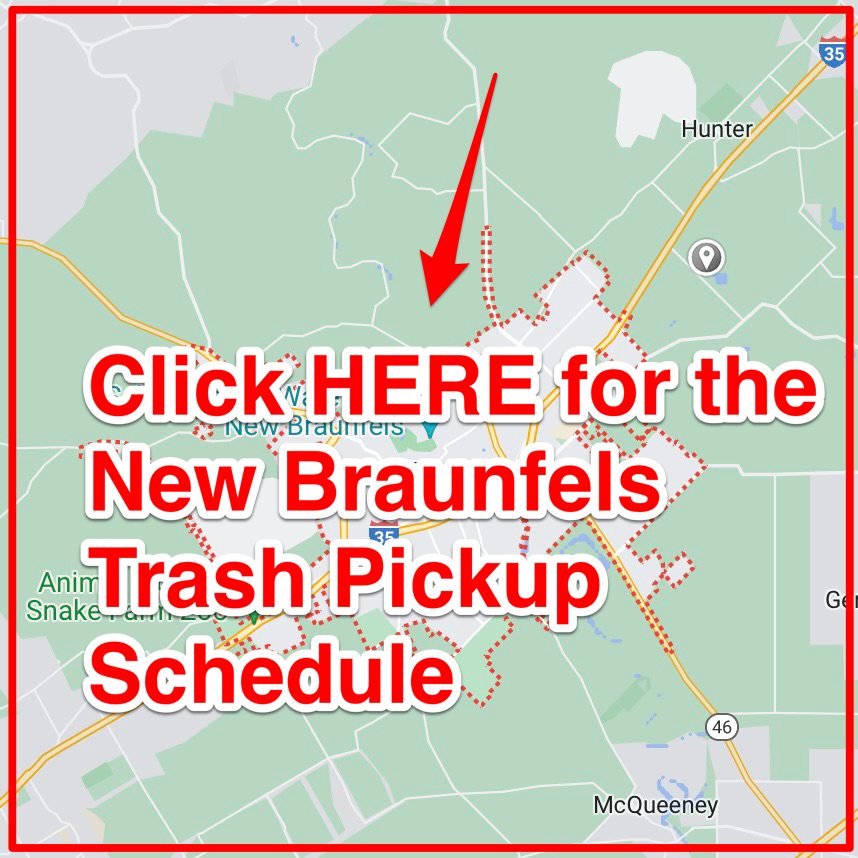 Bulk Waste Pickup Calendar 2023
To find your bulk item pickup schedule visit: https://www.nbtexas.org/3275/Residential-Garbage for find the collection day for your bulk waste.
Acceptable Items for Bulk Pickup
Furniture, mattresses, whole passenger car tires without rims (limited to 4 per resident), and other non-metal bulky items too large for your trash cart. 
Unacceptable Items for Bulk Pickup
Electronics, appliances, green waste or other plants, household hazardous waste, loose or bagged (non-bulky) garbage, scrap metal, construction, demolition, or remodeling material, fixtures, and trash and commercial or business trash. Blown-out, partial, motorcycle, ATV, and lawn mower tires are also not accepted.
Bulky items such as furniture and appliances are not collected by your weekly garbage truck. These items are collected by a special truck and team. If you need to dispose of these items, please call and leave a message at our office. A customer service representative will contact you regarding appointment availability, restrictions, fee information, and to schedule your pick up. Furniture can also be brought to the next quarterly Bulky Goods Drop-Off
Have bulky items the city won't pick up? You need a junk removal service.
If you have large items that the city won't take from you, you may need to hire a junk removal service.
Junk removal services are not be as picky about the items they're collecting so if the city won't take the item, this may be your best bet. There's usually a fee involved with junk removal but most companies can tell you ahead of time approximately what it's going to cost.
There are a number of junk removal services in New Braunfels and I'm sure many of them will be able to help you out.
Recycling Collection Calendar 2023
Here's the link to the recycling collection calendar: https://www.newbraunfels.gov/778/Residential-Recycling
Frequently Asked Questions
When is bulk pickup in New Braunfels?
To find your bulky item pickup in your area visit: https://www.nbtexas.org/3275/Residential-Garbage
What day is trash pickup?
To find trash pickup on your street visit: https://www.nbtexas.org/944/Solid-Waste-Recycling
What time does trash collection start?
Trash collection starts at 6:30 a.m. Make sure to have your bins on the curb by then.
How can I contact the New Braunfels Public Works Department?
Email: [email protected]
Phone: (830) 221-4040
Address: 424 S. Castell Ave. New Braunfels TX 78130
Did we miss anything?
Hope you were able to find everything you need for the New Braunfels trash pickup schedule. We strive to provide the most up to date information so please let us know if you need anything else.