We're here to help you find the Los Angeles trash pickup schedule for 2023 including bulk pickup, recycling, holidays, and maps.
The City of Los Angeles is in California with by Long Beach and San Diego to the south.
If there's a change to your normal trash collection schedule then there's a good chance your street sweeping schedule has changed too so make sure to check for updates.
Los Angeles Trash Collection Calendar 2023
For normal trash collections schedules, visit https://neighborhoodinfo.lacity.org/#121%20N%20New%20Hampshire%20Ave to find the collection day for your trash.
Los Angeles Trash Collection Map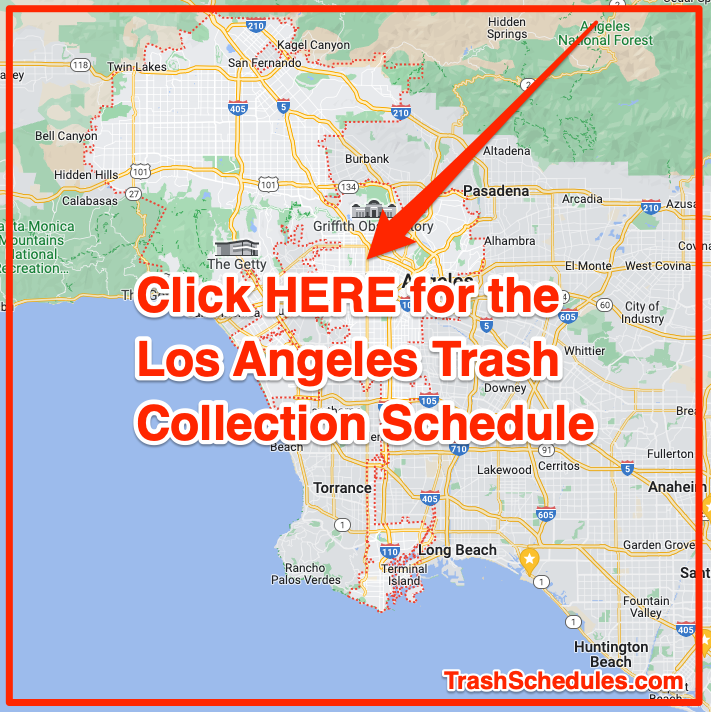 Bulk Waste Pickup Calendar 2023
Bulky item drop off is free in Los Angeles on the following dates (click on the calendar below)
If you are unable to drop off items at the locations then call 1-800-773-2489 or use the MyLA311 app to schedule a curbside pickup.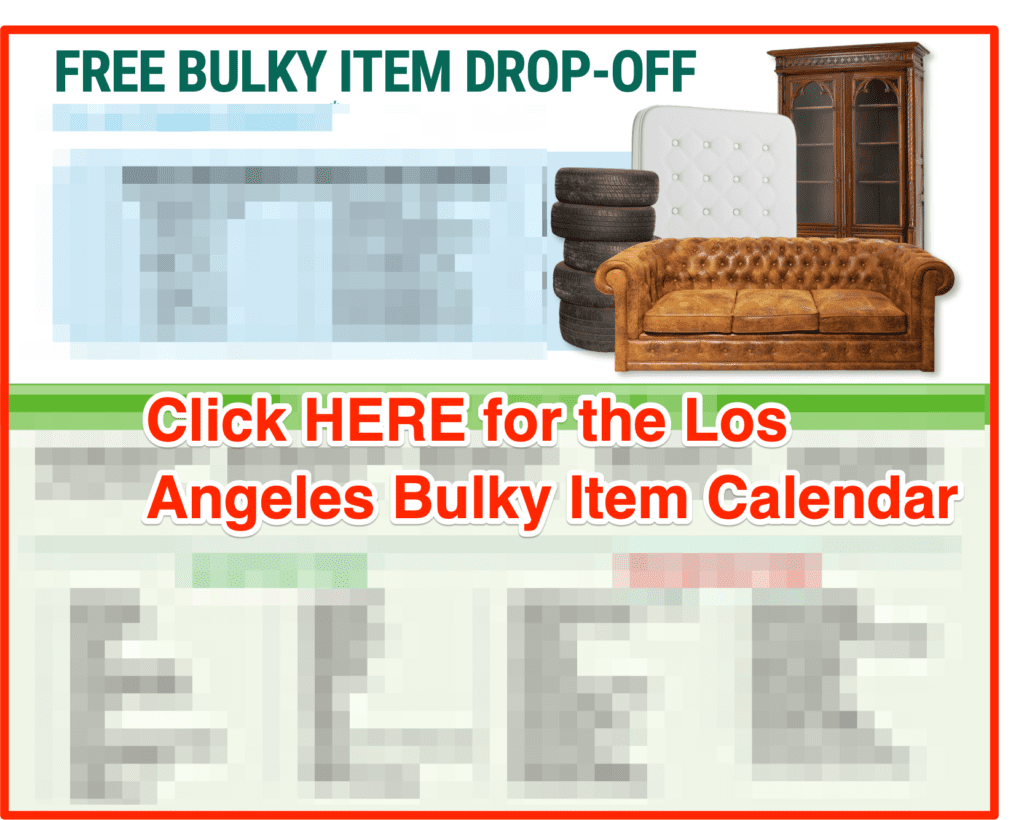 Items NOT accepted during bulk pickup
The following items will not be collected as part of bulk pickup. You'll need to find an alternative method for disposing of these items.
Electronic waste such as computers, monitors, televisions, printers, network equipment, cables, telephones, microwaves, video games, cell phones, radios, stereos, VCRs, and electronic toys
Household cleaning products
Paint and paint-related substances (solvents)
Automotive products such as oil, antifreeze, brake fluid, transmission fluid, oil filters
Pool chemicals
Garden chemicals including fertilizers, weed killers, pesticides
Car batteries and household batteries (A, AA, AAA, nickel cadmium, alkaline, lithium)
Fluorescent light bulbs
Aerosol cans
Medicine
Recycling Collection Calendar 2023
For everything you need to know about recycling in Los Angeles visits: https://www.lacitysan.org/san/faces/home/portal/s-lsh-wwd/s-lsh-wwd-s/s-lsh-wwd-s-r?_adf.ctrl-state=srvpua2uz_5&_afrLoop=11637886009467876#!
Trash Pick Up Holidays
Collection services will be postponed by one calendar day on only the following holidays in 2023:
Independence Day
Labor Day
Thanksgiving Day
Christmas
New Year's Day
Los Angeles Junk Removal Services
Did we miss anything?
Hope you were able to find everything you need for the Los Angeles trash pickup schedule. We strive to provide the most up to date information so please let us know if you need anything else.