We're here to help you find the Long Beach trash pickup schedule for 2023 including bulk pickup, recycling, holidays, and maps.
The City of Long Beach is in California with Lakewood and Los Angeles to the north, Huntington Beach to the southeast, Anaheim to the east, Rancho Palos Verdes to the west, and Torrance to the northwest.
If there's a change to your normal trash collection schedule then there's a good chance your LB street sweeping schedule has changed too so make sure to check for updates.
Long Beach Trash Collection Calendar 2023
For normal trash collection schedules, use the city's MapIt Application to access your refuse and recycling collection day. For additional questions, call (562) 570-2876.   
Trash Pick Up Holidays
Refuse and recycling are collected on all holidays except
Christmas Day (December 25)
New Year's Day (January 1)
When Christmas and New Year's Day fall on a weekday, collection for the holiday and the remainder of that week will be delayed one day ending on Saturday. When Christmas and New Year's Day fall on a Saturday, collection will occur the Friday before the holiday.
For all other holidays, refuse and recycling collection will occur on your normal collection day.
Long Beach Trash Collection Map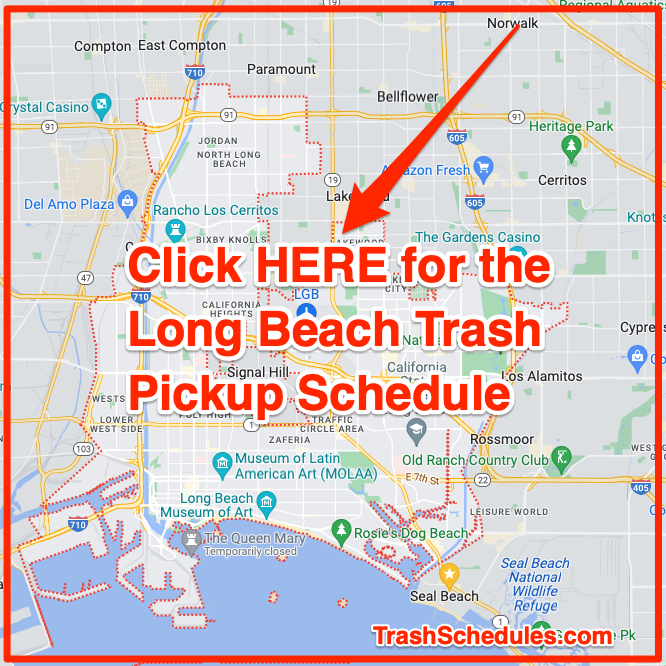 Bulk Waste Pickup Calendar 2023
The City of Long Beach provides each City-serviced refuse account 4 Special Collections per year at no additional cost. To request a special collection, use our online form to submit a request or call the Refuse Hotline at (562) 570-2876 to schedule a pickup of your bulky or oversized items. 
Please note that a regulatory fee may be charged for items requiring special handling. Click here for collection restrictions that may apply. 
Acceptable Items for Bulk Pickup
Furniture
Appliances (for safety, refrigerators and freezers must have doors removed or duct-taped shut)
Computers and monitors
Television sets
Tires (with or without rims, maximum of 16 inches in size and maximum of 5 tires per pickup)
Tree branches, yard debris (4 feet in length, 40 pound tied bundles)
Other oddly sized items
Unacceptable Items for Bulk Pickup
Contact Refuse Hotline at (562) 570-2876 for more information about what items are unacceptable for bulk pickup.
Have bulky items the city won't pick up? You need a junk removal service.
If you have large items that the city won't take from you, you may need to hire a junk removal service.
Junk removal services are not be as picky about the items they're collecting so if the city won't take the item, this may be your best bet. There's usually a fee involved with junk removal but most companies can tell you ahead of time approximately what it's going to cost.
There are a number of junk removal services in Long Beach and I'm sure many of them will be able to help you out.
Recycling Collection Calendar 2023
Here's the link to the recycling collection calendar.
Recyclables are collected each week on the same day as your refuse. Single-family homes or small apartment complexes (up to 10 units) can recycle by using a City-provided, purple recycling cart. 
Frequently Asked Questions
When is bulk pickup in Long Beach?
To find your bulky item pickup in your area, click here.
What day is trash pickup?
To find trash pickup on your street visit the city website.
What time does trash collection start?
Trash collection starts at 6 a.m. Make sure to have your bins on the curb by then.
How can I contact the Long Beach Public Works Department?
2929 East Willow Street 
Long Beach, CA 90806
Phone: (562) 570-2876
Did we miss anything?
Hope you were able to find everything you need for the Long Beach trash pickup schedule. We strive to provide the most up to date information so please let us know if you need anything else.