We're here to help you find the Ottawa garbage pickup schedule for 2023 including bulk pickup, recycling, holidays, and maps.
The City of Ottawa is in Ontario Canada with Gatineau to the north, Brockville and Kingston to the south, Montreal and Longueuil to the east.
If there's a change to your normal garbage collection schedule then there's a good chance your street sweeping schedule has changed too so make sure to check for updates.
Ottawa Garbage Collection Calendar 2023
For normal garbage collection schedules, visit the City's Garbage Collection Calendar.
Garbage Pick Up Holidays
Here you can see the city-observed holidays.
Family Day
Good Friday
Easter Monday
Victoria Day
Colonel By Day
Labour Day
Thanksgiving Day
Christmas Day
Recycling, green bin and garbage collection schedules will be delayed by one day for the remainder of the week, with Saturday making up for the missed day.
For example, if your collection day falls on a Monday statutory holiday, collection would shift to Tuesday, a regular Tuesday collection day would shift to Wednesday, Wednesday to Thursday, Thursday to Friday, and Friday to Saturday.
There are no changes to the recycling, green bin, and garbage collection schedule for:
Canada Day: Saturday, July 1, 2023
National Day for Truth and Reconciliation: Saturday, September 30, 2023
Remembrance Day: Saturday, November 11, 2023
Boxing Day: Tuesday, December 26, 2023
Ottawa Garbage Collection Map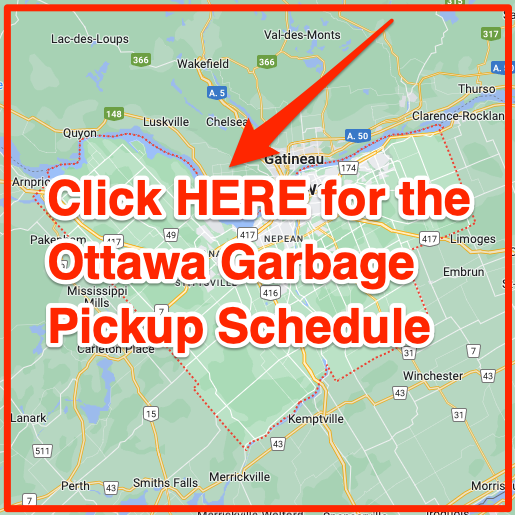 Bulk Waste Pickup Calendar 2023
To find your bulk item pickup schedule visit: https://ottawa.ca/en/garbage-and-recycling/hazardous-waste-and-special-items
Acceptable Items for Bulk Pickup
Furniture
Mattresses
Couches
etc.
Unacceptable Items for Bulk Pickup
stoves
refrigerators
freezers
air conditioners
dryers
dishwashers
hot water tanks
furnaces or oil tanks
Plaster
wood (including pressure-treated lumber)
drywall
concrete
asphalt or other waste resulting from building construction
renovation or demolition debris
Flares
bullets
explosive devices
firearms
fireworks
Please check Ottawa Waste Explorer to find out more where to dispose household items.
Have bulky items the city won't pick up? You need a junk removal service.
If you have large items that the city won't take from you, you may need to hire a junk removal service.
Junk removal services are not be as picky about the items they're collecting so if the city won't take the item, this may be your best bet. There's usually a fee involved with junk removal but most companies can tell you ahead of time approximately what it's going to cost.
There are a number of junk removal services in Ottawa and I'm sure many of them will be able to help you out.
Recycling Collection Calendar 2023
Here's the link to the City's recycling collection calendar.
Frequently Asked Questions
When is bulk pickup in Ottawa?
To find your bulky item pickup in your area visit: https://ottawa.ca/en/garbage-and-recycling/hazardous-waste-and-special-items
What day is trash pickup?
To find trash pickup on your street visit: https://ottawa.ca/en/garbage-and-recycling/recycling/garbage-and-recycling-collection-calendar
What time does trash collection start?
Trash collection starts at 7:00 am. Make sure to have your bins on the curb by then.
How can I contact Ottawa Customer Service?
Address: 110 Laurier Avenue West, Ottawa, ON K1P 1J1
Phone:
613-580-2400
1-866-261-9799
Access 311 services through 3-1-1 online
Did we miss anything?
Hope you were able to find everything you need for the Ottawa garbage pickup schedule. We strive to provide the most up to date information so please let us know if you need anything else.