We're here to help you find the Huntersville trash pickup schedule for 2023 including bulk pickup, recycling, holidays, and maps.
The City of Huntersville is in North Carolina with Concord to the east, Kannapolis to the northeast, Charlotte to the south, Gastonia to the southwest, Mooresville to the north.
If there's a change to your normal trash collection schedule then there's a good chance your street sweeping schedule has changed too so make sure to check for updates.
Huntersville Trash Collection Calendar 2023
For normal trash collections schedules, visit https://www.wasteconnections.com/pickup-schedule/
Trash Pick Up Holidays
Here you can see the city-observed holidays.
Waste Connections observes three holidays:
New Years Day
Thanksgiving Day
Christmas Day
During observed holidays, collection is delayed one day. If the holiday falls on a Friday, collection will occur on Saturday. Holidays that fall on a weekend do not impact the collection schedule.
Huntersville Trash Collection Map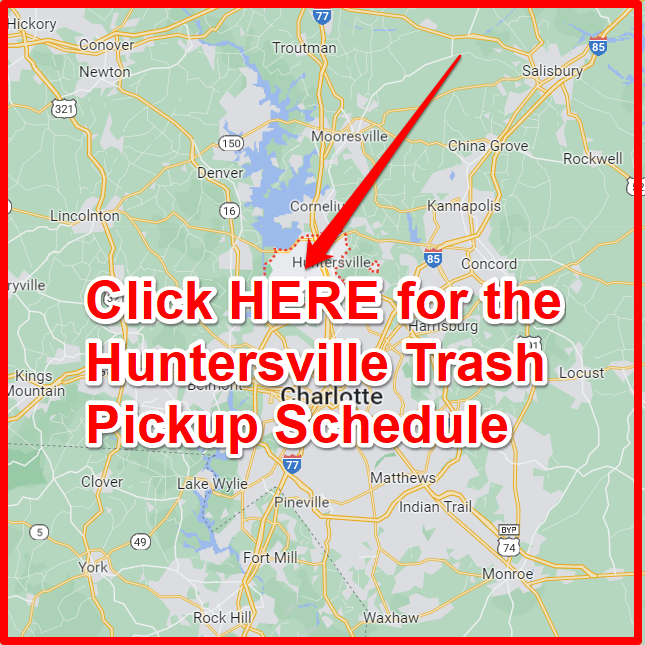 Bulk Waste Pickup Calendar 2023
*Request Bulk Item or Brush Pick Up service from Public Works. A disposal fee applies.
Acceptable Items for Bulk Pickup
Standard Size Bulk Item: Bicycle, Box spring, Chair (2 chairs = 1 item),   Desk,   Dining table (wood or metal), Dishwasher,   Dresser,  Exercise equipment (metal only), Hutch,   Lamps (2 floor or table lamps = 1 item),   Love seat,   Mattress,   Microwave,  Mini-fridge,   Moving boxes – flattened and stacked (40 flattened boxes = 1 standard item) and packing paper has been bagged,   Outdoor furniture (metal or plastic only, no treated wood),   Outdoor grill, Pressure washer,  Push lawnmower,  Range top, Sink.   Sofa (3 cushions),   Swing set (metal only),   Tables (2 coffee or end tables = 1 item),   Television (flat screen LCD/LED only),   Toilet,   Trash (up to 4 bags =1 item),   Trash compactor, Tub (fiberglass only),   Water heater,   Window unit air conditioner  
Oversize Bulk Item: Basketball goal, Chest freezer (max size: 8.7 cu ft, 100 lbs, 41″ W x 34″ H x 24″ D), Dryer,  Hot tub, Piano (spinet, console, studio, and upright only),   Refrigerator (max size = 36″),   Riding lawn mower,    Sectional sofa,  Stove,   Trampoline,   Washing Machine 
Brush: a single, neatly stacked pile, no larger than 10′ W x 10′ L x 5 ' H grouping of sticks, twigs and small branches, cut into 4 ft lengths.   Max branch size is 4″ diameter.  
Bags of Leaves: Up to 60 brown or clear bags of leaves.  25-gallon bag or smaller.  Each bag weighing 25 pounds or less. 
Unacceptable Items for Bulk Pickup
Bamboo
Block
Branches/ limbs over 4" in diameter or 4 ft in length
Brick
Carpet
Chest freezers over 8.7 cu ft
Concrete
Construction debris
Demolition debris
Dirt
Flooring
Full cutting of mature trees
Gas cans
Hardwood flooring
Hazardous materials (Oil Based Paint, Explosive or Flammable liquids or materials, Pesticides or Normal Household Cleaners including Aerosols)
Logs
Lumber
Mulch
Paint cans
Piano (grand or baby grand)
Rocks
Rugs
Sheetrock
Shingles
Sod
Televisions – projection tube (CRT) or rear projection (DLP) models
Tires
Treated wood of any kind
Tree stumps
Vines (of any kind)
Wooden outdoor furniture or playsets (treated)
Wooden pallets
Have bulky items the city won't pick up? You need a junk removal service.
If you have large items that the city won't take from you, you may need to hire a junk removal service.
Junk removal services are not be as picky about the items they're collecting so if the city won't take the item, this may be your best bet. There's usually a fee involved with junk removal but most companies can tell you ahead of time approximately what it's going to cost.
There are a number of junk removal services in Huntersville and I'm sure many of them will be able to help you out.
Recycling Collection Calendar 2023
Here's the link to the recycling collection calendar: https://www.wasteconnections.com/pickup-schedule/
Frequently Asked Questions
When is bulk pickup in Huntersville?
*Request Bulk Item or Brush Pick Up service from Public Works. A disposal fee applies.
What day is trash pickup?
To find trash pickup on your street visit: https://www.wasteconnections.com/pickup-schedule/
What time does trash collection start?
Trash collection starts at 7 a.m. Make sure to have your bins on the curb by then.
How can I contact the Huntersville Public Works Department?
Public Works Contact#: 704-875-7007 or submit the Ongoing Garbage Concern form
Waste Connections Contact: 704-596-9428 / [email protected]
Did we miss anything?
Hope you were able to find everything you need for the Huntersville trash pickup schedule. We strive to provide the most up to date information so please let us know if you need anything else.