We're here to help you find the Goose Creek trash pickup schedule for 2023 including bulk pickup, recycling, holidays, and maps.
The City of Goose Creek is in South Carolina with Summerville to the northwest, Charleston and North Charleston to the south, and Mount Pleasant to the southeast.
If there's a change to your normal trash collection schedule then there's a good chance your street sweeping schedule has changed too so make sure to check for updates.
Goose Creek Trash Collection Calendar 2023
For normal trash collection schedules, view your weekly sanitation schedule here.
Trash Pick Up Holidays
Here you can see the city-observed holidays.
New Year's Day
Martin Luther King Day
Memorial Day
Independence Day
Labor Day
Veterans Day
Thanksgiving Day
Friday after Thanksgiving
Christmas Eve
Christmas Day
There is no garbage service on city-observed holidays. Customers will receive a postcard annually notifying them of the current year holiday schedule. In addition, a notice will be placed in the local newspaper prior to the holiday as a reminder.
Goose Creek Trash Collection Map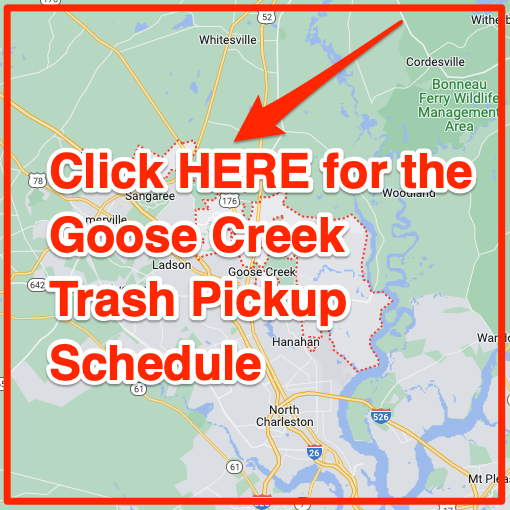 Bulk Waste Pickup Calendar 2023
All types of bulky items will be removed on your collection day but must be scheduled ahead of time for pickup. Very large items such as storage sheds, garage doors, or trailers should be dismantled into 4 feet long sections. Doors on refrigerators and freezers need to be removed for safety reasons.
If you will need collection of a bulk item(s), please call 843-824-2200, or email your address, phone number, and pickup request. 
Request a bulk-item pickup using our online form. Bulk items are picked up on your normal residential trash pickup day.
Acceptable Items for Bulk Pickup
Refrigerators
Freezers
Furniture
Mattresses
Unacceptable Items for Bulk Pickup
Concrete/Asphalt Sidewalks, Driveways
Ashes or Cinders (hot or cold)
Dirt/Compost/Mulch mixed with dirt
Bricks and/or Concrete Blocks or Similar Items
Large Automobile Parts (Engines, Axles, Transmissions, Radiators, etc)
Contractor Generated Building & Yard Debris
Animal Feces
Computers (desktops, laptops, notebooks & tablets), Computer Monitors, Televisions and Printers
Tires
If you are unsure about the category of a bulky item, place it by itself or call for clarification.
Have bulky items the city won't pick up? You need a junk removal service.
If you have large items that the city won't take from you, you may need to hire a junk removal service.
Junk removal services are not be as picky about the items they're collecting so if the city won't take the item, this may be your best bet. There's usually a fee involved with junk removal but most companies can tell you ahead of time approximately what it's going to cost.
There are a number of junk removal services in Goose Creek and I'm sure many of them will be able to help you out.
Recycling Collection Calendar 2023
To find your recycling collection day, call the Sanitation Division at 843-824-2200.
Frequently Asked Questions
When is bulk pickup in Goose Creek?
Bulk items are picked up on your regular scheduled household pickup day but must be scheduled ahead of time for pickup. Scheduled PickUp Days
Please call 843-824-2200 to schedule a bulk item collection.
What day is trash pickup?
To find trash pickup on your street, visit this link.
What time does trash collection start?
Trash collection starts at 7:00 a.m. Make sure to have your bins on the curb by then.
How can I contact the Goose Creek Sanitation Department?
Goose Creek Public Works 
200 Button Hall Avenue
Goose Creek, SC 29445 
Phone: 843-824-2200 or 843-824-2300
Did we miss anything?
Hope you were able to find everything you need for the Goose Creek trash pickup schedule. We strive to provide the most up to date information so please let us know if you need anything else.