We're here to help you find the Mount Pleasant trash pickup schedule for 2023 including bulk pickup, recycling, holidays, and maps.
The City of Mount Pleasant is in South Carolina with Florence to the north, North Charleston to the northwest, Charleston to the southwest, and Myrtle Beach to the northeast.
If there's a change to your normal trash collection schedule then there's a good chance your street sweeping schedule has changed too so make sure to check for updates.
Mount Pleasant Trash Collection Calendar 2023
For normal trash collection schedules, visit the city's collection schedule.
Trash Pick Up Holidays
Town Hall Closed, No Garbage/Trash Collection on:
New Years Day
MLK Birthday
Presidents'Day
Memorial Day
Independence Day
Labor Day
Thanksgiving Day
Christmas (1st DAY)
Mount Pleasant Trash Collection Map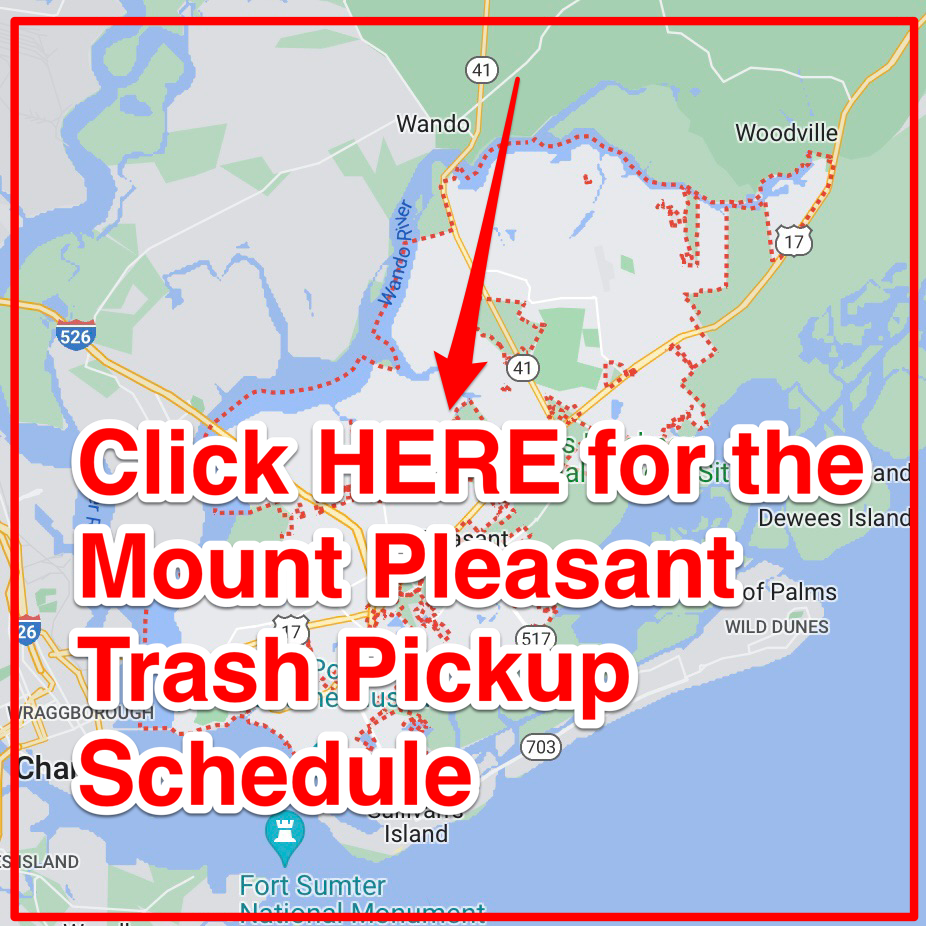 Bulk Waste Pickup Calendar 2023
Bulk items are collected on the same day as your garbage and must be curbside by 7 a.m.
Acceptable Items for Bulk Pickup
Yard Debris – bagged leaves/grass clippings (must be placed in brown paper yard bags – landfills do NOT accept yard debris in plastic bags), brush, tree limbs (4 feet or shorter not larger than 8 inches in diameter and no stumps) It is important to separate yard debris from other trash items because it goes to a different landfill than all other items.
Appliances and metal items
Furniture, and other non-food items that you are unable to donate or recycle
E-waste – Environmental regulations prohibit the disposal of televisions, computers, and other electronic equipment in landfills. These items must be placed separately at the curb for special collection/recycling. The Town will collect the items if un-broken. Please call (843) 849-2022 if you have E-waste to be picked up and we will get it as soon as possible. However, it may not be a same-day pick-up. Residents can also take their E-waste to County drop-off sites or big box electronic stores for proper disposal.
Unacceptable Items for Bulk Pickup
Engine Parts
Hazardous materials – such as old pesticides, creosote materials (railroad ties)
Oil (used oil can be recycled at our Six Mile Facility)
Tires
Batteries
Tree Stumps
Bricks
Concrete
Contractor-generated debris from construction, demolition, remodeling, or landscaping (these materials should be hauled away by your contractor and disposed of properly).
COMPACT FLORESCENT LIGHTBULB (CFL) DISPOSAL – These bulbs may NOT be disposed of in your garbage or trash due to mercury contamination issues. Although beneficial, CFLs do contain a small amount of mercury, which is hazardous to humans and the environment. Disposing of CFLs correctly is crucial. Charleston County recycles CFL light bulbs, and residents can bring their old CFL light bulbs to one of the eight Convenience Centers located throughout the County that accept CFLs.
Propane Tank Disposal
Have bulky items the city won't pick up? You need a junk removal service.
If you have large items that the city won't take from you, you may need to hire a junk removal service.
Junk removal services are not be as picky about the items they're collecting so if the city won't take the item, this may be your best bet. There's usually a fee involved with junk removal but most companies can tell you ahead of time approximately what it's going to cost.
There are a number of junk removal services in Mount Pleasant and I'm sure many of them will be able to help you out.
Recycling Collection Calendar 2023
Curbside recycling is provided by Charleston County.
Frequently Asked Questions
When is bulk pickup in Mount Pleasant?
Bulk items are collected on the same day as your garbage and must be curbside by 7 a.m.
What day is trash pickup?
To find trash pickup on your street visit this page.
What time does trash collection start?
Trash collection starts at 7 a.m. Make sure to have your bins on the curb by then.
How can I contact the Mount Pleasant Public Works Department?
Physical Address
100 Ann Edwards Ln.
Mount Pleasant, SC 29464
Phone: (843) 849-2022
Fax: (843) 849-2760
Monday – Friday 
8:00 am – 4:30 pm
Did we miss anything?
Hope you were able to find everything you need for the Mount Pleasant trash pickup schedule. We strive to provide the most up to date information so please let us know if you need anything else.