We're here to help you find the Downey trash pickup schedule for 2023 including bulk pickup, recycling, holidays, and maps.
The City of Downey is in California with Bell Gardens to the north, Huntington Park and Los Angeles to the northwest, Lakewood to the south, Anaheim and Fullerton to the southeast.
If there's a change to your normal trash collection schedule then there's a good chance your street sweeping schedule has changed too so make sure to check for updates.
Downey Trash Collection Calendar 2023
Weekly curbside refuse collection for all single-family and multi-family dwellings of four units, or less is provided through Athens Services (previously CALMET), the city's franchised residential trash hauler. 
To find out the scheduled pickup day in your area, call Athens Services at 562-259-1239.
Trash Pick Up Holidays
No Trash Collection on the following holidays:
New Year's Day
Memorial Day
July Fourth
Labor Day
Thanksgiving Day
Christmas Day
If your collection day falls on or after one of the holidays, your services will be delayed by one day for the remainder of the holiday week.
Downey Trash Collection Map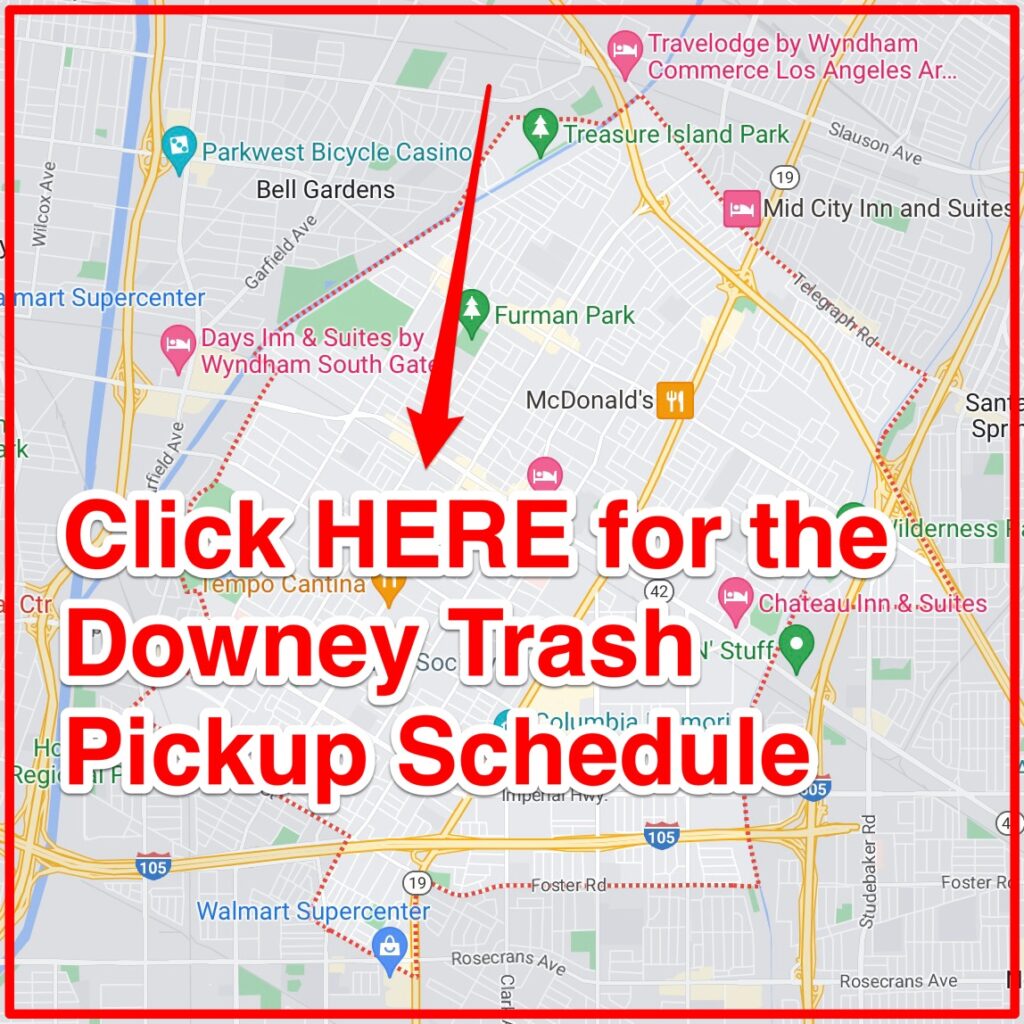 Bulk Waste Pickup Calendar 2023
All homes with residential curbside collection are eligible to receive free, on-call, pick-up for bulky items that cannot be accommodated in the automated containers.
Bulky items will be collected on the residents' regular collection day, and residents must call Athens Services at 562-259-1239 ext. 244 at least one day prior to their collection day to schedule this special pick-up.
Acceptable Items for Bulk Pickup
Refrigerators
Stoves
Washers
Dryers
Water Heaters
Wood Waste
Yard Clippings
Tree Branches
Furniture
TV's
Mattresses
Electronics
Bundled yard trimmings (not to exceed 4 feet in length)
Unacceptable Items for Bulk Pickup
Automobile parts
Construction and demolition debris including, but not limited to: dirt, concrete, tile, drywall and rock, etc. Click here to learn how to dispose.
Hazardous waste (including antifreeze; automotive fluids; cleaning products; compressed gas cylinders (full or empty); fertilizers, herbicides, and pesticides; paint; pharmaceuticals; pool chemicals; solvents; and more.) Click here to learn how to dispose.
Loose or scattered building material and lumber
Downey Junk Removal Companies
If you have large items that the city won't take from you, you may need to hire a junk removal service.
Junk removal services are not be as picky about the items they're collecting so if the city won't take the item, this may be your best bet. There's usually a fee involved with junk removal but most companies can tell you ahead of time approximately what it's going to cost.
There are a number of junk removal services in Downey and I'm sure many of them will be able to help you out.
Recycling Collection Calendar 2023
To verify your recycling collection schedule, call Athens Services at 562-259-1239.
Frequently Asked Questions
When is bulk pickup in Downey?
Residents need to call Athens Services at 562-259-1239 to arrange for bulk item pickup.
What day is trash pickup?
To find trash pickup on your street, please call Athens Services at 562-259-1239.
What time does trash collection start?
Trash collection starts at 6 a.m. Make sure to have your bins on the curb by then.
How can I contact the Downey Public Works Department?
Athens Services
562-259-1239
Public Works Administration
(562) 904-7102
Did we miss anything?
Hope you were able to find everything you need for the Downey trash pickup schedule. We strive to provide the most up to date information so please let us know if you need anything else.