We're here to help you find the Anaheim trash pickup schedule for 2023 including holidays, bulk pickup, and maps.
The City of Anaheim is bordered by Orange, Garden Grove, Cypress, Buena Park, Fullerton, Placentia, and Yorba Linda.
If there's a change to your normal trash collection schedule then there's a good chance your street sweeping schedule has changed too so make sure to check for updates.
Anaheim Trash Collection Map
Click the map below to see a high-resolution version of the trash collection map.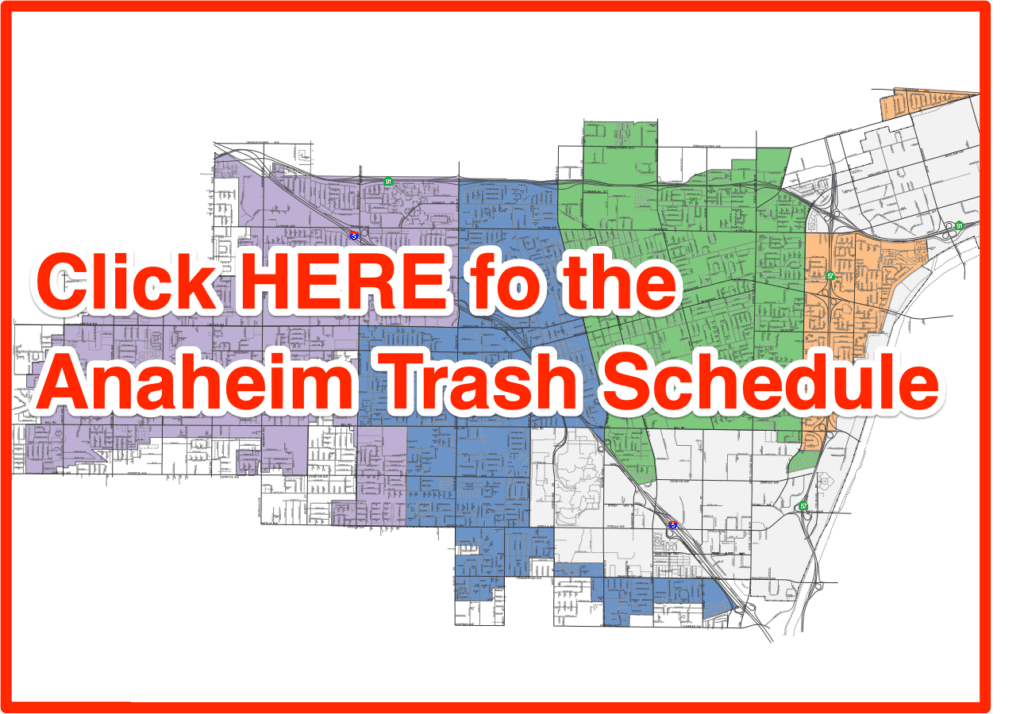 Anaheim Bulk Waste Collection Calendar 2023
City of Anaheim residents get three (3) bulky item pickups per calendar year. It's limited to 20 items per collection.
To schedule a pickup, call 1-800-700-8610 or 714-238-2444
Recycling Collection Calendar 2023
Here's the link to the recycling collection calendar.
Trash Collection Calendar 2023
For normal trash collection schedules, visit http://www.anaheim.net/DocumentCenter/View/40815/Residential-trash-collection-map-Dec-2021 to find the collection day for your trash. You can also see the city-observed holidays.
Trash Pick Up Holidays
Thanksgiving
Christmas Day
New Year's Day
Memorial Day
Fourth of July
Labor Day
If your regular collection day falls on or after one of these holidays, your trash, recycling and green waste will be picked up one day late.
When the holiday falls on a weekday or a Sunday, residential trash collection will be delayed one day for the remainder of the week. If the holiday falls on a Saturday, there will be no delays.
Anaheim Street Sweeping Schedule
When there's an interruption to your trash schedule that usually means there is an interruption to your street sweeping schedule too.
Visit our sister site for updates to the Anaheim street sweeping schedule.
Anaheim Twitter Updates
Follow @City_of_Anaheim for updates to the trash and recycling schedules
Even during the public closure of City Hall, rest assured that essential services are still operating as usual. That includes your trash pickup! Republic Services has us covered. #COVID19 pic.twitter.com/3W4CUoFuHl

— City of Anaheim (@City_of_Anaheim) March 18, 2020
Did we miss anything?
Hope you were able to find everything you need for the Anaheim trash pickup schedule. We strive to provide the most up to date information so please let us know if you need anything else.