Find your Denver Trash Schedule for 2023 including holidays, recycling, and bulk pickup.
Denver is in the state of Colorado and surrounded by Thornton, Commerce City, Lakewood, Longmont, and Arvada.
If there's a change to your trash collection schedule, there may also be a change to the street sweeping schedule so verify that too.
Denver Holiday Trash Schedule
In 2023, service will be delayed one day following the holidays listed below:
Martin Luther King Jr. Day
Presidents' Day
César Chávez Day (observed)
Memorial Day
Juneteenth
Independence Day
Labor Day
Thanksgiving Day
Christmas Day
When your service falls on or after a holiday, your collection will be delayed one day for the rest of that week only. There will be no delays for city holidays that do not impact collection schedules.
For example, for a Monday holiday, collections will be on Tuesday, Tuesday's collection on Wednesday, etc., etc., with Thursday's collections on Friday for that week only.
Bulk Trash Schedule (Large Item Pickup)
Bulk trash (sometimes referred to as "large", "big", or "heavy" item) pickup service occurs once a month on the same day of the week as your regular trash collection day.
Visit the city's website and enter your address to find your exact schedule:
https://denvergov.org/Government/Agencies-Departments-Offices/Agencies-Departments-Offices-Directory/Recycle-Compost-Trash/Recycle-Compost-Trash-Schedules-and-Reminders
Denver Trash Collection Map
The Denver garbage collection schedule is determined by where you live. Click the map below to enter your address and find out when pickup happens in your neighborhood.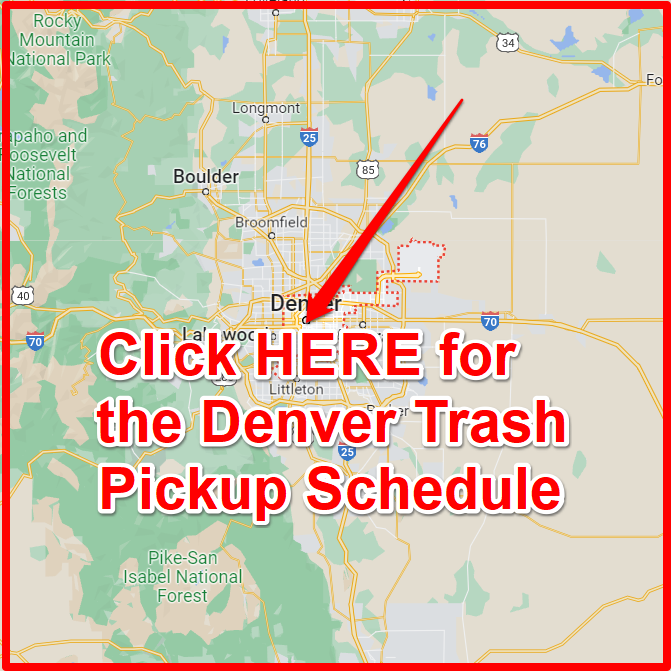 Denver Recycling Schedule
There are 9 different trash, recycling, and compost collection districts. Beginning January 3rd, 2023 pickup day is either Monday, Tuesday, Wednesday, or Thursday.
Click the pickup map below to find out when your address is scheduled.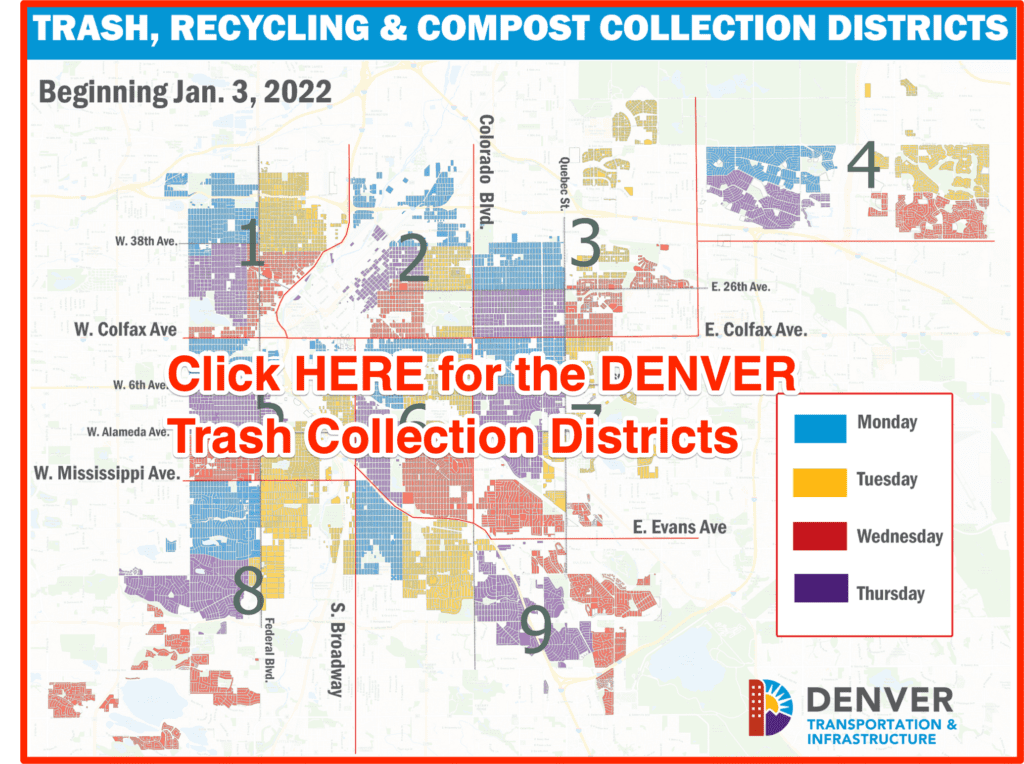 Trash Collection App
The city of Denver provides an Apple and Android App to help you keep up to date on the trash schedules:
Denver Junk Removal Services
Get Twitter Updates for Denver Trash & Recycling
Follow @DenverCASR for updates on trash, recycling, and sustainability
Help prevent litter in your neighborhood by always bagging your trash and not setting out overflowing trash and recycle carts, especially on windy days. https://t.co/wEUagWllwW

— Denver Climate Action, Sustainability & Resiliency (@DenverCASR) May 9, 2023
Frequently Asked Questions
When is trash day in Denver?
Enter your address on this city website to find the trash day for you.
What time does trash collection start?
Trash collection in Denver starts at 7:00 am
When is large item pickup (also called "big trash" or "bulk pickup")?
Visit https://geospatialdenver.maps.arcgis.com/apps/webappviewer/index.html?id=c5d5f8ea276942fbb34e20826e8d0256 to find your bulk pickup day
Did we miss anything?
We do our best to keep this site up-to-date but if we missed something please let us know in the comments.
Or if you have any questions about your trash or garbage schedule please post them in the comments.
Thanks!