We're here to help you find the city of Longmont trash pickup schedule for 2023 including bulk pickup, recycling, holidays, and maps.
The City of Longmont is in Colorado north of Denver and south of Loveland and Fort Collins.
If there's a change to your normal trash collection schedule then there's a good chance your Denver street sweeping schedule has changed too so make sure to check for updates.
Longmont Trash Collection Calendar 2023
For normal trash collections schedules, visit [WEBSITE] to find the collection day for your trash.
You can also see the city-observed holidays.
Longmont Trash Collection Map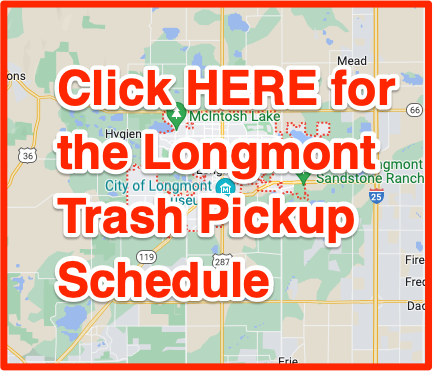 Bulk Waste Pickup in Longmont, CO
From February through October, you can dispose of large or bulky items that do not fit in your curbside trash container through a special large-item pick up with the City.
Large-item collections are scheduled for your regular trash collection day. This special collection service is limited and restrictions apply to the materials and quantities accepted.
Items Not Accepted
Materials and debris produced by contracted services, such as construction, remodeling or landscape services, in or about the dwelling
Concrete, rocks, dirt, or sod
Solid waste produced by home occupations or any businesses
Dead animal carcasses (other than small pest animals)
Bulk liquids
Automobile or truck bodies, chassis or parts
Refrigerators, freezers, propane tanks or other items containing hazardous gases
Large electronics, such as televisions, computers, and microwaves
Household appliances, such as washers, dryers, dishwashers, and stoves; however, these items may be disposed of free of charge at the Waste Diversion Center
Reservation & Fees
Please contact Waste Services to schedule a large-item pick up between February and October.
Collection fees for large items are applied to your utility bill.

1-2 items $60
3 items (maximum) $75
Recycling Collection Calendar 2023
Your recyclables will be picked up every other week. Insert your address into the Collection Calendar app to determine pick-up day/week for your recycling. 
Please have your blue-lidded recyclables cart at the curb by 7 a.m. on your scheduled collection day.
Trash Pick Up Holidays
Collection service is not provided on the following holidays:
Martin Luther King Day
Presidents Day
Memorial Day
Juneteenth Day
Independence Day
Labor Day
Veteran's Day
Thanksgiving Day
Christmas Day
New Year's Day
These holidays are observed according to the City of Longmont holiday schedule and are noted on the collection calendar.
Pick up resumes the day after a City-observed holiday. During a holiday week, if your normal collection day falls ON or AFTER the observed holiday, your collection will be one day later than normal.
Special Note – Day after Thanksgiving: Although the City of Longmont recognizes the day after Thanksgiving as a holiday, trash collection services do take place on this day (Friday). Thanksgiving Day (Thursday) collections will occur on Friday.
Did we miss anything?
Hope you were able to find everything you need for the Longmont trash pickup schedule. We strive to provide the most up to date information so please let us know if you need anything else.