We're here to help you find the Winnipeg garbage pickup schedule for 2023 including bulk pickup, recycling, holidays, and maps.
The City of Winnipeg is in Manitoba with Thompson to the north, Saskatoon to the northwest, Grand Forks, ND to the south, Thunder Bay to the southeast, Regina and Medicine Hat to the west.
If there's a change to your normal garbage collection schedule then there's a good chance your street sweeping schedule has changed too so make sure to check for updates.
Winnipeg Garbage Collection Calendar 2023
For normal garbage collection schedules, click here and enter the street number and street name on the search box.
Garbage Pick Up Holidays
There may be changes to your collection days over the holidays. Check the city's website to be updated.
Winnipeg Garbage Collection Map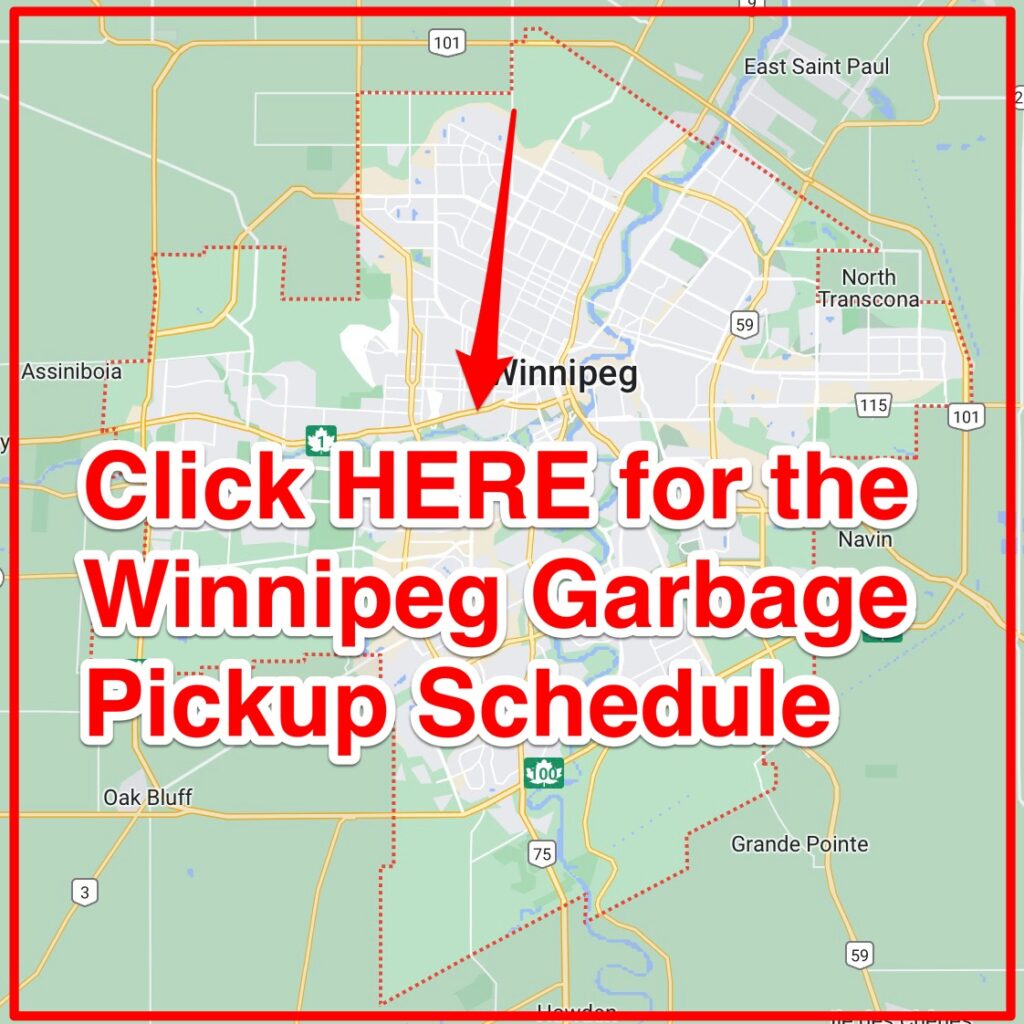 Bulk Waste Pickup Calendar 2023
For an additional fee, you can request a pickup for extra garbage and/or large items (also known as bulky waste).
Extra garbage pickups are limited to no more than three extra standard-sized garbage bags.  Large item pickups are limited to ten items, per pickup.
Contact the city​ to request your pickup at least two full business days before your regular recycling and garbage collection day.  Extra garbage bags and many large items will be picked up on your regular collection day, but some larger appliances may be picked up on a different day.  Your pickup day will be confirmed when you request your pickup.​
If you need to modify or cancel your pickup, contact the city​ at least two full business days before your scheduled pickup day.​​​​​​​​​​​
Acceptable Items for Bulk Pickup
Extra standard-size garbage bags
Large appliances
Ozone-depleting appliances like refrigerators, freezers, and air conditioners
Lawnmowers (i.e., electric and gas *must not contain any fuel or oil)
Barbecues – propane tank must be removed
Furniture
Mattresses (all sizes, considered one item), boxsprings (all sizes and splits, considered one item), and bedframes (includes headboards, footboard, rails, and bed slats, one or more parts of a bedframe is considered one item)
Unacceptable Items for Bulk Pickup
Leaf and yard waste
Boxes full of garbage
Real Christmas trees
Auto parts
Construction/renovation materials (e.g., furnaces, bathtubs, sinks, doors, windows, fencing, flooring, carpet, lumber, shingles, sand, mud, drywall)
Hazardous waste products (e.g., antifreeze, car batteries, propane tanks, oil based paints)
Used oil, filters, and containers (e.g., engine oil, diesel filters, oil and antifreeze containers)
Electronic waste (e.g., televisions, computers and equipment, laptops, printers, scanners, microwaves, cell phones)
Any other material we determine is too large to collect or poses a safety hazard to our staff or collectors
Have bulky items the city won't pick up? You need a junk removal service.
If you have large items that the city won't take from you, you may need to hire a junk removal service.
Junk removal services are not be as picky about the items they're collecting so if the city won't take the item, this may be your best bet. There's usually a fee involved with junk removal but most companies can tell you ahead of time approximately what it's going to cost.
There are a number of junk removal services in Winnipeg and I'm sure many of them will be able to help you out.
Recycling Collection Calendar 2023
Here's the link to the recycling collection schedule.
For more information about the city's recycling program, click here.
Frequently Asked Questions
When is bulk pickup in Winnipeg?
To find your bulky item pickup in your area visit the city's bulk collection webpage.
What day is garbage pickup?
To find garbage pickup on your street visit this link.
What time does garbage collection start?
Garbage collection starts at 7 a.m. Make sure to have your bins on the curb by then.
How can I contact the Winnipeg Public Works Department?
Collection Services and General Inquiries
Phone: 311
Email: winnipeg.ca/311
Did we miss anything?
Hope you were able to find everything you need for the Winnipeg garbage pickup schedule. We strive to provide the most up to date information so please let us know if you need anything else.