We're here to help you find the West Valley City trash pickup schedule for 2023 including bulk pickup, recycling, holidays, and maps.
The West Valley City is in Utah with Salt Lake City to the northeast, Kearns to the south, West Jordan to the southeast, Millcreek to the east, and Magna to the west.
If there's a change to your normal trash collection schedule then there's a good chance your street sweeping schedule has changed too so make sure to check for updates.
West Valley City Trash Collection Calendar 2023
For normal trash collections schedules, visit https://www.wvc-ut.gov/23/Garbage-Recycling
Trash Pick Up Holidays
Here you can see the city-observed holidays.
Independence Day
Thanksgiving Day
Christmas Day
New Year's Day
If the holiday occurs Monday through Friday, pickup will be delayed by one day; if the holiday occurs on a Saturday or Sunday, pickup will occur on your regularly-scheduled collection day. When in doubt, put your cans out.
West Valley City Trash Collection Map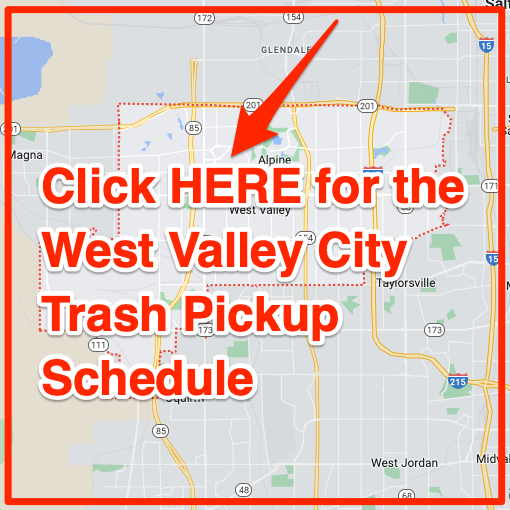 Bulk Waste Pickup Calendar 2023
To find your bulk item pickup schedule visit: https://www.wvc-ut.gov/187/Bulky-Waste-Service
Acceptable Items for Bulk Pickup
All bulky waste must bagged, boxed, or bundled. Boxes must be 30 gallons or smaller. Bundles must be no longer than 5 feet long. Boxes must be kept dry. Bags, boxes, and bundles must weigh less than 75 pounds.
Limbs 3 inches in diameter or smaller must be bundled and weigh less than 75 lbs. Limbs larger than 3 inches in diameter must not weigh more than 75 lbs. or be more than 5 feet long.
Old appliances, furniture (including couches and mattresses), and carpet (must be in lengths less than 5 feet and weigh less than 75 lbs.) may be put out for bulky waste collection.
Appliances that contain FREON will not be collected unless they have an attached tag from an authorized private company stating the FREON has been safely removed.
Bicycles, tricycles, children's toys, outdoor furniture, lawn mowers or tillers, etc.
Unacceptable Items for Bulk Pickup
Household Garbage
Hazardous Materials
Construction and demolition waste
Bricks, broken concrete, dirt, rocks, railroad ties etc.
Items containing glass will not be picked up. They will be picked up if the glass has been removed.
Business waste
Tires
Have bulky items the city won't pick up? You need a junk removal service.
If you have large items that the city won't take from you, you may need to hire a junk removal service.
Junk removal services are not be as picky about the items they're collecting so if the city won't take the item, this may be your best bet. There's usually a fee involved with junk removal but most companies can tell you ahead of time approximately what it's going to cost.
There are a number of junk removal services in West Valley City and I'm sure many of them will be able to help you out.
Recycling Collection Calendar 2023
Here's the link to the recycling collection calendar: https://www.wvc-ut.gov/611/Recycling-Service
Frequently Asked Questions
When is bulk pickup in West Valley City?
To find your bulky item pickup in your area visit: https://www.wvc-ut.gov/187/Bulky-Waste-Service
What day is trash pickup?
To find trash pickup on your street visit: https://gisportal.wvc-ut.gov/portal/apps/InformationLookup/index.html?appid=dc8c0553014d43629dcc399d53447aa0
What time does trash collection start?
Trash collection starts at 7:00 a.m. Make sure to have your bins on the curb by then.
How can I contact the West Valley City Public Works Department?
Public Works – Garbage & Recycling
Phone: 801-963-3334 / 801-963-3334
Email: [email protected]
Address: 2805 South 3600 West, West Valley City, UT 84119
Did we miss anything?
Hope you were able to find everything you need for the West Valley City trash pickup schedule. We strive to provide the most up to date information so please let us know if you need anything else.