Find your Sacramento garbage collection schedule for 2023 including holidays, recycling, and bulk pickup.
The City of Sacramento is in California with Elk Grove to the south, and San Jose, San Francisco, and Concord to the southwest, Roseville to the northeast, West Sacramento the west.
If there's a change to your trash collection schedule, there may also be a change to the street sweeping schedule so verify that too.
Sacramento Garbage Pickup Schedule 2023
The fastest way to find the Sacramento trash pickup schedule for garbage on your street is to enter your address into the city website here: https://wmr.saccounty.gov/Pages/Collection-Calendar.aspx
Garbage Collection Map
Click on the map below to find the garbage collection map.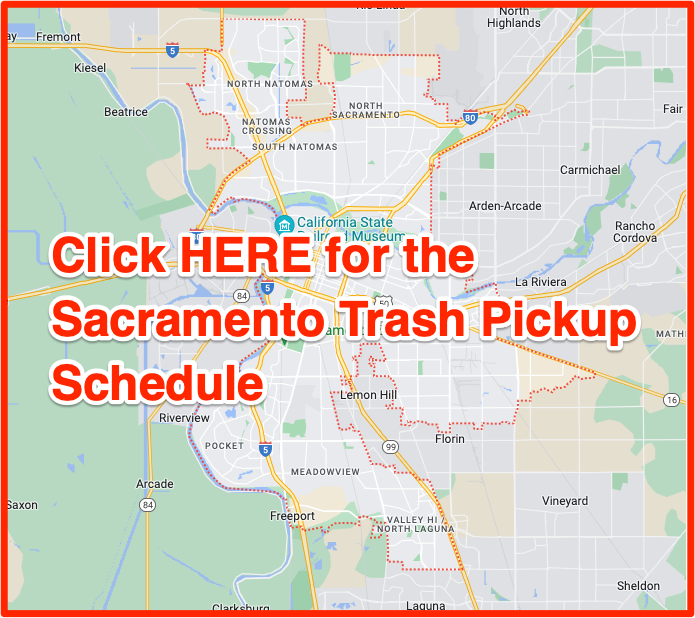 Sacramento Bulk Trash Pickup Schedule
Sacramento residents get two free appointments per year for appliance and e-waste collection. Up to two appliance will be collected at no charge.
Make sure to put the appliances at the end of the driveway so they're easily visible and accessible.
For bulky or heavy items you can request pickup through the city website here: https://www.cityofsacramento.org/Information-Technology/311
Sacramento Recycling App
The City of Sacramento has launched the free SacRecycle app, designed to provide quick access to
Garbage, yard waste, recycling and street sweeping calendars plus reminder notifications for city customers
The Waste Wizard – a database of hundreds of household items and proper disposal methods for these items
An interactive waste sorting game
Available through the app stores for both Apple and Android devices. The app also works in multiple languages.
Twitter Updates for Sac Trash Schedule
Follow @SacRecycle for Sacramento garbage pickup updates
Are you a new resident to Sacramento and don't know what day collection service comes to your home? Don't worry! Just visit https://t.co/aT8yhRV3Nj and you can view, print and download a service calendar specific to your address. pic.twitter.com/Fr0AuP1OQl

— SacRecycle (@SacRecycle) May 18, 2023
Frequently Asked Questions
What day is trash day in Sacramento?
To find your trash pickup day, the easiest way to do that is to follow this link and enter your address.
What time is garbage pickup?
Collection begins at 6:00 am so have your trash, recycling, and green waste bins at the curb by then.
Did we miss anything?
We do our best to keep this site up-to-date but if we missed something please let us know in the comments.
Or if you have any questions about your Sacramento garbage pickup schedule please post them in the comments.
Thanks!