We're here to help you find the Linden trash pickup schedule for 2023 including bulk pickup, recycling, holidays, and maps.
The City of Linden is in New Jersey with Piscataway and Edison to the southwest, Plainfield to the northwest, Elizabeth and Bayonne and Irvington to the northeast.
If there's a change to your normal trash collection schedule then there's a good chance your street sweeping schedule has changed too so make sure to check for updates.
Linden Trash Collection Calendar 2023
For normal trash collections schedules, visit https://linden-nj.gov/directory/recycling/
Trash Pick Up Holidays
Here you can see the city-observed holidays.
December 23
December 30
December 26
January 2, 2023
The Recycling Center and the DPW drop-off site will be open during their regular hours on Saturday (from 8am until 2pm) on December 24 and December 31.
Linden Trash Collection Map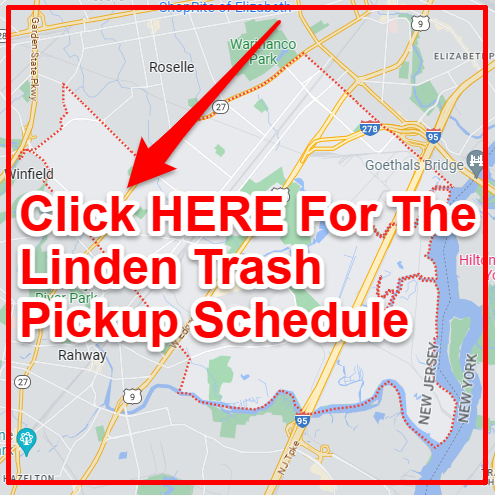 Bulk Waste Pickup Calendar 2023
To find your bulk item pickup schedule visit: https://linden-nj.gov/directory/recycling/
Acceptable Items for Bulk Pickup
Toys, furniture, small appliances
Window glass, mirrors, dishware
Carpeting/padding or unusable clothing
Branches, Shrubs, Hedges
Metals-shelving, pipes, hot water heater, dishwasher, stove, refrigerator, air conditioner, washer, dryer
Tires that have been separated from their rims
Glass bottles and jars (clean and empty)
Paper, newspaper, magazines, junk mail, office paper, cardboard
Metals, such as aluminum and tin, steel cans and scrap metals
Plastic containers
Motor oil
Cooking oil
Grass clippings
Leaves (during the Fall season only)
Electronics (these items ONLY)
Computers
Televisions
Monitors
Laptops
Tablets
Printers
Copy and Fax Machines
Unacceptable Items for Bulk Pickup
Construction debris
Tires with rims
Commercial and large truck tires
Flammables; propane tanks, gasoline, kerosine
Paint cans with lids (all paint must be dry and without lids)
Concrete, brick, blocks, stone, asphalt
Dirt
Household Garbage
Shipping materials, styrofoam, packing peanuts, bubble wrap
Hazardous waste; asbestos, solvents, cleaners, thermostats, pesticides, herbicides, antifreeze, pool chemicals
Medical waste; needles, syringes
Ammunition
Sealed containers and liquids
Have bulky items the city won't pick up? You need a junk removal service.
If you have large items that the city won't take from you, you may need to hire a junk removal service.
Junk removal services are not be as picky about the items they're collecting so if the city won't take the item, this may be your best bet. There's usually a fee involved with junk removal but most companies can tell you ahead of time approximately what it's going to cost.
There are a number of junk removal services in Linden and I'm sure many of them will be able to help you out.
Recycling Collection Calendar 2023
Here's the link to the recycling collection calendar: https://linden-nj.gov/directory/recycling/
Frequently Asked Questions
When is bulk pickup in Linden?
To find your bulky item pickup in your area visit: https://linden-nj.gov/directory/recycling/
What day is trash pickup?
To find trash pickup on your street visit: https://linden-nj.gov/directory/recycling/
What time does trash collection start?
Trash collection starts at 8 AM. Make sure to have your bins on the curb by then.
How can I contact the Linden Public Works Department?
(908) 474-8666
Did we miss anything?
Hope you were able to find everything you need for the Linden trash pickup schedule. We strive to provide the most up to date information so please let us know if you need anything else.