We're here to help you find the League City trash pickup schedule for 2023 including bulk pickup, recycling, holidays, and maps.
The League City is in Texas with Deer Park to the north, Houston and Pearland to the northwest, Texas City and Galveston to the southeast, Baytown to the northeast.
If there's a change to your normal trash collection schedule then there's a good chance your street sweeping schedule has changed too so make sure to check for updates.
League City Trash Collection Calendar 2023
For normal trash collections schedules, visit https://www.leaguecitytx.gov/303/Garbage-Recycling
Trash Pick Up Holidays
Here you can see the city-observed holidays.
New Year's Day
July 4th
Labor Day
Thanksgiving
Christmas Day
If your pick-up falls on a holiday, your garbage will be picked up on the next regularly scheduled day for your neighborhood.
Any changes will be communicated through the City's website, social media, and NextDoor.
League City Trash Collection Map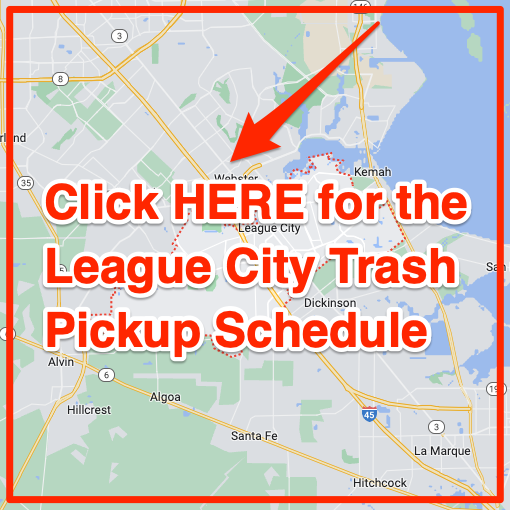 Bulk Waste Pickup Calendar 2023
To find your bulk item pickup schedule visit: https://www.leaguecitytx.gov/303/Garbage-Recycling
Acceptable Items for Bulk Pickup
Household appliances such as furniture, washing machines, dryers, stove and the like
Branches, brush and similar woody material shall be bundled and tied in lengths not exceeding five feet (5') or having diameters not exceeding eighteen inches (18"), or overall weight exceeding fifty pounds (50 lbs) (does not include tree trunks or root balls).
Loose lumber must be less than 5 feet and bundled together in bundles not exceeding 50 pounds.
Aggregate weight of tree limbs and/or lumber must not exceed 300 pounds.
Yard trimmings shall be securely tied together and shall not exceed 5 feet in length or 50 pounds in weight.
Contact 281-585-3200 with questions about what AmeriWaste League City will accept.
Unacceptable Items for Bulk Pickup
Items or materials which cannot be safely lifted and placed upon a truck by 2 people.
Bricks
Cabinetry and Counter Tops
Car Batteries
Car Parts
Concrete
Construction Debris (any waste materials resulting from construction, remodeling, repair, or demolition)
Hardy Plank
Hazardous Waste
Spray cans
Highly Flammable or Explosive Items
Petrochemicals
Plywood
Propane Tanks
Radioactive Materials
Roofing
Sheet Rock
Shingles
Tar
Televisions
Tile
Tires
Toxic or Bi-Hazardous Waste
Freon (The item must be tagged by a Freon removal company before AmeriWaste picks it up)
League City Junk Removal Companies
If you have large items that the city won't take from you, you may need to hire a junk removal service.
Short Description
Texas City Solid Waste Manager is a junk hauler and bulk item removal company in League City Texas
Address
612 E Main St, League City, TX 77573
77573
USA
Junk removal services are not be as picky about the items they're collecting so if the city won't take the item, this may be your best bet. There's usually a fee involved with junk removal but most companies can tell you ahead of time approximately what it's going to cost.
There are a number of junk removal services in League City and I'm sure many of them will be able to help you out.
Recycling Collection Calendar 2023
Here's the link to the recycling collection calendar: https://www.leaguecitytx.gov/303/Garbage-Recycling
Frequently Asked Questions
When is bulk pickup in League City?
To find your bulky item pickup in your area visit: https://www.leaguecitytx.gov/303/Garbage-Recycling
What day is trash pickup?
To find trash pickup on your street visit: https://www.leaguecitytx.gov/303/Garbage-Recycling
What time does trash collection start?
Trash collection starts at 7:00 a.m. Make sure to have your bins on the curb by then.
How can I contact the League City Customer Service?
Phone: 281-554-1100
AmeriWaste
Phone: 281-585-3200
Public Works Operation Center
Phone: 281-554-1086
Did we miss anything?
Hope you were able to find everything you need for the League City trash pickup schedule. We strive to provide the most up to date information so please let us know if you need anything else.