We're here to help you find the Burlington trash pickup schedule for 2023 including bulk pickup, recycling, holidays, and maps.
The City of Burlington is in Ontario with Milton to the north, Hamilton to the south, Oakville to the northeast, and Cambridge to the west.
If there's a change to your normal trash collection schedule then there's a good chance your street sweeping schedule has changed too so make sure to check for updates.
Burlington Trash Collection Calendar 2023
Halton Region serves residents and businesses in the City of Burlington and the Towns of Halton Hills, Milton, and Oakville by providing a wide range of essential programs and services.
For normal trash collections schedules, visit the region's Waste Collection Calendar Tool.
Trash Pick Up Holidays
Here you can see the city-observed holidays.
New Years
Family Day
Good Friday
Victoria Day
Canada Day
Civic Holiday
Labour Day
Thanksgiving Day
Christmas Day
Burlington Trash Collection Map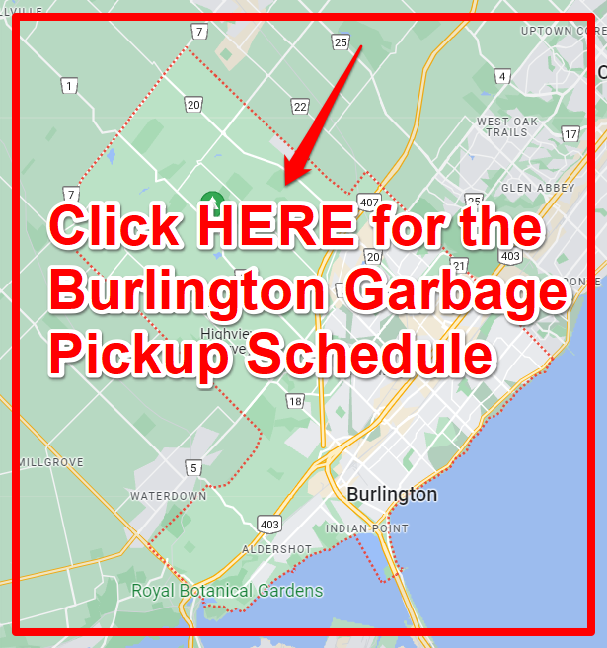 Bulk Waste Pickup Calendar 2023
Bulk waste is collected on the same day as garbage. There is a 3 item limit per collection. Additional items will not be collected.
Acceptable Items for Bulk Pickup
Furniture

couches
chairs
tables
mattresses and box springs – must be wrapped in plastic

Flooring

carpets
under padding
linoleum, bundled & tied 1.7m x 1m (5ft x 3ft)

Toilets (remove top from base)
Wood (dismantled, bundled & tied no larger than 1.7m x 1m or 5ft x 3ft)

fencing
picnic tables
shelving
skids
doors

Windows and mirrors no larger than 1.7m x 1m (5 ft x 3 ft) – tape an X pattern across glass to prevent shattering
Unacceptable Items for Bulk Pickup
Metal & appliances
Recyclable material
Electronics
Tires
Automobile parts
Building & demolition debris
Mixed waste piles
Tree branches or stumps
Water coolers with refrigeration
Propane Tanks
Soil and rocks
Have bulky items the city won't pick up? You need a junk removal service.
If you have large items that the city won't take from you, you may need to hire a junk removal service.
Junk removal services are not be as picky about the items they're collecting so if the city won't take the item, this may be your best bet. There's usually a fee involved with junk removal but most companies can tell you ahead of time approximately what it's going to cost.
There are a number of junk removal services in Burlington and I'm sure many of them will be able to help you out.
Recycling Collection Calendar 2023
Here's the link to the recycling collection schedule.
Frequently Asked Questions
When is bulk pickup in Burlington?
To find your bulky item pickup in your area visit the region's bulk pickup schedule.
What day is trash pickup?
To find trash pickup on your street, click here.
What time does trash collection start?
Trash collection starts at 7 a.m. Make sure to have your bins on the curb by then.
How can I contact the Burlington Waste Management Site?
Did we miss anything?
Hope you were able to find everything you need for the Burlington trash pickup schedule. We strive to provide the most up to date information so please let us know if you need anything else.