We're here to help you find the Bristol trash pickup schedule for 2023 including bulk pickup, recycling, holidays, and maps.
The City of Bristol is in Connecticut with Hartford to the northeast, New Haven to the south, Milford and Bridgeport to the southwest, Meriden to the southeast.
If there's a change to your normal trash collection schedule then there's a good chance your street sweeping schedule has changed too so make sure to check for updates.
Bristol Trash Collection Calendar 2023
For normal trash collections schedules, visit http://www.bristolct.gov/234/Curbside-Rubbish-Collection
Trash Pick Up Holidays
Here you can see the city-observed holidays.
New Year's Day
Martin Luther King Day
Presidents Day
Good Friday
Memorial Day
Independence Day
Labor Day
Columbus Day
Veterans Day
Thanksgiving Day
Christmas Day
*If a public holiday falls on or before your collection day, your collection day will be one day after your regularly scheduled rubbish day (i.e. Monday routes will be picked up on Tuesday, Friday routes on Saturday).
Bristol Trash Collection Map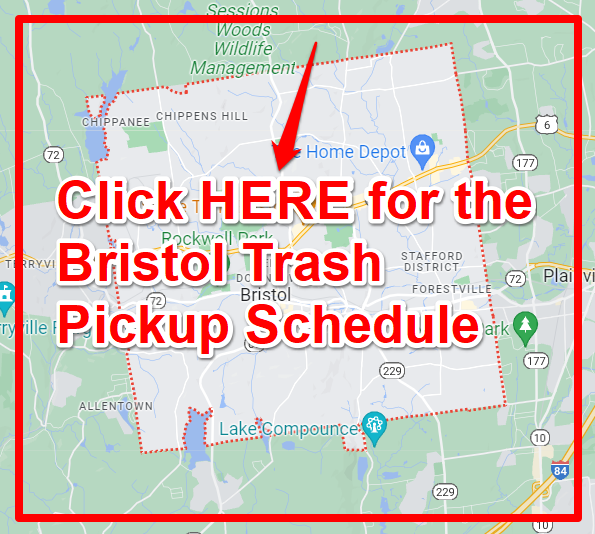 Bulk Waste Pickup Calendar 2023
To find your bulk item pickup schedule visit: http://ct-bristol2.civicplus.com/235/Bulk-Pick-Up
*Large items that do not fit in your rubbish barrel can be collected through our bulk pick-up service (by appointment), or can be brought to the Transfer Station with a residential permit.
Acceptable Items for Bulk Pickup
Acceptable metal/non-burnable items:
Metal doors, window frames and fencing. (Metal fencing is limited to 50 ft and must be rolled and tied).
Miscellaneous metal items such as swing sets must be disassembled. Refrigerators must have the doors removed for safety. Long metal pieces or wood must be cut to 4 feet in length, tied and bundled and nails removed.
Tires – no more than 2 passenger tires without rims
Metal furniture and metal lawn furniture.
Glass must be removed from sliding glass doors, metal frames, or other large items.
Acceptable burnable items:
Wood doors, windows and fencing. (Wood fencing is limited to (4) 8 ft. sections cut to 4′ x 4′ or smaller. Remove protruding nails.) Single pieces of wood must be tied and bundled.
Wood and upholstered furniture, mattresses & box springs. No need to cut sofas, chairs or similar furniture.
Rugs rolled and tied, 4 ft. maximum roll length.
Unacceptable Items for Bulk Pickup
hazardous chemical waste
automobile parts
sheetrock
shingles
ceramic tiles or porcelain fixtures
yard debris
Have bulky items the city won't pick up? You need a junk removal service.
If you have large items that the city won't take from you, you may need to hire a junk removal service.
Junk removal services are not be as picky about the items they're collecting so if the city won't take the item, this may be your best bet. There's usually a fee involved with junk removal but most companies can tell you ahead of time approximately what it's going to cost.
There are a number of junk removal services in Bristol and I'm sure many of them will be able to help you out.
Recycling Collection Calendar 2023
Here's the link to the recycling collection calendar: CURBSIDE RECYCLING COLLECTION
Frequently Asked Questions
When is bulk pickup in Bristol?
To find your bulky item pickup in your area visit: http://ct-bristol2.civicplus.com/235/Bulk-Pick-Up
What day is trash pickup?
To find trash pickup on your street visit: CURBSIDE RUBBISH COLLECTION
What time does trash collection start?
Trash collection starts at 6 a.m. Make sure to have your bins on the curb by then.
How can I contact the Bristol Public Works Department?
Phone: (860) 584-6125
Follow us on Facebook and check our News Flash to stay informed of any service schedule changes, special events, etc.
Did we miss anything?
Hope you were able to find everything you need for the Bristol trash pickup schedule. We strive to provide the most up to date information so please let us know if you need anything else.