We're here to help you find the Boston trash pickup schedule for 2023 including bulk pickup, recycling, holidays, and maps.
The City of Boston is about 215 miles northeast of New York City, south of Cambridge, and east of Worcester.
If there's a change to your normal trash collection schedule then there's a good chance your Boston street cleaning schedule has changed too so make sure to check for updates.
Boston Trash Collection Calendar 2023
For normal trash collection schedules, visit the city Trash Day App to find the collection day for your trash.
Boston Trash Collection Map
The fastest way to find the trash pickup schedule is by entering your address in the each bar after clicking the map below.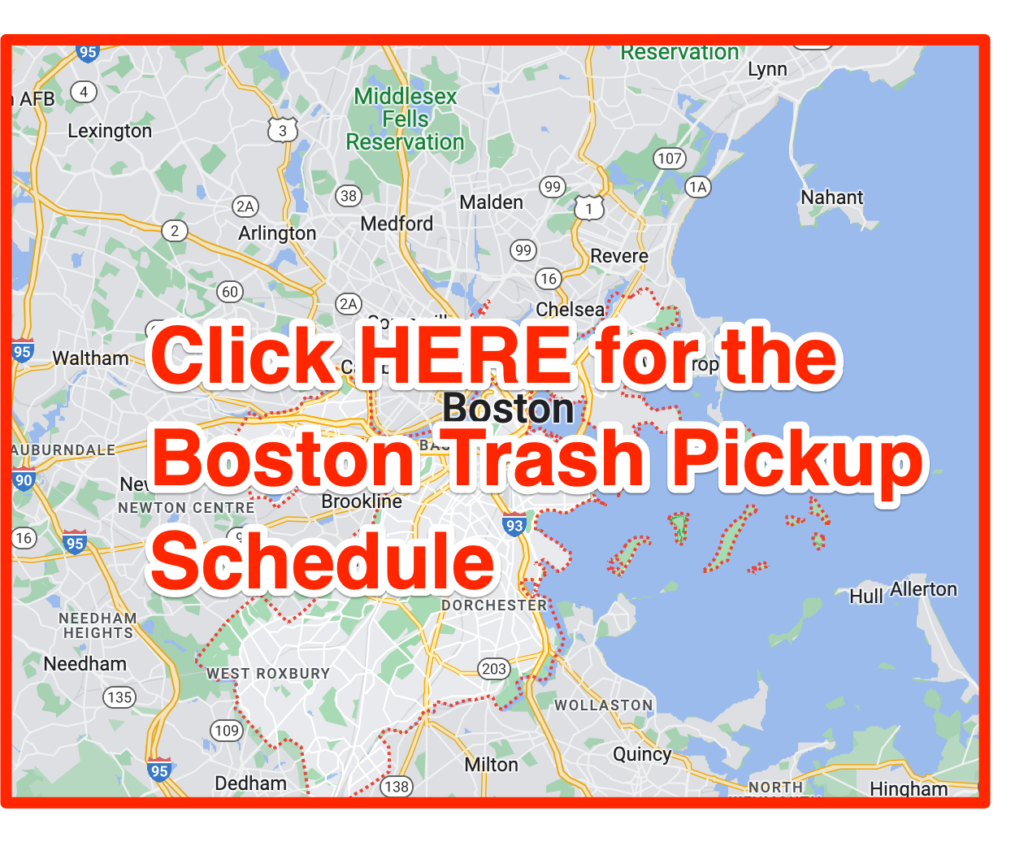 Bulk Waste Pickup Calendar 2023
For bulk items or large items that won't fit in your normal trash bins, you can schedule a special collection by filling out the form here: Special Item for Pickup
Recycling Collection Calendar 2023
There are 2 ways to find your recycling collection calendar:
Use the Trash Day App on the Google Play Store or the App Store

Enter your address in the search bar on the city website
Trash Pick Up Holidays
Your trash pick up may be canceled or delayed on the following holidays:
Columbus Day
Veterans Day
Thanksgiving Day
Day after Thanksgiving
Christmas Day (Observed)
Use the Trash App to confirm.
Frequently Asked Questions
When is trash pickup day in Boston?
Visit this city website and enter your address to find your trash pickup day.
Did we miss anything?
Hope you were able to find everything you need for the Boston trash pickup schedule. We strive to provide the most up to date information so please let us know if you need anything else.