Find your NYC sanitation schedule for 2023 including holidays, recycling, and bulk pickup.
New York City is in the state of New York with New Rochelle to the north, Hoboken to the west, and Brooklyn to the south, and Brookhaven to the east.
If there's a change to your trash collection schedule, there may also be a change to the street sweeping schedule so verify that too.
Trash Pickup Schedule 2023
Click the map to find the NYC garbage pickup schedule by address: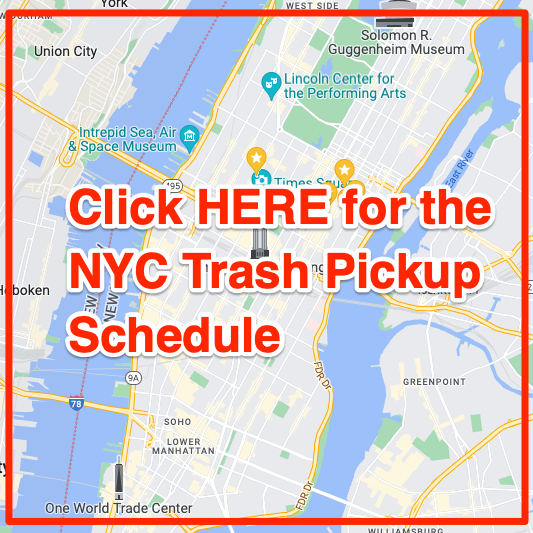 The fastest and easiest way to find your trash collection schedule is to enter your address into the search bar on the city website: https://www1.nyc.gov/assets/dsny/site/collectionschedule
NYC Holiday Trash Schedule
The Department recognizes these days as holidays:
New Year's Day
Martin Luther King, Jr. Day
Lincoln's Birthday
Presidents' Day
Memorial Day
Juneteenth
Independence Day
Labor Day
Columbus Day
Election Day
Veterans Day
Thanksgiving Day
Christmas Day
If your collection day falls on a holiday, please check the city's social media accounts (Twitter, Facebook, or Instagram), our press release page, or 311 for updated direction.
Bulk Trash Schedule
Bulk haul away or large item collection is usually done on the same day of the week as garbage collection.
You can find the bulk schedule here: https://www1.nyc.gov/assets/dsny/site/collectionSchedule
NYC Sanitation Twitter Account
Follow @NYCSanitation for more updates about trash collection
Update: We will be working to collect trash/recycling this weekend, including Monday, Labor Day. Residents who normally have Monday collection may place items at curb Sunday evening for collection beginning Monday. We appreciate patience as we work through the holiday. pic.twitter.com/10Xe6v20Cl

— NYC Sanitation (@NYCSanitation) September 3, 2021
NYC Junk Removal Services
Did we miss anything?
We do our best to keep this site up-to-date but if we missed something please let us know in the comments.
Or if you have any questions about your NYC trash or garbage schedule please post them in the comments.
Thanks!