We're here to help you find the Ann Arbor trash pickup schedule for 2023 including bulk pickup, recycling, holidays, and maps.
The City of Ann Arbor is in Michigan with Flint to the north, Farmington Hills to the northeast, Toledo to the south, Canton and Detroit to the east, Kalamazoo and Battle Creek to the west.
If there's a change to your normal trash collection schedule then there's a good chance your street sweeping schedule has changed too so make sure to check for updates.
Ann Arbor Trash Collection Calendar 2023
For normal trash collections schedules, visit https://www.a2gov.org/departments/trash-recycling/Pages/Trash.aspx
Trash Pick Up Holidays
Here you can see the city-observed holidays.
2023
No delays for curbside service will occur for either the Christmas or New Year's holidays.
Ann Arbor Trash Collection Map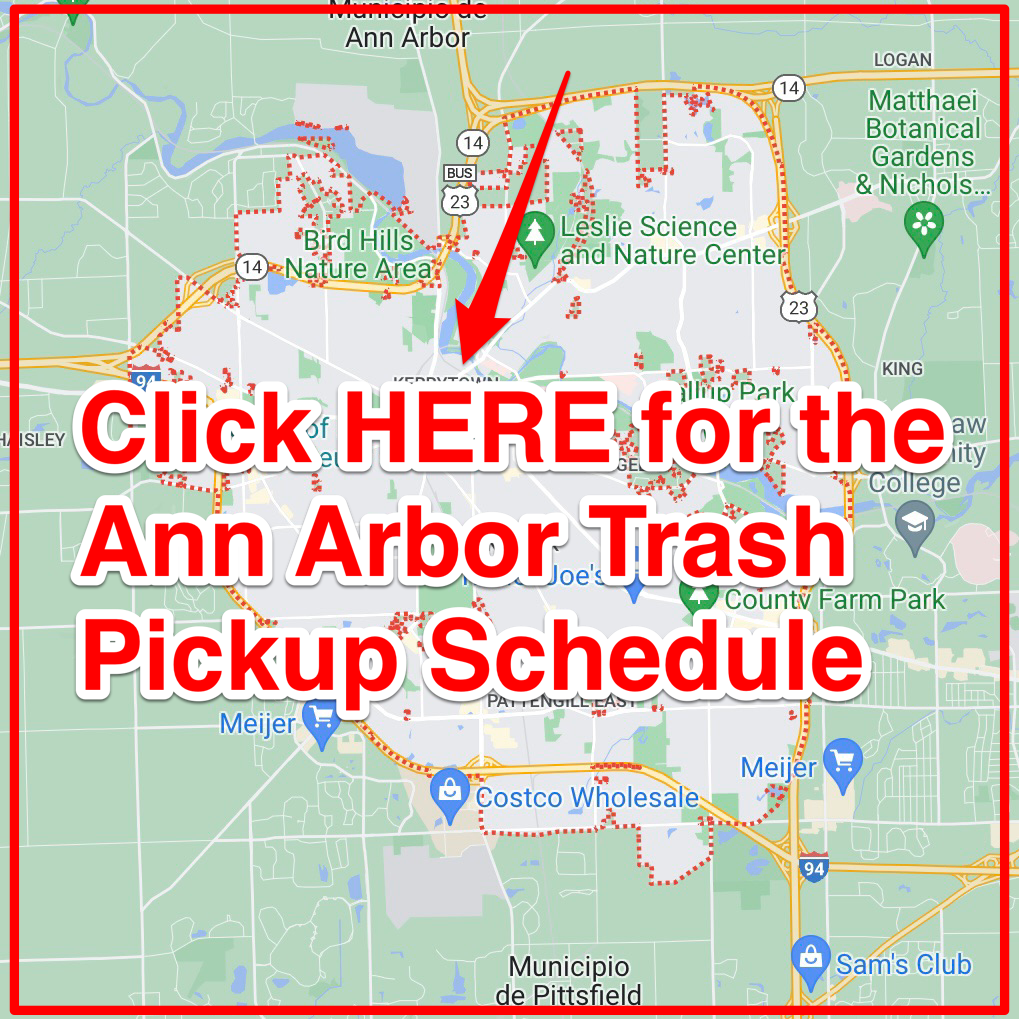 Bulk Waste Pickup Calendar 2023
To find your bulk item pickup schedule visit: https://www.a2gov.org/departments/trash-recycling/Pages/Reuse.aspx
The City of Ann Arbor does not pick up bulky items from the curb. Placing an old refrigerator, unwanted sofa, mattresses, broken television, rolls of carpeting, or the doz​en bags of "stuff " you just cleaned out of your closet, basement, attic, or garage can result in a citation and is subject to fines up to $1,000. 
Contact a private waste hauler​​ 
Many haulers are listed in print and Internet "yellow pages" under Rubbish & Garbage Removal or a similar heading. The ha​ulers listed below are recognized as Washtenaw County Waste Knot Partners and provide waste pickup and recycling services. ​
 Recycle Ann Arbor's roll-off containers, Inc. Operated by Recycle Ann Arbor. Rents containers of all sizes to handle construction or clean-out debris. Processes collected materials for recycling and disposal. Provides some pickups and accepts drop off of bulky items on a for-fee basis. 
Honeymoon Hauling Provides waste, appliance and recycling pickup and disposal. 
Drop-Off Station Allows drop-off of a wide variety of bulky waste materials, including furniture, appliances, and electronics for recycling and disposal. Pickups also available. Entry and additional fees may be required.​
Unacceptable Items for Bulk Pickup
large items like furniture, mattresses, appliances, etc. will not be picked up if left at the curb and you could be fined, check out our bulk item page for options 
appliances that contain Freon​ (freon removal is provided for a fee at the Drop-Off Sta​tion​)
hot ashes from fireplaces or grills
yard trimmings (dispose of yard trimmings in compost carts)
liquids, including used motor oil
lead acid batteries
sewage
PCBs
radioactive and/or hazardous waste (including asbestos)
heavy metal parts
fuel and propane tanks
automobile, truck or other vehicle parts
tires
concrete, cement, bricks or mortar
rocks
construction material
carpet
tar
railroad ties
logs
tree stumps
Have bulky items the city won't pick up? You need a junk removal service.
If you have large items that the city won't take from you, you may need to hire a junk removal service.
Junk removal services are not be as picky about the items they're collecting so if the city won't take the item, this may be your best bet. There's usually a fee involved with junk removal but most companies can tell you ahead of time approximately what it's going to cost.
There are a number of junk removal services in Ann Arbor and I'm sure many of them will be able to help you out.
Recycling Collection Calendar 2023
Here's the link to the recycling collection calendar: https://www.recycleannarbor.org/contact-us
Frequently Asked Questions
When is bulk pickup in Ann Arbor?
To find your bulky item pickup in your area visit: https://www.a2gov.org/departments/trash-recycling/Pages/Reuse.aspx
What day is trash pickup?
To find trash pickup on your street visit: https://www.a2gov.org/departments/trash-recycling/Pages/Trash.aspx
What time does trash collection start?
Trash collection starts at 7 a.m. Make sure to have your bins on the curb by then.
How can I contact the Ann Arbor Public Works Department?
Larcom City Hall, first floor 
7:30 a.m. to 5:30​​ p.m. Monday-Friday (except holidays)
301 E. Huron St.
Ann Arbor, MI 48104
Assistance by phone or email:​
734.994.7336
[email protected]
Did we miss anything?
Hope you were able to find everything you need for the Ann Arbor trash pickup schedule. We strive to provide the most up to date information so please let us know if you need anything else.